Grading Joe Douglas in his first go-around in Free Agency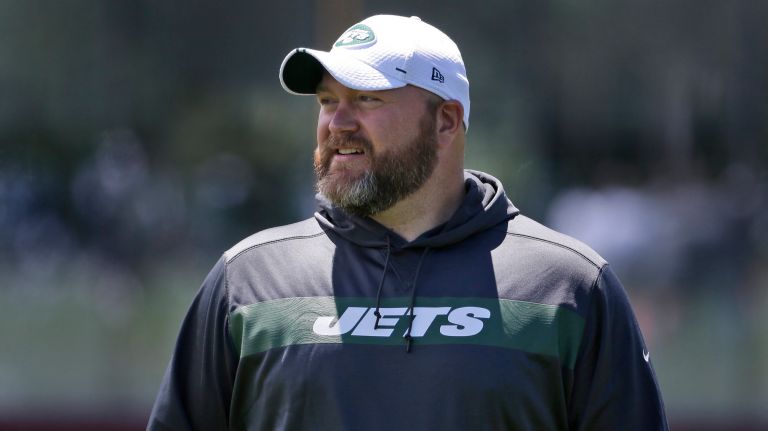 By Adam Freiberg
The 2020 NFL League Year began on March 18 and Joe Douglas didn't waste any time getting to work. Douglas is putting his stamp on the team in his first offseason on the job. His principles have been clear; do not go over your price point for one player and winning starts in the trenches with the offensive line. Let's dive into grades for each of his signings thus far.
– George Fant (3 years, $27.3 million, $13.7 million guaranteed)
The Jets started this free agency the same way most of their signings would go, with an offensive lineman.
Fant was basicaly a swing tackle in Seattle who couldn't stay healthy, but he flashed protecting Russell Wilson's blindside down the stretch last season. He looked solid in tough matchups against the 49ers in Week 17 and facing the Eagles in the Playoffs. He is very athletic and has tonss of potential. He should have a starting tackle spot along the Jets' line and has a chance to finally start a full season if he stays healthy. The low guarantee essentially makes it practically a one-year deal with options. It's still a bit of an overpay considering Fant and his representation never thought they were going to receive a $10 million average salary, good for top-20 among tackles. The fact that he has never played over 63% of his team's snaps in a season is a concern. There is hope though that Fant can use his extraordinary athleticism to become a solid starting tackle.
Grade: C+
– Connor McGovern (3 years, $27 million, $18 million guaranteed)
After signing Fant to play tackle, Douglas followed it up with another O-linemen, this time an interior one in Connor McGovern. He started all 16 games for the Broncos at center last season without miassing a snap, showing great durability. He is still failry young, as he will only be 27 this season. McGovern only had one sack registered to his name and no penalties. He has position versatility, with starts at both center and guard, but it looks like he will start at center for now. The Jets have been lacking a strong pivot since Nick Mangold moved on in 2016, and hope McGovern can be their next great one, anchoring Sam Darnold's line. The $18 million in guarantees are hefty, so he will be on the roster for at least two seasons, but McGovern is a solid gamble.
Grade: B
– Alex Lewis (3 years, $18.6 million, $5.6 million guaranteed)
After acquiring Alex Lewis from Baltimore back in August, the Jets worked quickly to sign him long term in free agency. Lewis played pretty well on New York's ravaged line in 2019, giving up just two sacks in pass protection. He did struggle in run blocking and had a whopping six penalties.
Lewis ranked 12th among guards in ESPN's Pass Block Win Rate stat, showing he rarely let any defenders get the best of him. It was another fantastic contract structure by Joe Douglas, as Lewis received a low guarantee giving the Jets flexibility. That makes it yet another a one-year deal in all reality, worth $6 million, with team options for the following two years if Lewis plays well. It looks like the Jets can't lose with this contract, another wise move for Douglas in his first free agency with the team.
Grade: B
– Brian Poole (1 year, $5 million, $4.5 million guaranteed)
Brian Poole had a fantastic year for the Jets in 2019, but for some reason his market in free agency was unusually dry. After Justin Coleman and Bryce Callahan signed for average annual values of $9 and $7 million respectively in 2019, the slot cornerback market looked like it had exploded. However, Poole hit the market this offseason and got only a one-year deal worth $5 million. He is clearly a better player than the aforementioned pair, breaking out in 2019, showing merciless run game tackling and lockdown coverage. PFF rated Poole as the 8th-best corner and #1 slot corner in the league in 2019. Despite this, the Jets struck again with a free agent steal and retained Poole on one of the most team-friendly contracts handed out during all of free agency. There is no risk involved and the Jets get to keep their versatile starting corner on the cheap for another season.
Grade: A+
– Greg Van Roten (3 years, $10.5 million, $3 million guaranteed)
Joe Douglas continued the ferocious rebuild of his offensive line with the signing of Greg Van Roten. The 30-year old is one of the older additions made, but has few miles on his NFL body, only starting in two seasons. He is a New York-native, growing up a Jets fan with dreams of playing in his hometown. He now gets that chance. Van Roten was impressive this past season, allowing only one sack to his name on the poor pass blocking Carolina Panthers offensive line. He also helped pave the way for Christian McCaffery on the ground. That is something the Jets desperately need as they averaged a league-worst 0.7 rushing yards before contact, meaning opposing defenses were all over Le'Veon Bell in the backfield just barely after each snap. Van Roten was signed on an extremely cheap deal, with only a $3.5 average salary, very low for a solid starting guard. In addition, with an extremely small guarantee the Jets can keep him for cheap in two additional seasons with no dead money if they want out.
This seems to be a theme in all of Douglas'signings. He wants no part in huge commitment and instead favors long-term flexibility and options. This is a winning philosophy. Van Roten is another steal for New York.
Grade: A
– Pierre Desir (1 year, $5.5 million, guaranteed money unknown)
The only major addition made on the defensive side of the ball, the Jets added Pierre Desir after a surprising release from the Colts. Only one year into a three-year contract, they cut ties. New York quickly pounced, according to various reports, reportedly calling just minutes after they moved on. A talk with Gregg Williams apparently secured the deal. Desir had a solid year in 2019 with 11 pass deflections and 3 interceptions, while appearing in 12 games. His passer rating allowed, however, was significantly higher than 2018, at 100.2, compared to 84.8. Desir broke out in 2018, notably locking down star wideout DeAndre Hopkins in the AFC Wild Card Game. He also had only two touchdowns given up in 2018, good for top-15 among all corners.
Desir was by no means a liability in 2019, but he did not show #1 corner status like the previous season. Despite being 30 years of age, the Jets hope he can recapture more of his '18 form on a cheap one-year contract. He automatically becomes New York's most proven cornerback on the roster, with the releases of 2019's atrocious starters, Trumaine Johnson and Darryl Roberts. This is a great signing as Gang Green gets a strong starting outside cornerback very reasonably.
Grade: A-
– Jordan Jenkins (1 year, $5 million, guaranteed money unknown)
This one was completely unexpected. Just minutes into the legal tampering window reports rumbled about Jenkins being expected to sign elsewhere. About a week later, he re-upped on a very cheap deal. Rumored to be searching for $10-12 million annually on a multi-year contract, Jenkins came back for just one year and $5 million. He apparently had various offers on the table, but it was Gregg Williams who sealed another deal. The defensive coordinator has not only flashed his great scheming skills in his time with the Jets, but is now leaning free agents to New York with his recruiting and coaching style. Jenkins is coming off the best year of his young career, posting 8.0 sacks and 9 tackles for loss in 2019. He also has a great, team-first attitude, and is always a coach and fan favorite. Somehow Joe Douglas struck again and got a key piece for an extremely reasonable price. Jenkins will start on the edge again in 2020, likely being joint at the top of the depth chart by a rookie (possibly a third-rounder) and Tarell Basham, who had a solid year. A fantastic value signing for the Jets.
Grade: A+
– Breshad Perriman (1 year, $8 million, $6 million guaranteed)
After Robby Anderson's departure, the Jets worked rapidly to get a replacement. Within hours, Breshad Perriman was a Jet. Perriman, a former first-round pick, exploded at the end of last season. He put up 506 yards in the final five games of the season with 24 receptions and 5 touchdowns. That is insane production.
Those numbers are a monster pace for a whole season. It would equate to 77 receptions, 1619 yards, and 16 touchdowns. That is #1 receiver production. While a stat line with anything close to this is unlikely, there is reason to believe. Perriman did not really see the field before those final five games due to a loaded WR core in Tampa. It was not until Mike Evans and Chris Godwin got hurt when he became the best receiver available and went off.
A deep threat like Anderson, you can argue Perriman is a better player. In 2019, Anderson had 779 yards in 91% of the snaps. Perriman had 645 yards in just 57% of the snaps. This does not mean if you put him on the field more, he will produce great numbers, but it is certainly a possibility.  Perriman has tons of potential and is just 26 years of age. Sam Darnold should love having him, as he thrives with the long ball and 50-50 catches. Perriman has absurd potential if he plays more often. A great find for the Jets, with little risk, as he agrees for one-year and only $6 million guaranteed.
Grade: B
Videos
Aaron Rodgers Injury Fallout & Jets/Bills Recap