Jets Add Explosive Receiver Denzel Mims with 59th Pick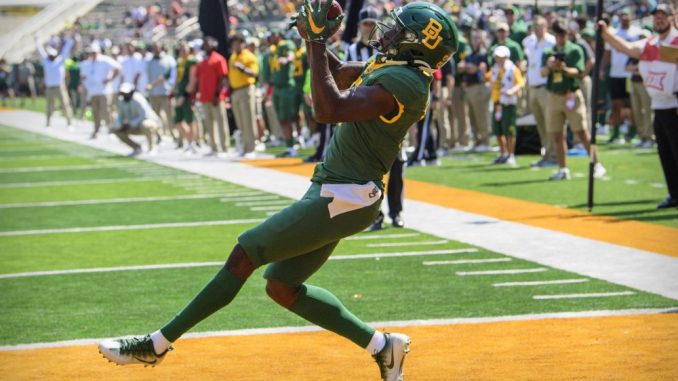 Looking to add some weapons for quarterback Sam Darnold, the Jets landed Baylor wide reciever Denzel Mims with the 59th pick of the draft after trading down from 48th overall with the Seattle Seahawks.
With the 59th selection in the 2020 NFL Draft, the New York Jets select…

Denzel Mims, WR, Baylor pic.twitter.com/AErdqPcHll

— PFF (@PFF) April 25, 2020
Mims, who was among the top players at the Reese's Senior Bowl had been projected by many insiders as a first round pick but somehow fell to the Jets at 59.
It's a coup for GM Joe Douglas who added pick 101 in their deal with the Seahawks, putting the Jets in position to add another starting caliber player later on in the draft.
In his final season at Baylor, Mims grabbed 66 receptions for 1,020 yards and 12 touchdowns.
Here is his scouting profile from NFL.com:
Strengths
Above-average combination of size and speed
Stair-steps and leverages corners out of in-breaking routes
Cushion chewer with some of the longest strides in the draft
Build-up speed allows him to bypass and stack coverage
Has a fluid stutter-go move to thwart route jumpers
Effective locating and adjusting to the throw
Fluent ball-snatcher above the rim
Focus sharpens on 50-50 throws
Full-body extension offers vast catch radius
Can reach back and snare back-hip throws without breaking stride
In-route jab steps and speed variations can be molded
Has the size and length to become a more potent stalk-blocker in space
Weaknesses
Lacks release quickness to slide past press jam
Early push upfield is dull and lacks urgency
Slow gather and break from a normal stride
Routes lack focus and salesmanship
Too tall into stems, with modest burst coming out
Competitive nature is lacking in many phases
Allows coverage to crowd routes and contest catches
Needs to become more physical at the top of his route
Despite size, gets bullied at the catch point
History of drops and poor success rate on contested catches
Videos
NY Jets Phase 3 OTAs, Expectations and a Minor Calf Tweak with Greg Renoff