Jets Draft QB; James Morgan in 4th Round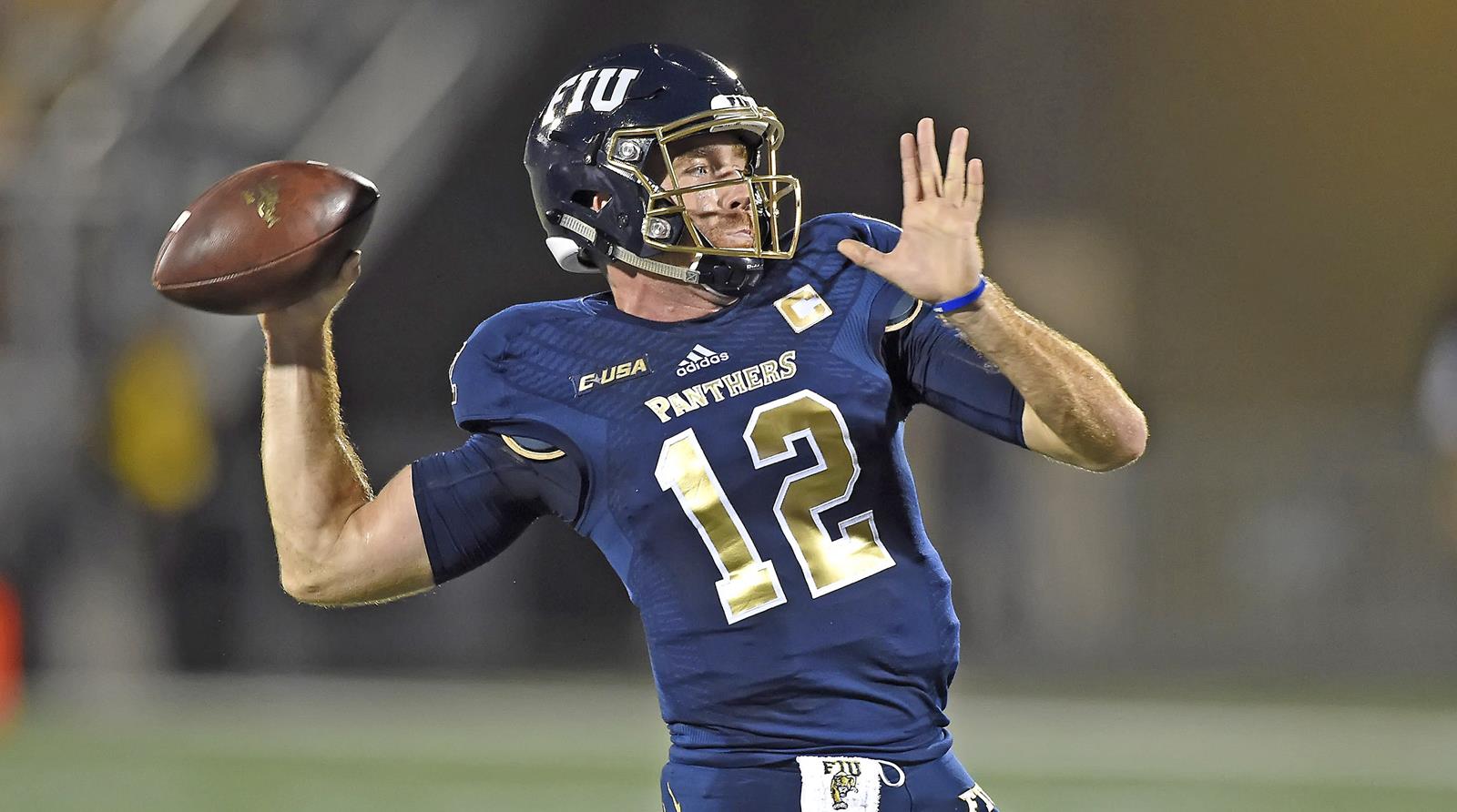 With their 2nd pick in the 4th round the Jets selected a QB, James Morgan from FIU.  The 6'4″ 229″ originally attended Bowling Green before transferring to FIU.
Why QB James Morgan? Incredible character, off-the-charts mentally. He helps the entire QB room. Bowling Green transfer finished career at FIU with 5,375 passing yards and 40 pass TDs (both third in program history). In games without 14, Jets are 0-6. #NFLDraft2020

— Eric Allen (@eallenjets) April 25, 2020
Here is his scouting report from NFL.com.
Overview
It's easy to tell that the Green Bay native favors quarterbacks like Brett Favre and Aaron Rodgers when you watch his tape. Unfortunately, while he has similar zip to the Packer legends, he's nowhere near as accurate and lacks any semblance of touch. Morgan is very capable of making impressive throws to all areas of the field, but his violent release and inconsistent footwork hinder functional ball placement and accuracy. His lack of pocket mobility and instincts make him too easy for defensive coordinators to assault with a variety of blitz packages. However, some teams view Morgan as the only true developmental quarterback talent in this draft, and that could make him a middle-round pick.
Strengths
Very tough player
Gutted out knee injury that slowed him for almost the entire year
Willing to sit down and eat punishment to release the throw
Impressively low sack total, doing what he can to get the ball out
Completion total ravaged by excessive drops in 2019
Above-average hand size
Can spin the ball with just a flick of the wrist
Few windows are too tight for his velocity
Can fling strikes into the teeth of the defense
Shows ability to expedite his delivery when needed
Flashes major league arm talent
Weaknesses
Style makes it hard to find a consistent rhythm
Rarely gets through a slate of progressions
Fastball pitcher lacking accuracy in the strike zone
Hips fly wide open in his delivery too often
Throws short passes as hard as any quarterback ever
Throws into contested spots rather than throwing receivers open
Lacks necessary pocket mobility to find clean launch points
Turns into a pass-rush punching bag unnecessarily
Deep safeties read his eyes and shade his throws
Carries football low, creating pocket fumbles
Videos
Aaron Rodgers Injury Fallout & Jets/Bills Recap