Jets Select Charlotte OT Cameron Clark (4th Round #129 Overall)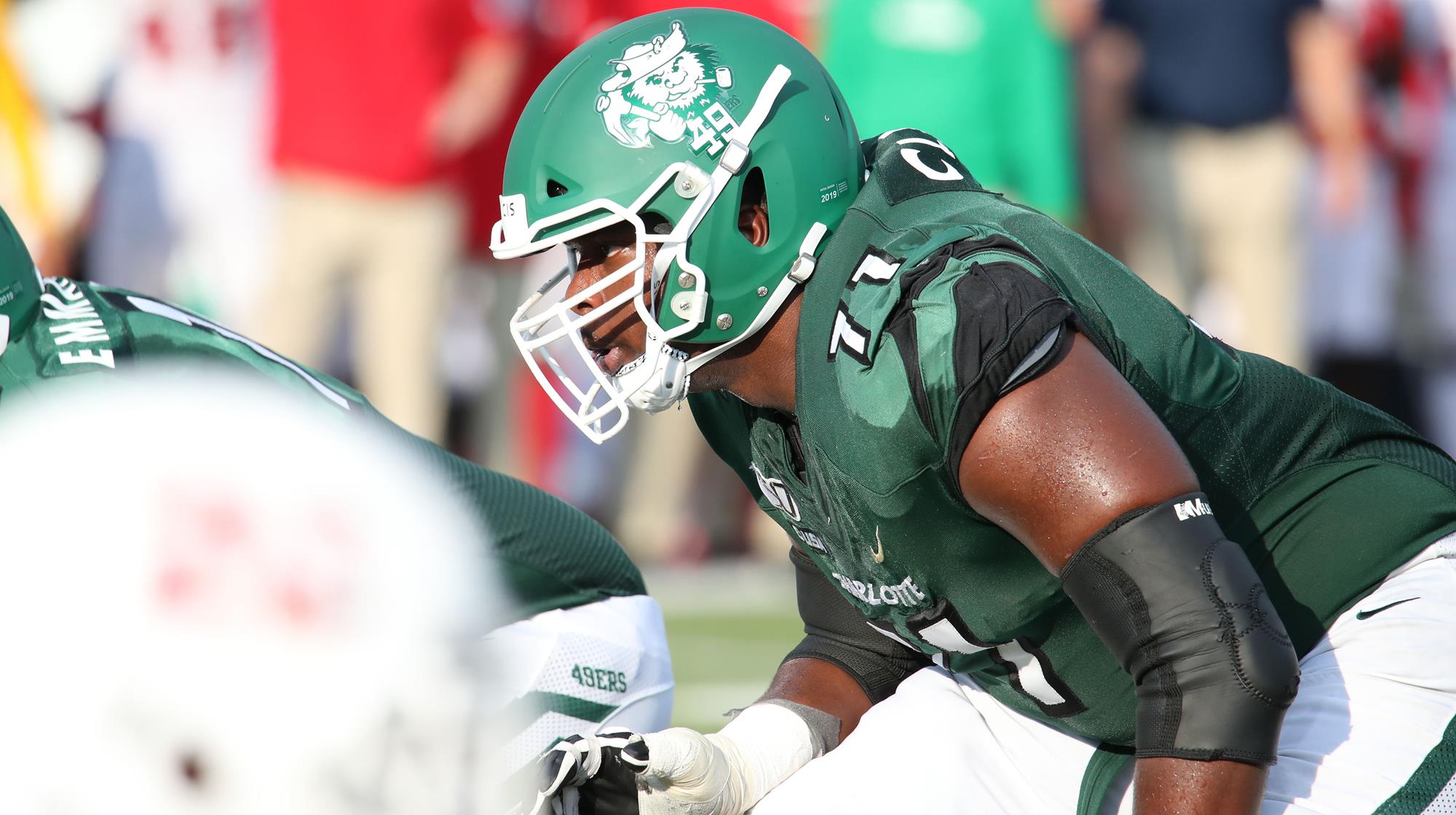 The Jets finished up a very busy 4th round of the NFL draft by selecting Cameron Clark, an offensive tackle from Charlotte. The 6'4″, 308lb Clark played left tackle in college but there was talk that he would move inside to play guard in the NFL.
The Jets take OT Cameron Clark from Charlotte #nyj

— Brian Costello (@BrianCoz) April 25, 2020
YES! Love Cameron Clarke pick. Looked like a beast against Clemson. Showed he can play with the big boys.

— Glenn Naughton (@AceFan23) April 25, 2020
Love the #Jets getting Mekhi Becton and then turning around and getting Cameron Clark. 2 finishers and tone setters upfront to protect Sam Darnold.pic.twitter.com/Jcw85lDJrP

— Jordan Reid (@JReidNFL) April 25, 2020
Here is his scouting report from NFL.com.
Overview
Clark has good arm length and played almost exclusively at left tackle, but his game is better-suited at guard. He has good upper-body power to shock and plays with a mauler's demeanor when battling and finishing. Lateral quickness is below average in the run game and his pad level needs to be corrected for a move inside. He's not a slick move-and-mirror pass protector, but length and redirect power are weapons to work with if he can get his footwork and punch-timing shored up. He had outstanding moments against Clemson but didn't sustain that level of play throughout the season. The flashes are there but he needs to play with better consistency to make a mark.
Strengths
Two-year captain and three-year starter
Broad frame, long arms and big hands
Impressive pushing Clemson around at point of attack
Twitchy upper body with plenty of pop and strength
Ability to turn and secure man-on-man blocks
Quality effort level to recover in second phase
Filthy demeanor as block finisher in run game
Tackle experience and traits a plus inside
Punch should become more stout and consistent with work
Weaknesses
Ran penalty total too high in 2019
Below average quickness laterally and on pulls
Needs to play with much better pad level as drive blocker
Inconsistent anticipation of block angles
Feet lag behind, leading to some block slippage in sustain
Needs to vary his punch approach
Redirect steps are a little tardy
Allowed leakage from post on counters and from B-gap rushers
Videos
Was Boomer Right to Blast Becton? Former Jets QB Sounds off Against Jets Tackle.