A Top-to-Bottom Look at Gang Green's 90-man Roster as Training Camp Approaches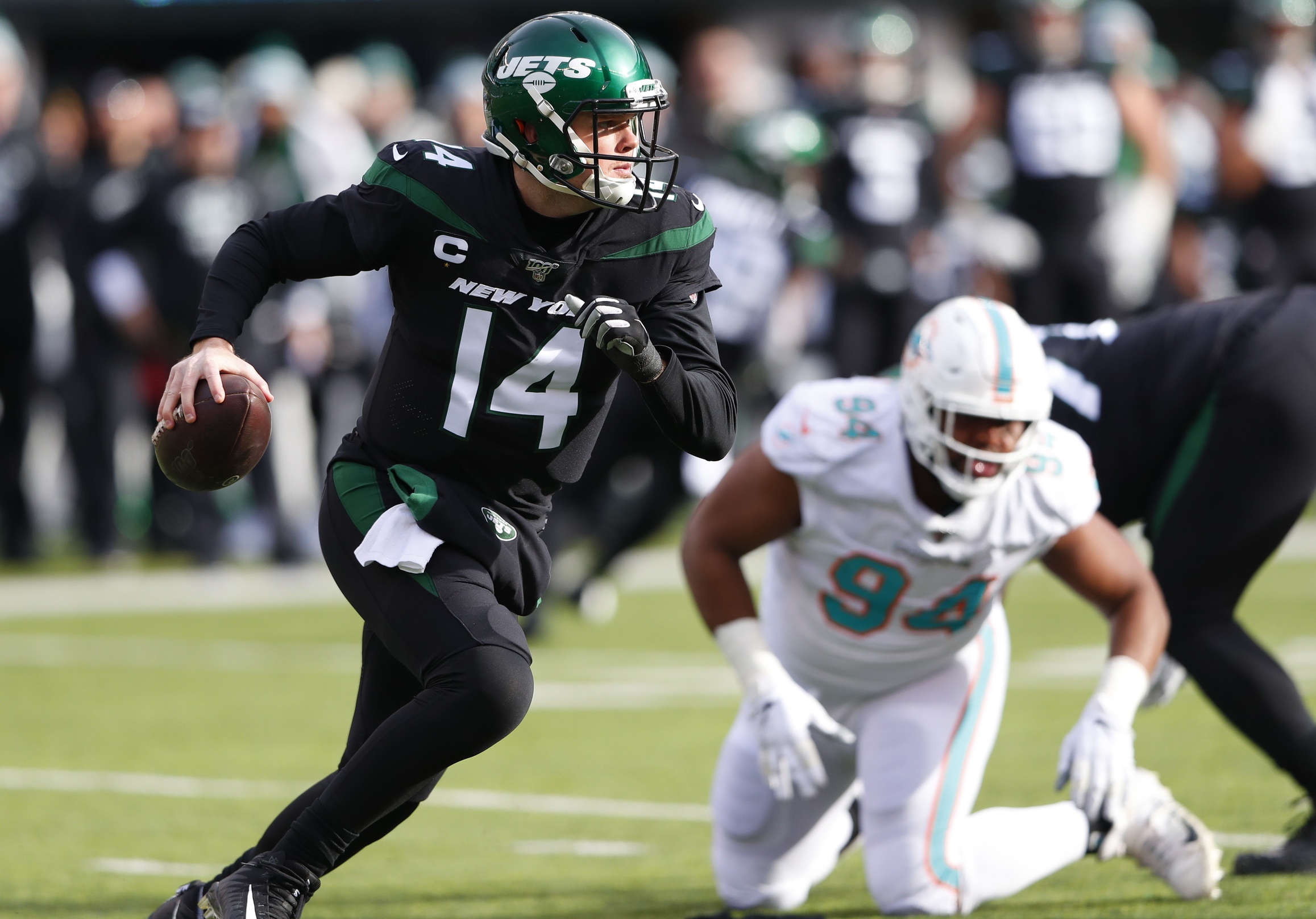 Buckle up, folks.  This is gonna' be a long one.  But with training camp just around the corner, or so we hope, JetNation.com is going to give you a full rundown of Gang Green's 90-man roster.  Most names will be familiar.  Some will be less familiar, and a few may have you asking "who the heck is that guy"?  Well, we've got your cheat sheet right  here.
33- Jamal Adams S: The best player on the roster, Adams has spent this offseason trying to force a trade to the Dallas Cowboys or a list of other contenders.  Much to his chagrin, he's still a Jet and is expected to report for camp.  In Adams, the Jets have a play making defender who, despite his displeasure with remaining a Jet, will likely still show up and give everything he's got.  If he's not traded, look for a HUGE season from the safety who will surely be playing with a chip on his shoulder.  FYI, you'll get 40/1 odds on Adams as defensive player of the year (for entertainment purposes only).
36- Josh Adams RB: With the addition of La'Mical Pernine through the draft, Adams may have a hard time sticking around.  He's a bruising back whom the Jets liked enough to add to the 53 late last season to stop him from being poached, but do they like him enough to keep him around?  May not be possible with not only Perine but Frank Gore on board.
96- Henry Anderso DL: One of the best players on the roster in 2018, Anderson saw a significant dip in production in 2019 as he picked up only 1 sack after logging 7 the previous year.  Due $9 million in 2021, you can bet Anderson will be let go or have his deal re-worked prior to next season if he doesn't have a career year.
68- Josh Andrews OL: A veteran of five seasons, Andrews has never started a game despite appearing in 25 contests.  He is expected to challenge Jonotthan Harrison as a cheaper alternative as the teams number two center.
31- Bless Austin CB: A promising young cornerback who flashed at times last season despite having missed significant time due to injury.  Jets fans should be excited to see what Austin can do with a full offseason to prepare without being hindered by injuries.
93- Tarell Basham OLB: An under-the-radar player who came on strong late last season, Basham seemed to win over defensive coordinator Gregg Williams and will have a shot at starting the season opposite Jordan Jenkins.
77- Mekhi Becton OT: The Jets fist round draft choice will be given every chance to win the starting job at left tackle.
26- Le'Veon Bell RB: Coming off of the worst season of his career, Bell hopes for bigger and better things in 2020 with what many expect to be a vastly improved offensive line.  Given his bloated salary next season, this could also be his final season as a Jet.
49- BJ Bello LB: A very intriguing player who is among a handful of guys who are flying under the radar but could make the roster.  Even with a ton of depth at ILB, Bell has a shot.  In college, Bello was asked to do just about everything on defense.  He played inside, outside, in coverage and as a rush linebacker.  Gregg Williams had him in Cleveland and then brought him over to the Jets where he stood out on special teams.
10- Braxton Berrios WR: A fantastic punt returner who was snagged away from the Patriots by Joe Douglas, Berrios should have a shot for an increased role on offense in 2020.
70- Ben Braden OL: A former Mike Maccagnan signing back in may of 2017, Braden was let go by Joe Douglas during the 2019 season but was brought back just weeks later and hung around for the rest of the way.  Athletically limited but with above average strength, we'll find out of Braden has developed to the point of making the active roster this season.  If not, it's likely his last with the Jets.
87- Daniel Brown TE: A depth player and special teamer who will have a harder time hanging around with Chris Herndon returning.
58- James Burgess ILB: Burgess stepped in and played admirably last season as the Jets inside linebackers were decimated by injury.  He was another player who played under Gregg Williams in Cleveland and was brought back this offseason.  If Burgess isn't a Jet on opening day, it would be a bit of a surprise.
1- Lawrence Cager WR: Everyone loves an underdog, and all undrafted free agents fall in to that category, which includes Cager.  Cager is tall (6′ 5") and long with very strong hands.  He's an early favorite among the UDFA's to steal a roster spot.
6- George Campbell WR: Another undrafted free agent, Campbell checks in at 6′ 4" and had incredible production over the final quarter of his collegiate career.
Crazy stat of the day on Jets UDFA WR George Campbell:

First 12 college games:

Rec: 18
Yds: 313
TD: 3

Last 4 college games:

Rec: 14
Yds: 362
TD: 4

— Glenn Naughton (@AceFan23) April 28, 2020
40- Trenton Cannon RB: A speedy special teams ace, Cannon could be an odd man out this season with the additions of La'Mical Perine and Frank Gore.  Brant Boyer is likely to "pound the table" for Cannon, but the numbers game could force him out.
##- Shyheim Carter DB: Another undrafted free agent, the Jets like something they see in Carter as he got the team's largest UDFA signing bonus.  Not a player with elite physical attributes, but does have some versatility.
53- Blake Cashman ILB: Cashman looked like he could be a player before missing most of the season due to injury.  He was used at both inside and outside linebacker by Gregg Williams and should be safe as long as he can avoid getting dinged up.
##- Jehu Chesson WR: A Michigan product, Chesson has a good size/speed combo at 6′ 2" and 4.47.  However, he has yet to make a name for himself after four seasons in the league.  He was picked up by the Jets after being let go by the Kansas City chiefs and has some ability as a return man.
45- Anthony Cioffi S: Cioffi has spent some time in the CFL after a four year career at Rutgers.  Cioffi has blazing speed and his best shot to make the roster is on special teams.
72- Cameron Clark OL: An eventual NFL starter, Clark was  a 4th round pick (129th overall) out of Charlotte where he was a dominant offensive tackle. Most believe he projects to guard as a pro, but the Jets currently list him as a tackle.  No matter where he plays, expect him to do it with a mean streak.
Back to back plays here from @CharlotteFTBL LT Cameron Clark (71) vs Clemson 💪. Physical dude who was still going all out when this game was a blowout in 4th qtr. Likely move inside in the NFL but not a bad project pick in later rounds. pic.twitter.com/ytmIUJCRkT

— Glenn Naughton (@AceFan23) April 12, 2020
82- Jamison Crowder WR: The Jets best receiver last season, Crowder could be primed for an even bigger 2020 if the Jets remain healthy and Breshad Perriman picks up where he left off last year with the Bucs.
14- Sam Darnold QB: Darnold has done about as much as you can ask from a young QB with no support from his O-line.  He has shown flashes of brilliance and was a top 10 QB in terms of adjusted completion percentage when given a clean pocket to work with according to the folks at Pro Football Focus.  So with improved blocking, better running game and healthy receivers, the pressure is on Adam Gase to get Darnold rolling.
32- Ashtyn Davis S: A third-round draft choice out of Cal, Davis is a player who could be able to step in and play safety, corner or nickel.  He has elite speed and can be a ball hawk.  It's going to be interesting to see how Gregg Williams gets the rookie involved.
61- Domenique Davis DL: Another undrafted player, Davis may be the biggest project in camp, but he has a better shot than some may think.  On film, he appears to have very good size/quickness combo, but he'll have to prove he can do it well enough at the pro level if he hopes to hang around.  His high motor also jumps out on game day.
35- Pierre Desier CB: A Joe Douglas reclamation project, Desir played at a high level two years ago for the Colts but struggled with injuries in 2019.  If he returns to 2018 form, the Jets got a steal.
38- Kenneth Dixon RB: A former Baltimore Raven, Dixon runs with a low center of gravity and can takes on defenders with a bit of thump.  However, Dixon's chance to make the roster got worse this offseason.  As mentioned already, adding Perine and Gore puts the fate of the backup running backs in limbo.
18- Josh Doctson WR: Another Joe Douglas special, Doctson is a veteran player who has shown he can contribute, but came up short of expectations when he was drafted.  The type of player it makes sense to bring in if you're looking to catch lightning in a bottle for an unproven WR group.
75- Chuma Edoga OT: An x-factor that isn't talked about enough.  Few deny Edoga has the agility and footwork to make it as a starting offensive tackle. The question is his lack of strength and whether or not he has the work ethic to put in the work to get stronger.  If he does, he's a starting caliber player.  If he doesn't, he won't be around for long.
3- David Fales QB: An Adam Gase favorite, Fales joined the Jets as a free agent after previously playing under Gase with the Dolphins in Miami.  If there's no training camp, he may stick as no signal caller on the roster has more experience in Gase's offense, but his body of work leaves plenty to be desired.
76- Geore Fant OT: Fant was a surprise signing by Joe Douglas as many anticipated a bigger name at offensive tackle.  Given his salary you'd expect him to start in 2019, but with Mekhi Becton going in the first round and the possibility of an improved Edoga, it may not be the lock that many expect.  One thing for sure about Fant though, is that you have to love his agility.  Few players his size can move as well as he does, and we hope to see him on the receiving end of a few Sam Darnold passes in 2020 when he reports in as eligible.  Could be fun.  He also did some good work last season against Nick Bosa and the 49ers.
Have to wonder how much this one game led to George Fant getting paid. Started at LT for Seattle against SF and neutralized Nick Bosa and others. Very strong showing. pic.twitter.com/sH1hu3XMGz

— Glenn Naughton (@AceFan23) May 13, 2020
41- Matthias Farley S: An experienced depth player who started 15 games for the Colts back in 2017.
94- Folorunso Fatukasi DT: A monster in the middle last season, Fatukasi showed off elite strength that allowed him to dominate in the trenches and be a key part of the Jets stout run defense.  Hopefully more playing time for Fatukasi in 2020 with increased production to match.
9- Sam Ficken K: One of two kickers in camp, Ficken is expected to compete for the starting job but don't be surprised if neither guy on the roster in the team's kicker when the season starts.
5- Joe Flacco QB: An ideal mentor for Sam Darnold, Flacco still has a bit of zip when he delivers the ball but is expected to miss a couple of games early in the season as he recovers from neck surgery.
56- John Franklin-Myers: A player who signed with the Jets last season after being let go by the Rams but was kept out of action due to injuries, Franklin-Myers will be battling a deep group to earn a roster spot.
52- Ahmad Gooden LB: A roster long shot, Gooden is a DE/OLB who appeared in 3 games with the Broncos before joining the Jets practice squad in December.
##- Frank Gore RB: The 37-year-old Gore averaged a career low 3.7 YPC last season and was under 3.0 YPC in the second half for the Bills.  However, his leadership and experience should be a valuable addition to the locker room.
84- Ryan Griffin TE: Once the Jets got Griffin involved in the offense last season, he proved to be a valuable asset and looks to team up with Chris Herndon to give the Jets a potent 1-2 punch at tight end.
##- Javelin Guidry CB: Guidry didn't have a particularly productive college career, but his sub 4.3 40 at Indy was bound to land him a look somewhere.  Turns out that somewhere was Florham Park.
21- Nate Hairston CB: Hairston had some moments last season where he looked like he could easily be a quality depth cornerback but had some setbacks that landed him on the bench.  Continuing to work with a young player in hopes of improving his consistency was the right thing to do.
##- Bryce Hall CB: A player viewed by many as the Jets best value pick of the draft, Hall was a round 1 or 2 prospect who fell to the Jets in round 5 due to injury concerns.  Could be a starter by season's end.
78- Jonotthan Harrison OL: Harrison has stepped in and played admirably in each of the last two seasons when things fell apart for the Jets at the center position.  Parting ways for $2.5 million would be a bit foolish if the Jets opt to take that route.
42- Thomas Hennessy LS: Thomas Hennessy is the Jets long snapper.
89- Chris Herndon TE: Outside of Sam Darnold and the O-line, Herndon is the most important player on offense in 2020.  Should he remain healthy, he gives the Jets a quality weapon in the middle of the field who is a plus blocker and has chemistry with Sam Darnold.
46- Neville Hewitt ILB: Another ILBer who got extensive playing time due to injuries las season and held his own. A guy who can cover well as a situational player should have a chance to hang around again in 2020.
79- Jared Hilbers OT: Hilbers is a versatile OT who played on both the left and right sides in college but may see some action at guard due to his shorter arms.  With a need for depth on the OL, we like his chances of finding a home with the Jets.
47- Bryce Huff OLB/DE: A fair  number of analysts viewed Huff as a draftable player in the late rounds but that didn't transpire and the Jets snagged him as an undrafted free agent.  With so few legitimate pass rushers on the roster, Huff has a chance to make the team if he impresses in camp.
39- Bennett Jackson S: Another former Raven, Jackson has played in just six games after entering the league in 2014.
36- Lamar Jackson CB: Another player who some projected as a late round pick, Jackson was not selected in the draft out of Nebraska and the Jets brought him in for a look.  Lacks top end speed buy looks fundamentally sound on game day.
48- Jordan Jenkins OLB: Lunch pail type of player who hoped for a big pay day in free agency that never came.  That ends up being the Jets gain as they bring him back for under $4 million on a one-year deal after picking up a career-high 7 sacks last year.
66- Sterling Johnson DL: No player on the roster had less information available than Johnson.  After playing his college ball at Coastal Carolina, he had very little exposure and no quality film with which to evaluate him.
91- Bronson Kaufusi DL: Kaufisi checks in at 6′ 6" 275 along the D-line and is another guy who was brought in to the league by Joe Douglas mentor Ozzie Newsome in 2017.  He has played in just 9 games in his career.
65- Corbin Kaufusi OL: The brother of the aforementioned Bronson Kaufusi, Corbin is the bigger of the two at a towering 6′ 9".  Both brothers played at BYU and are now on opposite sides of the ball and it could be interesting watching such a tall man find a way to gain leverage against quicker/smaller defenders.
63- Leo Koloamatangi OL: A former Hawaii product, Koloamatangi may move well enough to garner real consideration as an interior lineman for depth.  Better run blocker than he is in pass protection.
44- Harvey Langi OLB: Langi surprised plenty of onlookers when he made the Jets final roster last season as a true long shot.  With so few upgrades made at the spot this offseason, he may find a way to do it again.
71- Alex Lewis LG: Last season along the Jets O-line, Lewis may have been the best of a bad bunch.  Due to offseason upgrades, it's not unrealistic to think he could be the unit's weak link when all is said and done.
64- Brad Lundblade OL: A long shot out of Oklahoma State, Lundblade is likely a camp body as he lacks the agility the Jets are looking for along the O-line.
50- Frankie Luvu LB: An outside linebacker out of college, the undrafted Luvu saw some reps on the inside last year which could work to his benefit.  With so few spots and a ton of linebackers, versatility will pay off.  It's impossible not to love Luvu's passion and motor out on the field.
2- Brett Maher K: Maher may have the strongest leg in the NFL, but his accuracy has been an issue which is what got him cut by the Dallas Cowboys.  If he can straighten himself out, he could be a legitimate weapon.
7- Braden Mann P: It's not very often fans are excited by a punter, but Mann has a leg that has some fans rooting for that first 3-and-out of the season to watch Mann let one rip.
83- Josh Malone WR: Malone is another strong size/speed receiver at 6′ 3" and 4.4, but he hasn't found himself on the field much after three NFL seasons.
23- Arthur Maulet CB: Maulet was another guy who filled in and played respectably at cornerback last season.  Bringing him back in Gregg Williams' system made sense.
20- Marcus Maye S: Entering the final year of his rookie deal, Maye is a player who gets a bad rap for being injury prone.  In three pro seasons, he has played every single game in two of them and rarely ever came off the field.  After missing time in year two, there are those who insist he can't stay healthy.  Maye is a very good player who may be even better in a different system.
69- Conor McDermott OL: McDermott was an in-season addition along the O-line and saw his most extensive action as a pro in the Jets final two games when he played well enough to come back for another look this season.
60- Connor McGovern C: The Jets finally have some stability at the center position after years of one disaster after another following the departure of Nick Mangold.
99- Steve McLendon DL: Mr. Underrated himself.  McLendon doesn't get nearly enough love for what he brings to the table.  Consistently performs at a high level along the interior, challenges teammates when they're not pulling their weight, holds himself accountable and handles the press like a pro.  This is a player the Jets should be looking to bring in as a coach and mentor when his playing days are over.
Things that don't show up in the box score. Watch Steve McLendon beat his man to penetate and string the running play out toward the sideline where Hewitt can get the tackle. If McLendon gets blocked, it's a huge run for Philly. pic.twitter.com/fFxTGTnGME

— Glenn Naughton (@AceFan23) May 14, 2020
11- Denzel Mims WR: Another possible draft steal with the 59th pick in round two, the Jets are hoping for big things from the explosive Mims who many had pegged as a round 1 choice.
4- James Morgan: The rookie QB was already viewed as a project and will now be behind the 8 ball without a true preseason.  Our prediction is that Morgan will come down with an ailment that will make him a practice squad stash.
57- CJ Mosley ILB: An elite ILB whose return is expected to pay huge dividends this season.
61- James Murray OL: A former Kansas City Chief, pencil Murray in as another dark horse in a crowded OL room.
51- Patrick Onwuasor ILB: Mosley's former running mate in Baltimore, Onwuasor's signing led to speculation of a possible Avery Williamson trade or release. So far it looks like Onwuasor is still a back-up, but that could change in time.
22- La'Mical Perine RB: A well-rounded back who lacks elite speed, Perine is viewed by many as a player who could one day develop in to a starting back.  For now, he's expected to get worked in around Bell and Gore.
19- Breshad Perriman: Jets are hoping to have hit on a late bloomer.  Perriman was a first-round bust until he broke out late last season with a handful of 100-yard games in the seasons' final weeks.
98- Kyle Phillips DL: A pleasant surprise along the D-line as an undrafted free agent out of Tennessee last season, look for more quality play from Phillips in 2020.
34- Brian Poole CB: Poole was arguably the Jets most consistent player last season and the team was lucky to get him back on a one-year deal.
43- Wyatt Ray DE/OLB: A Boston College product, Ray doesn't seem to have the attributes necessary to be a force off the edge and is a long shot to make the roster.
97- Nathan Shepherd DL: Left for dead in the minds of most fans after a poor rookie season and positive drug test, Shepherd shocked fans by stepping in and playing at a high level when given the opportunity in year two.  If he continues along this path, he'll be around for a bit.  Was year two an anomaly?  Time will tell.
16- Jeff Smith WR: A converted quarterback and undrafted free agent whom the Jets hung on to last season, we'd hoped to see Smith and his blazing 4.37 40 get used as a gadget player.  Injuries prevented that from happening, but he has a skill set that no other player on the roster does.  This could help him stick again.
17- Vyncint Smith WR: Smith flashed at times last season and looked to improve noticeably down the stretch.  He could be a reason as to why Joe Douglas only drafted one wide receiver.
43- Ross Travis TE: Full disclosure…until this week we had done very little homework on Travis.  With Herndon, Griffin, Brown and Trevon Wesco on the roster, he was an afterthought.  However, after watching a bit more of him this week and seeing how raw he was when he was drafted, we're officially intrigued.  Travis is a former basketball player who checks in at 6′ 8" and could be a force if his game develops as hoped.
Not a household name, but TE Ross Travis is a HUGE target. Developmental player out of PSU who used to play basketball. Some preseason work here last season and just outmuscles the defenders for the score. Deep group at TE means he'll have some work to do. pic.twitter.com/6INssYSBlX

— Glenn Naughton (@AceFan23) July 14, 2020
62- Greg Van Roten OG: Van Roten was signed as a free agent and is expected to compete with Brian Winters for the starting job at right guard.
85- Trevon Wesco TE: Wesco did little as a receiver or a blocker for much of his rookie year, but there was marked improvement as a blocker down the stretch as he showed he can be a valuable piece in assisting with the running game.  If he can get more involved as a pass catcher then he would give the Jets the deepest tight end group they've had in years.
8- Mike White QB: White was  a player we expected to develop in to a starting quarterback when he was coming out of Western Kentucky.  Looks like we missed the mark, but with Joe Flacco expected to miss the first couple weeks of the season, White just may have a chance to hang around for a bit.
95- Quinnen Williams: Expect big things from Williams as he enters his second season.  One year smarter and a full season with an NFL training regimen, folks who gave up on the youngster will be eating some crow.
Next player after Fatukasi stop, Quinnen Williams beats his blocker to the inside and pursues Dak for stop on 4th down. Those two stops made 92-yd TD to Robby possible. Quinnen making his presence felt. pic.twitter.com/lZdDLMlpDk

— Glenn Naughton (@AceFan23) October 16, 2019
54- Avery Williamson: Arguably a top 5 player on the roster, missing Williamson and Mosley was a nightmare come true for the Jets last season.  If he's not traded or released to save cap space, he should be fun to watch this season.
55- Jordan Willis DE: Willis has physical attributes that are absolutely off the charts.  However, after several years as a pro, it has yet to translate on the field.  Make or break year for Willis.
##- Quincy Wilson CB: Acquired in a draft day trade with the Colts, Wilson was likely endorsed by former Colts executive Rex Hogan and should have a very good chance to make the roster.
67- Brian Winters RG: Winters could be winding down his time as a Jet if Greg Van Roten or any other lineman outplays him in training camp.  A warrior in the trenches, Winters just hasn't been able to kick the injury bug and has zero cap hit if let go.  If nobody steps up, Winters stays and starts.
92- Jabari Zuniga DL: In terms of upgrading at pass rusher, Zuniga gives the Jets their best shot at a fresh face who can get to the QB.  Look for the Jets to test him early and often to see what he can do.
So there you have it folks.  Every player currently listed on the Jets official roster.  Whether or not they'll be suiting up as planned?  We shall see.
Videos
New York Jets OTA Presser Takeaways, Aaron Rodgers' Impact and Summer Delusion