JetNation 2020 Position Preview: Wide Receviers; Will big-time Speed Mean big-time Plays?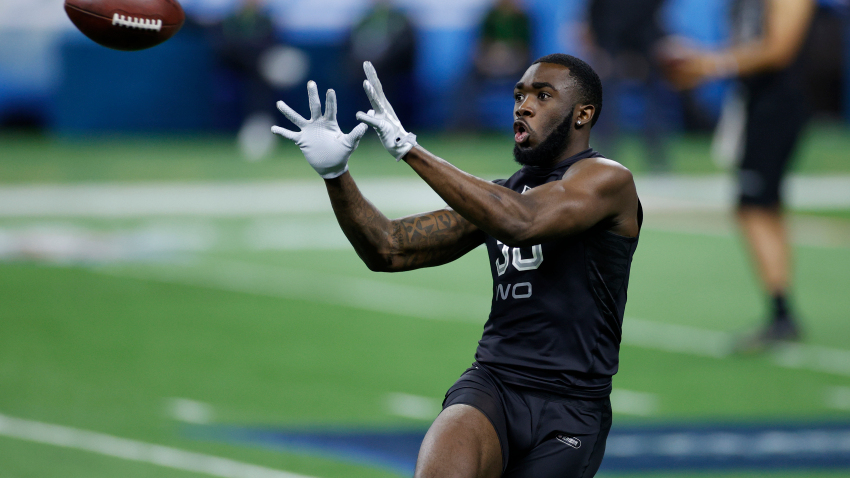 When Jets GM Joe Douglas met with reporters earlier this offseason prior to the NFL scouting combine, he was asked about what the Jets were hoping to do on offfense.  Understanding the need to add playmakers around quarterback Sam Darnold to create an explosive offense, he replied by saying "speed creates pressure and pressure breaks pipes".  Douglas made it clear that he wanted to assemble a group of speedy receivers for Sam Darnold to work with.
As you'll see here in our 2020 wide receivers preview…mission accomplished.  Now the production has to follow.
Say Goodbye:
Robby Anderson (Carolina), Demaryius Thomas (UFA), Josh Bellamy
New Faces:
Breshad Perriman (FA signing), Josh Doctson (FA signing) Denzel Mims (NFL Draft, rd 2 pick 59), Lawrence Cager (UDFA), George Campbell (UDFA).
Breshad Perriman:
Speaking of speed, free agent addition Breshad Perriman is the fastest of a blazing bunch with a 40 time of 4.24 which helped him get drafted in the first round by Ozzie Newsome in Baltimore back in 2016.  Perriman looked like a bust early on, but the Jets hope his late-season dominance in 2019 was a sign of things to come for Perriman.  Through is first 46 pro games, Perriman averaged just 22 yards per contest.  Over the course of his final five games in 2019, he averaged a whopping 106 yards per game.  To say it was night and day would be an understatement.
Perriman isn't going to keep producing at that level, but even if he can be a player that opposing defenses have to respect, it will go a long way in helping open things up for some of Sam Darnold's other targets.
Denzel Mims:
The rookie out of Baylor is expected to step in and start right away for the Jets with the team hoping his elite physical traits and strong hands make  him an immediate upgrade over the departed Robby Anderson.  Another speedster, Mims posted a 40 time of 4.38 in Indy.  That explosiveness, coupled with some of his eye-popping acrobatic grabs at Baylor has Jets fans hoping he develops in to a true number one receiver.
Jamison Crowder:
The most reliable target on offense last season, Crowder returns at a quality option out of the slot who could see increased opportunities in 2019 if Perriman and Mims are able to run off some defenders and create more space in the short to intermediate passing game.
Vyncint Smith:
One criticism of Joe Douglas following the draft was that he only took Mims at wideout despite a historically deep class.  That leads one to believe that the GM meant it when he said leading up to the draft that he was a fan of Smith and Braxton Berrios who we'll get to in a second.  Smith was a developmental player out of little-known Limestone college who spent time with the Texans before joining the Jets.
Fans are talking a lot about the new weapons for Sam Darnold in 2020, but don't count out Vyncint Smith, who had some impressive moments last season. pic.twitter.com/Q13dlkFwu9

— Glenn Naughton (@AceFan23) May 14, 2020
He didn't do a whole lot in 2019, but we did see increased targets and production as the season progressed.  As was the case with Perriman, could the light be coming on for Smith?
Through his first eight games of the season, Smith had just 5 catches on  twelve targets, picking up a paltry 57 yards.  Over the final five games, that jumped to 168 yards as he was targeted 19 times, hauling in 12 catches.  Hardly numbers that will land him in Canton, but a clear sign of growth for the young receiver who boasts a 4.36 40 time.
Braxton Berrios:
Joe Douglas poached Berrios from the Patriots early in the season and it paid off as the project receiver was among the NFL's top punt returners.  This season he'll have to show what he can do in catching the football if he hopes to hang around for the long term.  While it was only one play, Berrios did give us a glimpse of his 4.4 speed against the Raiders when he snagged a short pass that he took 69 yards for a huge run after the catch.
Josh Doctson:
A free agent addition this offseason, Doctson is a former Washington first-round draft choice but was cut loosed after three underwhelming seasons.  Doctson topped 500 yards in each of his two final seasons in the nations capital before going to the Vikings where he appeared in just one game.  One of many low risk/high reward reclamation projects for Joe Douglas this year.
Jeff Smith:
Smith was an undrafted free agent out of Boston College who stuck with the team on the practice squad last season despite missing almost all of training camp with an injury.  Undrafted rookies who can't get on the field generally don't find themselves on the 53-man roster late in the season, so the fact that Smith did could mean the team really likes his big play ability and versatility.  Smith started his college career as a quarterback before he was moved to receiver to take advantage of his 4.34 speed.  Smith had just 1 catch for 12 yards before missing the rest of the season due to injury.
Josh Malone:
Malone is your classic receivers who somebody will take a look at because of his rare blend of size and speed.  Malone checks in at 6′ 3" and ran a 4.4 40 after playing his college ball for Tennessee.  He didn't do much in his first two years in college, but blew up in his final season as he picked up 972 yards and 11 scores while averaging 19.4 yards per catch.
Malone has shown the ability to high point the football and win fights for the football in tight coverage.  He's a long shot, but definitely worth a look.
Jehu Chesson:
A former Michigan Wolverine, Chesson was cut loose by both the Kansas City Chiefs and Washington before catching on with the Jets.  He has appeared in 24 career contests (1 start), picking up just 3 receptions for 25 yards.   Chesson has strong hands and shows some quickness but hasn't managed to find his way onto the field.
George Campbell:
An undrafted rookie out of West Virginia, a comparison can be drawn between his production in college and Perriman's numbers as a pro.  Through his first 12 games at WVU, he tallied 18 catches for 313 yards and 3 touchdowns.  Over his final four contests, he racked up almost as many catches (14) and more yards and TD's (362 and 3) than he had in those first 12.
Crazy stat of the day on Jets UDFA WR George Campbell:

First 12 college games:

Rec: 18
Yds: 313
TD: 3

Last 4 college games:

Rec: 14
Yds: 362
TD: 4

— Glenn Naughton (@AceFan23) April 28, 2020
Lawrence Cager:
A player whose chances we like to stick as an undrafted free agent, Cager is far from speedy but is a big receiver (6′ 5" 220) with incredibly strong hands who could be a legitimate red zone threat.  We loved what we saw from Cager when he faced off against Florida when he grabbed 7 receptions for 132 yards.
With Perriman, Mims and Crowder the only true "locks" to make the roster, there's plenty of room for another receiver to step up and win a roster spot, but as of today you'd have to imagine Smith and Berrios are favorites to make the team again.  That would leave one or two spots open for somebody else to steal.
Videos
New York Jets OTA Presser Takeaways, Aaron Rodgers' Impact and Summer Delusion