Mims & Perriman Practice; Injury Report 09/09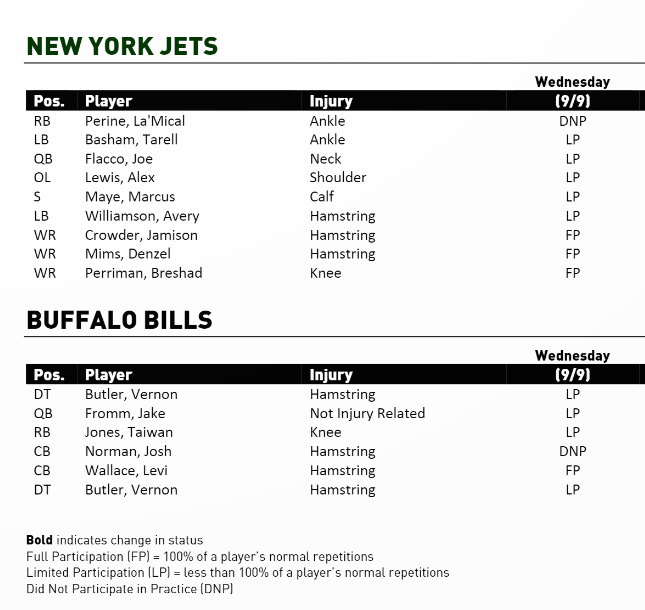 There is encouraging news on the injury front as wide receivers Denzel Mims and Breshad Perriman were both listed as full participation on practice. Adam Gase gave this update:
As far as injuries go today: (La'Mical) Perine will be out of practice; limited will be Alex Lewis, Joe Flacco, Marcus Maye, (Tarell) Basham and Avery (Williamson). And then we should be pretty good, full go, with the rest of these guys. So, we're starting today being kind of our first day of actually practice heading into the first week of the season. I'm looking to get a lot of good work done today. It's unusual because we haven't played a preseason game or anything like that. So, we've still got a lot of work to do.
Marcus Maye Update
He's doing good. I mean just watching him running and doing all the things that the trainer is trying to get him as healthy as possible, we're just being a little cautious, being a calf injury, last year we lost Jordan (Jenkins) there for a little bit. Those things take a minute to come back from when you get to the extreme like Jordan got last year. So, we're just trying to make sure that we don't lose him for any longer than where we're at right now.
Gase didn't commit to a timeline for Joe Flacco's return, but he did have a limited practice. The roster moves at the end of the week will tell that story when we learn who Sam Darnold's week one backup will be against the Buffalo Bills.
It's just like one of those injuries, you're just never sure how fast or how slow that's ever going to be. So, I think just seeing him throwing on the side and doing his conditioning and the workouts that he's been doing, I'm not surprised that he's practicing. We'll just keep progressing from here and just see where it takes us.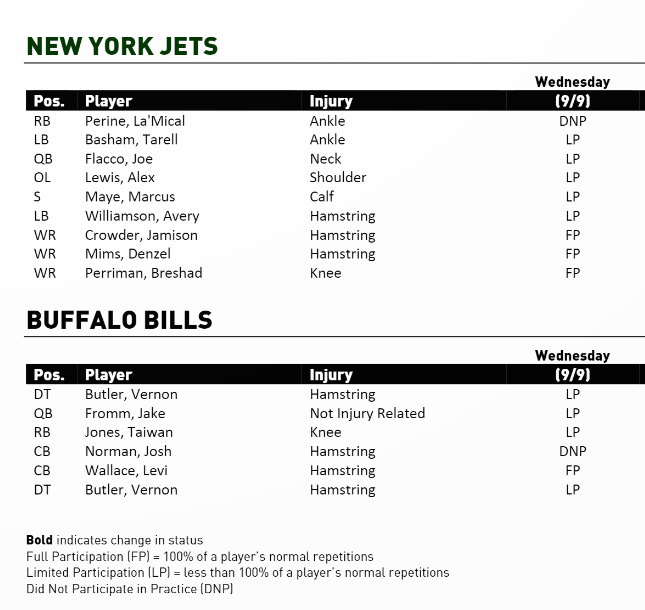 Jamison Crowder practiced fully but is listed with a hamstring injury. Probably the injury he had last week when he was pulled from practice for "tightness." Did not miss any practices after that. #nyj

— Brian Costello (@BrianCoz) September 9, 2020
#Jets S Marcus Maye is in individual drills with pads. Good sign. pic.twitter.com/Pb0oGpmUjT

— Connor Hughes (@Connor_J_Hughes) September 9, 2020
Videos
NY Jets Phase 3 OTAs, Expectations and a Minor Calf Tweak with Greg Renoff