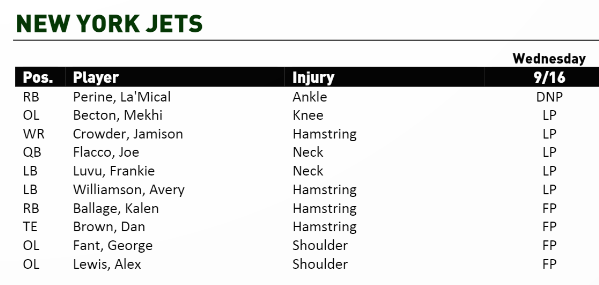 The Jets released their injury report for week two. Adam Gase gave this injury update before practice.
La'Mical Perine won't participate today, he'll be doing some strength and conditioning stuff with those guys out on the other fields
Mekhi Becton will be limited with a knee
Joe Flacco limited with a neck
Frankie Luvu limited with a neck
Avery Williamson will be limited with a hamstring.
Gase on Mekhi Becton
It was just it was in the game; he just never came out. They just checked him out. He just said, "I'm good, going back in." We going to be careful here, you know today and see how he feels tomorrow afterwards. So, I mean he's a tough guy, he wasn't going to come out of the game.
Gase on Avery Williamson
Yeah, I mean we'll see today, see where he's at, we'll go through individual, see how far we can take him in practice. Obviously, last thing we need is a setback. And if we can figure out a way to get him to the game and get him as healthy as possible, that'd be ideal. We just got to manage the situation correctly.
Jamison Crowder popped up on the injury report today with a hamstring issue. #Jets HC Adam Gase did not mention Crowder before practice, indicating injury likely occurred during. Obviously, not a great sign. Gase will speak tomorrow.

— Connor Hughes (@Connor_J_Hughes) September 16, 2020
Jets WR Jamison Crowder was limited in practice today with a hamstring issue.

Adam Gase made no mention of this before practice. So, perhaps it happened during practice.

— Manish Mehta (@MMehtaNYDN) September 16, 2020