Sam Darnold on His Injury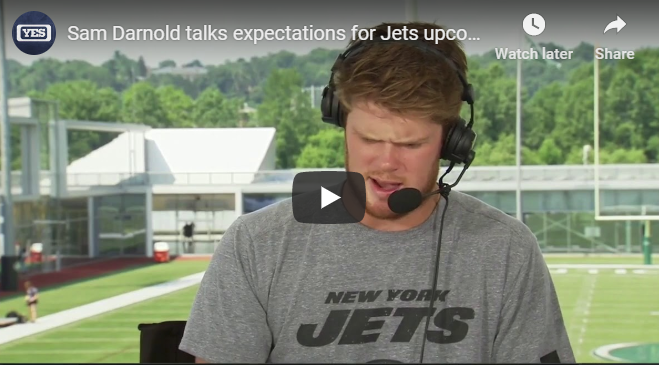 Sam Darnold spoke to the media on Wednesday. He wouldn't commit to a timeline for his return. The full transcript is short and worth reading.
Brian Costello, New York Post: Sam, did you have hope up until today that you were going to play or how did this kind of all play out for you with the doctors and coaches?
Yeah, just talked to some doctors, talked to the coaches yesterday, they thought it was in my best interest not to play.
Brian Costello, New York Post: Adam said earlier that you are in a lot of pain, is that constant pain, is it when you move your arm, have you tried to throw at all?
No, I haven't tried to throw. It's painful at some times, but when I'm just standing here talking to you guys it doesn't hurt at all.
Al Iannazzone, Newsday: Sam, how difficult is this for you, obviously you want to be on the field and you know you want to lead this team to its first win, so how difficult is this for you right now?
Yeah, it's it sucks not being able to be out there with the guys. Even at practice today, not being able to practice, it sucked. It's not fun being hurt. All I want to do is go out there and play football with the guys, so again, not fun but definitely got to have a good mindset going into treatment and rehab, trying to get healthy and staying on top of it as much as I can.
Mark Cannizzaro, New York Post: Sam with regard to Joe (Flacco) in the time that you've been with him and obviously you know how accomplished he is, can you speak to what you've seen out of him even though he's only just recently become active? And do you think you know he still got what he had when he was the guy leading the Ravens to the playoffs and Super Bowl?
Yeah, I see it every day. Joe, he's a great dude, great competitor. He's going to lead this team on Sunday and I'm excited to watch. It's going to be really fun and he's definitely going to have an influence.
Mark Cannizzaro, New York Post: Just as a follow, what things stand out to you now that you've gotten to know him a little bit, I'm sure you probably saw him on TV and before, but what have you noticed that stands out for him?
Yeah, I mean he's a big dude, strong arm, can spin it, and then mentally, he's as sharp as they come, so again, just really excited for him.
Connor Hughes, The Athletic: Sam I know we've talked to you about this a ton before when you were a rookie and you got hurt, you were sidelined for three weeks, you know it benefited you, you came back you looked like a different player. Can you dive into that at all again now in year three, like do you see some benefit from just stepping back here and watching again?
I mean, you know I'm definitely glass half full on this thing, you know I'm definitely going to learn from Joe, (and) if I learn anything, great. Like I said, Joe's a great player, got a lot of experience and I'm sure I am going to learn a ton watching him play, but definitely want to be out there with the guys first and foremost.
Ralph Vacchiano, SNY: Sam, knowing how you feel and knowing what you know about the injury, do you expect this will just be a one week thing or do you think you might be out longer?
I'm not sure, can't answer that right now.
Brian Costello, New York Post: Sam, looking at this from the outside, where now you're going to miss this week and maybe more, it seems like maybe it was a bad decision for them to put you back in the game on Thursday night. How do you feel about that, do you think it was a mistake to go back in?
No. At the time they told me I could go back in and play, I did. I had adrenaline running, it was, I was ready to go. I got hurt and want to go back out there and compete because I felt like I could. It didn't hurt anymore after I went in, after I got hurt the first time, so no I don't think it's a mistake at all.
Connor Hughes, The Athletic: Sam you obviously had the foot injury as rookie, the mono is kind of a fluke, but then there was the thumb issue and now the shoulder injury, the durability red flag might be just a little bit raised here. I mean did you have any issues in college or do you have any issues in high school, anything like that with injuries or is this kind of new?
No, I mean, never had anything in college. It's just something you got to deal with. For me, I am going to take it one day at a time right now.
Andy Vasquez, The Record: Sam I think some people might see like you were able to play the final three quarters of the game the other night and then you can't play a week and a half later, is it just because it gets more sore as time goes on, can you just explain kind of that part of it to us?
Yeah you know, during the course of the game you got adrenaline running through your body and for me especially, once I already start playing the game, I want nothing more to finish. So it's like when I go out there and you know get the juices flowing a little bit and yeah I got hurt and did it hurt, yeah, but it's, for me, I just wanted to go out there and the doctor said I can play if I was able to and I felt like I was good enough to throw a football and sure enough I finished. The next day and even the day after, yesterday, on Tuesday, it was rough. I'm trying to get better, I really am just taking this one day at a time, just seeing where we go from here.
Connor Hughes, The Athletic: Sam, based off of how the game ended, I mean you came back into the game, you finished the game, I mean you uncorked one throw like 50 something yards, so were you surprised at all when you woke up Friday and felt the way that you did?
No, not really, knew what the injury was right after it happened. I did something similar in high school, so I was kind of aware of the pain I guess.
Brian Costello, New York Post: Sam, I know you're always a glass-half-full guy, you take that approach, but a lot of things have gone wrong in three years with this team, you know since you've been here, not just you, but just the team as a whole. Do you ever get down and kind of question how is this going here? I'm sure this isn't the way you envisioned things were going to go in your NFL career.
No, I always have a positive mindset towards everything. I think just looking at the season, did the first four games go the way that we want them to, no, but there's a long season left ahead of us and we're just going to continue to take it one day, one game at a time.
Videos
NY Jets Phase 3 OTAs, Expectations and a Minor Calf Tweak with Greg Renoff