Cardinals @ Jets Week 5 Recap: Jets Outflown by Cardinals; Fall to 0-5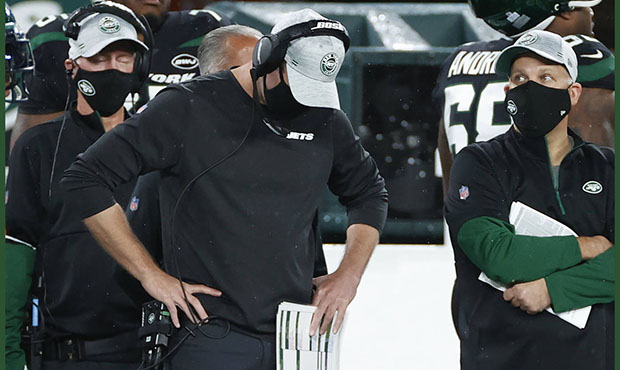 Game Recap
Head coach Adam Gase was right about one thing, with Joe Flacco under center, the Jets offense would not look any different. Once again, the offense struggled to get going, with three straight punts to open up the contest. Then, on a very promising 14-play 79-yard drive that ate up nearly 8 minutes of game clock, the Adam Gase effect set in. A poor 3rd-and-1 play call, dialing up a FB dive to Trevon Wesco. After not gaining the first, a stuffed Le'Veon Bell run on fourth would turn the ball over on downs. Fourteen plays and zero points. Joe Flacco looked a bit rusty to start the game, but he made some throws down the stretch that were flat out dropped, including a beautiful drop in the bucket pass to Jeff Smith. The defense couldn't contain Kyler Murray, as he was able to rush for 30 yards and a score, all while torching Gregg Williams' defense for 380 yards through the air. UDFA cornerback Lamar Jackson had to cover star wideout DeAndre Hopkins in his first career start, and didn't look terrible. Meanwhile, Christian Kirk carved up Pierre Desir on the opposite side of the field for 78 yards on 5 catches.
The game looked to be in reach for New York in the third quarter, when they scored on a Jamison Crowder touchdown pass from Joe Flacco, to bring the score within 7. By the end of the third quarter, however, the score was back to a 14-point deficit. Adam Gase looked to have thrown in the towel early in the 4th quarter, running 37-year old Frank Gore for a 1 yard loss on 2nd and 26. Kliff Kingsbury and Kyler Murray had other plans, continuing to keep their foot on the gas, throwing for another touchdown on an amazing one-handed grab by Hopkins. This would put the game out of reach at 30-10.
The most important thing that happened in the game today regarding the Jets was nothing that occurred on the field. It was an announcement made by the league at halftime regarding the schedule changes to multiple teams. Due to the COVID-19 outbreak on the New England Patriots, their game against the Denver Broncos in Week 5 has been moved. This created a trickle down effect for the Jets, and now their Week 6 game against the Charger is scheduled for Week 11. Now, their Week 6 opponent will be the Miami Dolphins. The team's bye has also been changed, and will now be Week 10. The Jets fall 30-10, and will drop to 0-5 for the first time since 1996. I was one years old when that happened.
The @NFL has announced several changes to the remainder of our 2020 schedule.

📰 https://t.co/TZVQLyjhZw pic.twitter.com/KHEHqEC9AM

— New York Jets (@nyjets) October 11, 2020
Top Play(s) of the Game
Avery Williamson INT off Kyler Murray
.@AWilliamson54 giving us prime field position.

📺 FOX pic.twitter.com/0TVxgJlZyw

— New York Jets (@nyjets) October 11, 2020
Jamison Crowder TD catch
8️⃣2️⃣ always making things happen.

📺 FOX pic.twitter.com/NZzZMC7hSS

— New York Jets (@nyjets) October 11, 2020
Top Performers
Offense: Jamison Crowder – 10 targets, 6 catches, 116 yards, 1 TD
Defense: Jonathan Franklin-Myers – 4 total tackles, 1 sack, 1 TFL, 1 QB hit
Special Teams: Braden Mann – 6 punts, 279 yards (46.5 avg), 4 Inside 20, Long 59
Videos
NY Jets Phase 3 OTAs, Expectations and a Minor Calf Tweak with Greg Renoff