With Season Long Over, Jets Focus now on Finding Players to Move Forward With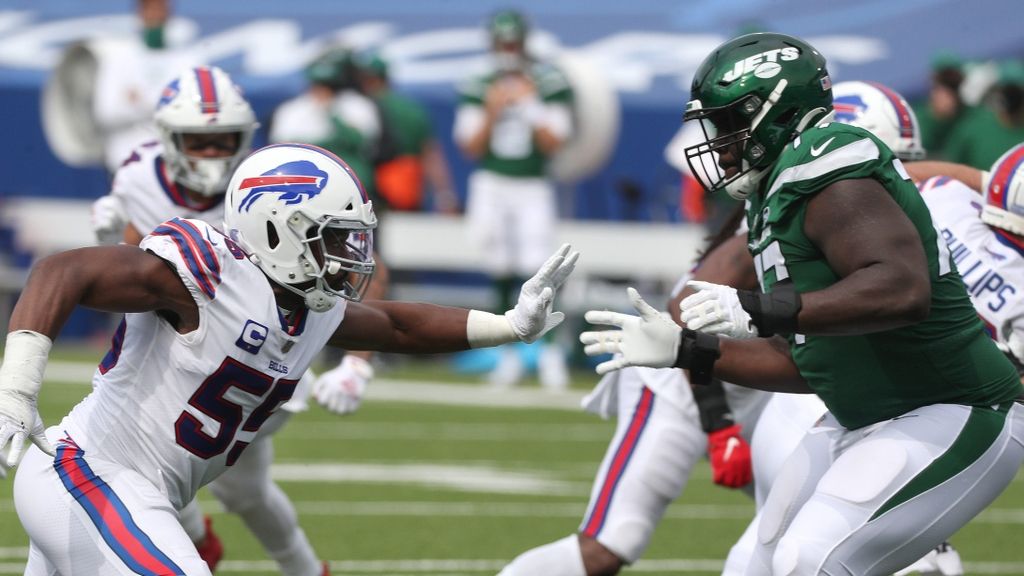 As any Jets fan knows, the team's 2020 season was over by around halftime of their week 2 blowout loss to the San Francisco 49ers backups.  It was clear at that point that they were heading for a Kotite-like year and Adam Gase hasn't disappointed.  It's looking more and more as if this Jets team will go 0-16 while earning the "worst points differential in NFL history" award at the conclusion of the season.  So why should any fans tune in for the remainder of the 2020 season?  Because believe it or not, despite the embarrassing record, there are a handful of players worth watching.
LT Mekhi Becton: Let's get the most obvious name out of the way, shall we?  Becton has been a stud from the day he arrived and is tossing NFL players aside with shocking regularity.  It was one thing to see him do it in college, but in the NFL?  He wasn't supposed to be able to do it this frequently, this often or this easily.  Becton alone is worth tuning in to watch on Sundays.
DL Quinnen Williams: The fantasy football community has always been down on Williams because he won't get you any fantasy points, but he has always shown flashes of being a game changer and we're seeing it on a more consistent basis this year.  He's among the NFL's best run stuffing D-linemen and will likely finish the season with 7 or 8 sacks despite regularly playing just 55-65% of the snaps on defense.  This Sunday against Buffalo he tied for the team lead with 5 QB pressures, picked up a sack and made some incredible plays against the run.  Still just 22 years old, Williams is a future All-Pro.  Let the fantasy football folks keep complaining, just keep the kid in Green and White.
WR Denzel Mims: It was only one game (actually one half) but Mims came away with four receptions for 42 yards.  He's a long, explosive receiver who figures to be a piece for the Jets to heavily rely on for years to come.
DL John Franklin-Myers: Because the Jets are so terrible, it's easy to overlook the fact that they actually have something very positive going on in any facet of the game, but they actually do.  Franklin-Myers has been a revelation at defensive tackle and at times as looked like an excellent half of a special duo between him and Williams.  Just this Sunday the pair combined for 10 quarterback pressures 1 sack, 3 QB hits and a tackle for loss.  Franklin-Myers shows great hands and has proven to be a tough assignment for opposing blockers.
OLB Bryce Huff: Huff is no John Abraham, but despite limited reps, he has shown he can play in the NFL.  We've seen him pressure the quarterback, look solid in coverage in the early going.  At this point, the Jets would probably be best served by letting Huff take as many reps away from Jordan Jenkins as possible. Huff has seen 15 or more snaps just three times this season and has picked up a sack and three tackles for loss.
WR Breshad Perriman: Why would we include a struggling veteran on a one-year deal?  Because the Jets need as much help on offense as they can get.  With the entire offense being a disaster at the moment, it's easy to write Perriman off, but we've seen him do a good job getting separation of late.  If Sam Darnold can get in any kind of groove, Perriman could get enough looks to earn another contract with Gang Green.
With any luck, rookies Cam Clark (LG) and Jabari Zuinga (DL) will get some live reps as the two are viewed as potential starters down the road.
Videos
Aaron Rodgers Injury Fallout & Jets/Bills Recap