Ryan from Jets Talk 24/7: Mock Offseason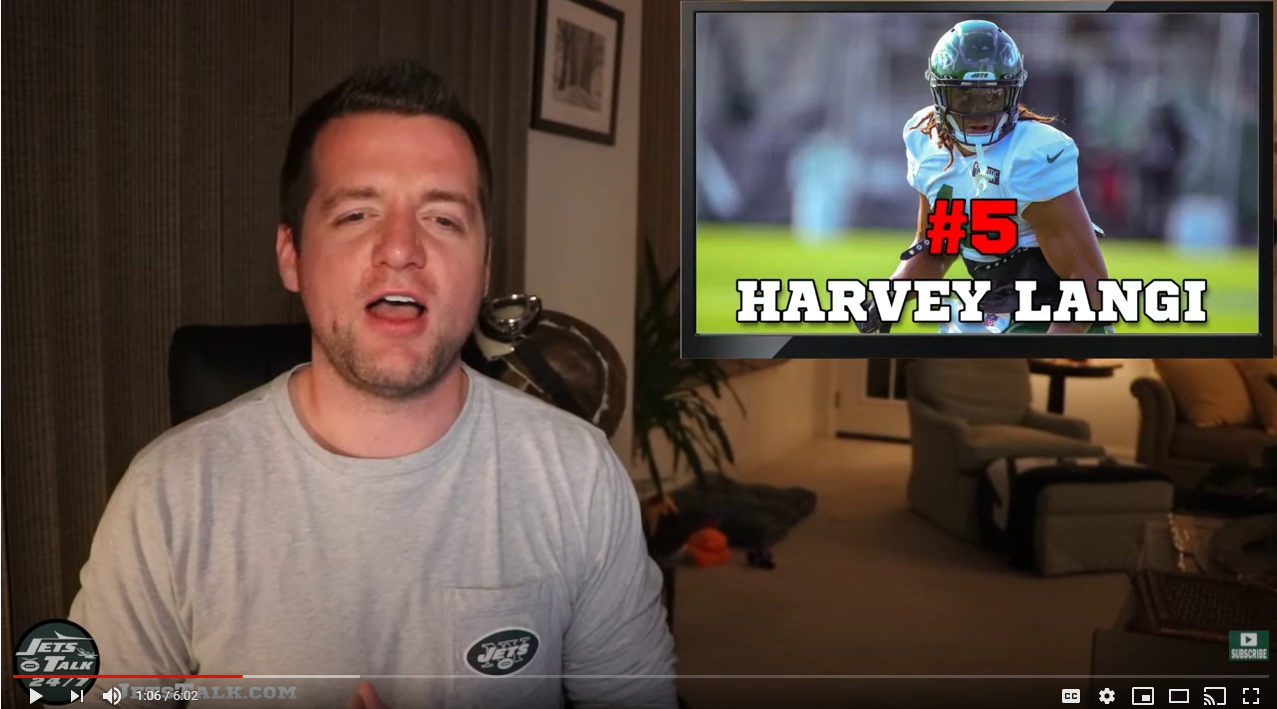 Ryan from Jets Talk 24/7 posted his mock offseason in our forums and I wanted to share it. Take a look at his break down which includes coaching changes, NY Jets roster moves (free agency and the draft) as well as some projected salary cap updates. Now there are 7 regular season games left, so a lot can change. But with the Jets heading into the bye week winless this gives us something to talk about. Anything that distracts us from this current season is a good thing.
Be sure to check out Ryan on YouTube, he does an excellent job breaking down each game and provides insight on all the Jets moves.  Let us know what you think about these moves in the Jets Nation forums.  Here is Ryan's original post:
Jets finish the season 0-16 or 1-15 with the #1 overall pick. The Jags are the biggest threat to the Jets in terms of #1 pick but based on how we saw Luton play I think they squeak out a game over the course of the rest of the season. Woody Johnson comes home and fires Adam Gase, taking the heat off of Christopher Johnson and Joe Douglas.
Coaching Staff
HC – Greg Roman, he's a NJ guy (Atlantic City) and has had a hand in developing/designing offenses around his starting QBs most notably Andrew Luck, Alex Smith, Collin Kaep, Tyrod Taylor, & Lamar Jackson. Has never finished worse than 5th in interceptions thrown, in 4 of 7 seasons his teams have been top 5 in points scored, and all but 1 season they've been top 10 in giveaways. Oh and did I mention he was the Ravens OL assistant while Joe Douglas was scouting with Baltimore.
OC – Mike Kafka, Eric Bieniemy may be the OC in KC but the guy I have my eye on in QB Coach Mike Kafka. When you watch Patrick Mahomes going to the sidelines it is Mike Kafka who is in his ear not Eric Bieniemy. While he hasn't been a playcaller before he doesn't necessarily have to take on that responsibility fully with Roman as the HC. Kafka will be able to spend his time grooming our new QB unlike the setup in our current regime.
DC – Chris Hewitt, he spent 8 years with Greg Schiano at Rutgers as the RB & CB Coach, 8 years with Baltimore as a DB coach and was promoted to Pass Defense Coordinator this year with the Ravens. He follows Roman to NY to take on a secondary in desperate need of a rebuild.
Salary Cap Space
Spotrac – $84M
OTC – $82M
The Jets are going to have $30m in cap space roll over into 2021, with the lack of fans in the stands the salary cap drops to the agreed upon floor of $176m. For arguments sake I am going to use the lower of these 2 numbers given by OTC/Spotrac giving us a starting point of $82M.
Cuts
DE – Henry Anderson – $8.2m in savings, has not lived up to his contract
**OT – George Fant – I'm torn on him, I don't want to weaken our OL but he leaves a lot to be desired. Jets have plenty of cap space to let this play out for 1 more year.
Our Own FAs
WR – Breshaud Perriman – Walk
S – Bradley McDougald – Walk
OLB – Jordan Jenkins – Walk
CB – Pierre Desir – Walk
LB – Neville Hewitt – Walk
LB – Patrick Onwuasor – 1 Year $2m – Same contract he had this past year, a familiar face for CJ Mosley and a cheap stand in until a replacement can be found
K – Sam Ficken – ERFA – 1 Year $850k – have been pleasantly surprised with Ficken this year, not tied to this signing would be fine with Castillo under the same contract.
WR – Jeff Smith – ERFA – 1 Year $780k – Speed kills and Jeff Smith has a lot of it. With the Jets in need of WR help I think we hold onto a cheap option to see how he gels with the new staff.
WR – Vyncint Smith – RFA – 1 Year $2.3m (Original Round Tender) – More than I'd like to spend on Smith since he wasn't healthy this season but I really like the upside for the same reasons I retained Jeff Smith.
Slot CB – Brian Poole – 2 Years $12m – He's easily been the best member of our secondary, I'd be willing to up our price to keep him if it comes to it but I think he will show loyalty to the Jets and resign.
FS – Marcus Maye – 3 Years $30m – This contract could definitely be lower but we may have to overpay to retain his services. I think he'll try to return home to Florida and play for former HC Todd Bowles or possibly to Miami. Jets need to start retaining some of their own players and Maye has been a leader for this team in the wake of Jamal leaving. This contract would make him the 12th highest paid safety.
Salary Cap = $68m
Free Agents
WR – Allen Robinson II – 5 Years $100m – Let's face it the Jets need WR help and we are not an attractive destination heading into FA. The threat of Trevor Lawrence pulling an Eli is still very real in Jets fans minds. While I think there is a very small chance it happens the Jets should be looking to make this landing spot look as good as possible. As for Robinson, he gets the same deal Cooper got (it does allow for an out after 2 years) but the Jets pay a premium for a WR who has been lights out over the course of his career with sub par QBs.
LG – Joe Thuney – 4 Years $60m – This was the big FA I expected the Jets to land last season prior to his franchise tag with the Patriots. I think Joe Douglas will be dialed in again this offseason. Continue to build the OL, an area that was sorely lacking with Sam. Thuney did not commit a penalty during the entire 2019 campaign and has only 2 this season. Oh and this guy has never missed a start. In this situation I'd look to slide Alex Lewis to RG.
EDGE – Romeo Okwara – 3 Years $27m – I was a big fan of Julian Okwara last year who is also a member of the Detroit Lions. Romeo initially started his career with the NY Giants as an UDFA. This is a sizable leap in contract for him but again, Jets are not an attractive landing spot. Had 7.5 Sacks in 2018, 1.5 Sacks in 2019 (arrival of Trey Flowers), and has 5 Sacks in 8 games in 2020. Jets will have an out after 1 season if things head south but they roll the dice on a promising young Edge Rusher.
Salary Cap = $24m – We'll need to save ~$8m just to sign our draft class, leaving us $16m available to make in-season trades or potentially swing a 2022 late round pick for a player that could be cut before the start of the 2021 season.
NFL Draft
1A) QB – Trevor Lawrence – Clemson – This is the generational talent that we have heard about all season long. At 6'6″ he is the perfect combination of Height, Strength, Speed, and Smarts. There have only been 2 QBs in the history of the NFL to refuse to play for the team that drafted them Elway and Eli, and while the threat of that happening to the Jets should be a small thought, I think it is drastically overblown. Assuming he'll play here this will be the easiest pick in the draft.
1B) WR – DeVonta Smith – Alabama – That's right 3 WR Smiths on this team. The dude has wheels and would be a much needed shot in the arm. Imagine a WR core of Robinson II, Mims, Smith, Crowder as your top 4 weapons? Douglas decided to go all in on offense and surround his shiny new QB with the best weapons he can.
2A) RB – Kenny Gainwell – Memphis – I really would love Travis Etienne but I get the feeling he doesn't make it out of the first round. I don't like the idea of spending a #1 on a RB because of how high that 5th year option will be, but first pick in the 2nd round is a sweet spot for me. Gainwell opted out of the 2020 season after losing 4 family members to COVID19. He is elite out of the backfield and isn't afraid to burst through the OL. He feels very much like Kamara and will be an elite option in the backfield.
*TRADE* The Jets trade Sam Darnold to the Pittsburgh Steelers/NO Saints in return for a 2nd Round Pick
2B) RT – Daniel Faalele – Minnesota – at 6'9 400 lbs we'd have the largest pair of OTs the league has ever seen. He has only been playing football for 3 years so there is a ton of room to grow. It's not a sure thing that the Faalele will come out this year since he opted out due to COVID. He may decide to return for his senior season. However if he does this is exactly the type of prospect that I'd love to add to our OL.
3A) EDGE – Joe Tryon – Washington – He opted out because the Pac-12 wasn't supposed to play until Spring (they decided to start playing in Nov instead) The Jets haven't had a serious EDGE presence since John Abraham. Tryon may not provide that right out of the gate but the Jets have to start attempting to solve this decade long problem.
3B) CB – Asante Samuel Jr. – Florida State – This name may sound familiar and that's cause he is the son of former NFL CB Asante Samuel. He is not afraid to tackle and has a knack for breaking up passes.
4) G/C – Alec Lindstrom – Boston College – Connor McGovern had a down year in 2020 but I think it may have more to due with coaching scheme than anything else. Top 10 Centers don't just fall to the bottom of the ranks in one season. I'd like to give him 1 more year in a new system before moving on from him. The 4th round is the perfect spot to snag a replacement to groom while we figure McGovern out. Again this player has a family history in the league with brother Chris going in the first round in 2019 and his Father also playing in the league.
5A) LB – Nate Landman – Colorado – Nicknamed "The Hammer" the guy flies all over the field, I would not expect him to start on defense right away but he could see a hefty amount of time on ST
5B) S – Damar Hamlin – Pitt – Another add to the secondary that we can groom and can contribute on ST
6) OLB – Shaka Toney – Penn State – Plays LB at Penn State but projects as an OLB in the NFL. Perhaps we can find a steal in the later rounds to assist with our pass rush but worst case scenario he is a solid tackler on ST.
I'm sure draft grades will change and some may go way higher or way lower but that's my initial Mock Offseason.
Videos
New York Jets OTA Presser Takeaways, Aaron Rodgers' Impact and Summer Delusion