Dolphins @ Jets Week 12 Game Recap: Darnold Tosses Two Picks, Dolphins Pummel Jets 20-3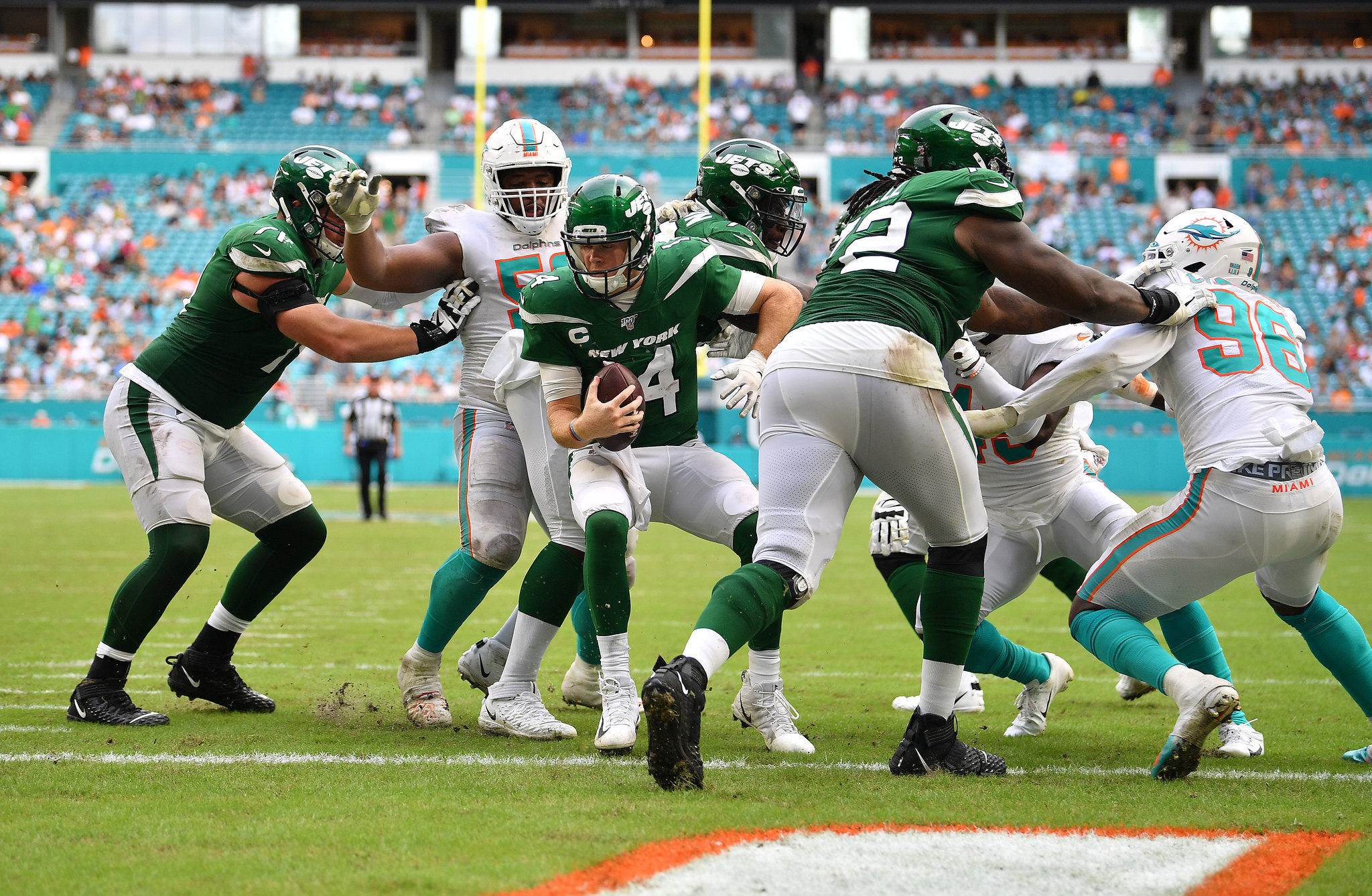 Game Recap
Upon Sam Darnold's return to action, head coach Adam Gase also took back play-calling duties from offensive coordinator Dowell Loggains. The New York Jets sputtered to start, and never got any momentum going through the game. Darnold was sloppy out of the gates, running away from clean pockets and missing targets in space. Denzel Mims made a handful of highlight catches, including a season-high 30-yard reception over the middle. Breshad Perriman had another nice outing, hauling in 4 receptions for 79 yards, making that three consecutive games with 50+ receiving yards. Darnold's two interceptions were both sloppy and consistent with the performances he has had during the year. He finishes with 197 passing yards and a QB rating of 51.0, including 3 sacks. Adam Gase's play-calling ineptness was on full display, using very little pre-snap motion and plenty of 11 personnel. Frank Gore continues to be the focal point of the run game, with Ty Johnson only garnering 3 total touches.
The defense kept the Green & White in the game as long as they could, generating pressure on Ryan Fitzpatrick to the tune of 4 sacks. Quinnen Williams was a constant force in the backfield, racking up 1.5 sacks, 2 TFLs, 2 PBUs, and 3 QB hits.
In his post-game press conference, Adam Gase said Dowell Loggains was still calling the plays, despite Loggains looking as if he wasn't communicating between plays on the sideline. The Jets ultimately fall again to their AFC East division rivals, 20-3, stumbling to 0-11 and furthering their worst start in franchise history. Next week, they host the Las Vegas Raiders.
Top Play(s) of the Game
Breshad Perriman 37-yard catch
Let's go, @B_Perriman11!! 👀

📺 #MIAvsNYJ on CBS pic.twitter.com/Dj0Sb9KBbo

— New York Jets (@nyjets) November 29, 2020
Denzel Mims 30-yard catch and run
.@Zel5Zelly with the fingertip grab 🔥

📺 #MIAvsNYJ on CBS pic.twitter.com/YbI6aeQ2yB

— New York Jets (@nyjets) November 29, 2020
Breshad Perriman 26-yard catch
Go up and GET THAT @B_Perriman11!!

📺 #MIAvsNYJ on CBS pic.twitter.com/i1jV30ZTxJ

— New York Jets (@nyjets) November 29, 2020
Neville Hewitt sack fumble on Ryan Fitzpatrick
.@Neville_Hewitt laying the lumber 💪💪💪

📺 #MIAvsNYJ on CBS pic.twitter.com/6ICqiHvwnv

— New York Jets (@nyjets) November 29, 2020
Jordan Jenkins forced fumble
Defense has balled out in the second half 🛫🛫🛫

📺 #MIAvsNYJ on CBS pic.twitter.com/YGJvFFnd5V

— New York Jets (@nyjets) November 29, 2020
Top Performers
Offense: Breshad Perriman – 8 targets, 4 receptions, 79 yards (19.8 YPR)
Defense: Quinnen Williams – 7 total tackles (4 solo), 1.5 sacks, 2 TFLs, 2 PBUs, 3 QB Hits
Special Teams: Braden Mann – 6 punts, 286 yards (47.7 avg), 2 TBs, 2 Inside 20, Long 58
Videos
Aaron Rodgers Injury Fallout & Jets/Bills Recap