Featured Editorials Jets Report Card
Week 14 Report Card is Another Ugly one for Gang Green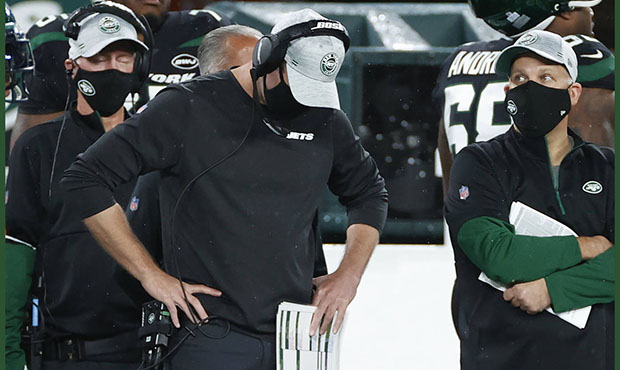 Just when you think things can't get any worse, Adam Gase finds new ways to prove his ineptitude as an NFL head coach as he did this Sunday against the Seattle Seahawks.  Against the NFL's 31st ranked defense, Gase's offense was completely dominated and shut down, managing just a single field goal in his team's 40-3 loss, dropping the Jets to 0-13.  How did everyone grade out?  Let's take a look.
Quarterback: D
Sam Darnold's time  in Green and White is coming to a close as he fails week in and week out to get anything done.  This isn't all on Darnold as he's playing for the worst head coach the Jets have ever had, but he had three dropped interceptions by Seattle's secondary and the Jets just couldn't move the ball with any consistency.
Running Backs: F
Gase's inexplicable love affair with Frank Gore was rejuvenated just a week after his backups proved to be far better options and Gore ran for 29 yards on 8 carries as Gase watched on in awe.  Josh Adams, whom Gase probably couldn't pick out of a crowd, managed 27 yards on six attempts with Ty Johnson getting just 8 carries for 16 yards.  An all around terrible day for the backs.
Wide Receivers: F
Bresahad Perriman dropped a pair of catchable passes and managed just 26 yards on 3 receptions in facing the worst pass defense in the NFL.  Braxton Berrios actually led the team with 49 yards on 3 receptions.  Jamison Crowder, the team's best receiver, caught just 2 balls for 7 yards.
Tight Ends: F
Through no fault of their own, the tight ends were invisible.  Since making a couple of athletic grabs including a touchdown several weeks ago, Chris Herndon has returned to his role as a full-time blocking tight end.  He did see one target for 9 yards but that was it on the day.  Just as he did with Mike Gesicki in MIami, Adam Gase continues to show the world that his offense has no need for a tight end.
Offensive Line: C-
Darnold had his fair share of clean pockets but failed to deliver but the running backs had little room to work with which will always be exposed when blocking for a back with no gas left in the tank.
Defensive Line: F
With such a poor secondary and an elite quarterback under center, the D-line didn't stand much of a chance to get a lot of pressure on Russ Wilson and Seattle's running backs piled up over 150 yards on the ground.
Linebackers: F
Neville Hewitt and Harvey Langi got eaten up in pass coverage all day and the edge backers did little to contain the outside run game.  Jabari Zuniga looked particularly weak against the run and Tarell Basham had one of his worst games of the year.
Secondary: F
Outside of a fantastic leaping interception by Marcus Maye, this unit was largely invisible as Russell Wilson threw four touchdown passes in less than three full quarters of action.  Wilson and Geno Smith combined to complete 25 of 32 passes and this felt like a game where Seattle could've put up 60 points if they'd felt like it.
Special Teams: D
Sergio Castillo missed 3 of 4 field goal attempts and Braden Mann averaged under 40 yards per punt.  Corey Ballentine's 66-yard kick return saves the group from an F.
Coaching: F
Adam Gase's offense took on the NFL's 31st ranked offense and came away with just a field goal that came on the team's first drive which was of course his set of scripted plays.  Once it came down to adjusting to what the defense was showing, not a point was scored.  Gase continues to waste carries on the lethargic Frank Gore in the backfield while completely ignoring his tight ends.
Videos
New York Jets OTA Presser Takeaways, Aaron Rodgers' Impact and Summer Delusion