Browns @ Jets Week 16 Game Recap: Jets Win Back-to-Back, Clinch 2nd Pick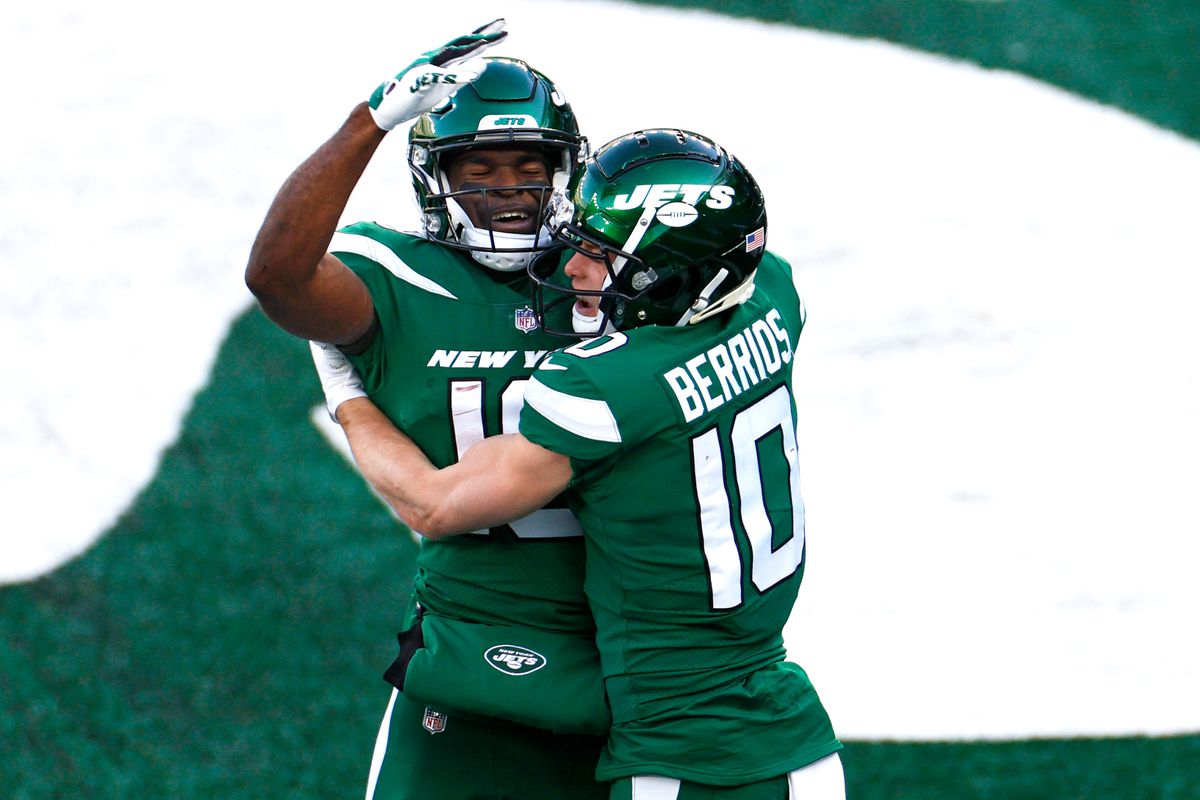 Game Recap
After the surprising win over the Los Angeles Rams last Sunday, the New York Jets kept the momentum rolling, upsetting the Cleveland Browns 23-16. On the back of the defense's 3 first half sacks, and a few trick plays on offense, the Jets win back-to-back games. Baker Mayfield was under pressure all afternoon, fumbling three times, including on a crucial 4th-and-1 to seal the victory for Gang Green. Jamison Crowder was all over the field making plays, hauling in a wide open 30-yard touchdown, as well as throwing a 43-yard strike to Berrios for the opening touchdown of the game. He added a 14-yard first half run to his busy day.
The Jets' game plan to stop the Browns' rushing attack that ranked 3rd in the NFL worked to perfection. At halftime, Chubb and Hunt had combined for only 4 yards on 9 attempts. Offensively, the Jets looked sluggish outside of a handful of plays, but Sam Darnold was able to manage the game and didn't make any pivotal mistakes. He finished the game with 175 yards and 2 TDs.
With this win, and a loss by to Chicago by the Jacksonville Jaguars, the Jets have clinched the 2nd pick of the 2021 NFL Draft. No more Trevor Lawrence, and a handful of questions surrounding this franchise have now surfaced. The team will travel to Foxboro to take on the New England Patriots, a game that will essentially mean nothing to either side.
Top Play(s) of the Game
Jamison Crowder 43-yard TD pass to Braxton Berrios
Slot receiver passes to slot receiver for the TD.

📺 #CLEvsNYJ on CBS pic.twitter.com/xcSK66FrVn

— New York Jets (@nyjets) December 27, 2020
Frankie Luvu strip sack on Baker Mayfield
We'll take that back.

📺 #CLEvsNYJ on CBS pic.twitter.com/NBxaMntZmw

— New York Jets (@nyjets) December 27, 2020
Chris Herndon 11-yard TD catch
Darnold, Herndon, six.

📺 #CLEvsNYJ on CBS pic.twitter.com/QPdmDtY1zA

— New York Jets (@nyjets) December 27, 2020
John Franklin-Myers sack
This move from @J_FranklinMyers >>>>>>

📺 #CLEvsNYJ on CBS pic.twitter.com/j7Z1ZOXv6M

— New York Jets (@nyjets) December 27, 2020
Jamison Crowder 30-yard TD catch
Passing and receiving TDs for Jamison today 🙌

📺 #CLEvsNYJ on CBS pic.twitter.com/9Ea9qwhtp1

— New York Jets (@nyjets) December 27, 2020
4th-and-1 defensive stand
DEFENSE STANDS TALL

📺 #CLEvsNYJ on CBS pic.twitter.com/9bY8SkHNzE

— New York Jets (@nyjets) December 27, 2020
Top Performers
Offense: Jamison Crowder – 9 targets, 7 receptions, 92 yards (13.1 YPR), 1 TD, 1/1, 43 yards, 1 pass TD, 1 rush, 14 yards
Defense: John Franklin-Myers – 3 total tackles (1 solo), 1 TFL, 1 sack, 1 PBU, 1 QB hit, 1 FR
Special Teams: Braden Mann – 7 punts, 260 yards (37.1 avg), 5 Inside 20, Long 49
Videos
NY Jets Phase 3 OTAs, Expectations and a Minor Calf Tweak with Greg Renoff