JetNation Radio Mock Draft 1.0….QB or not QB?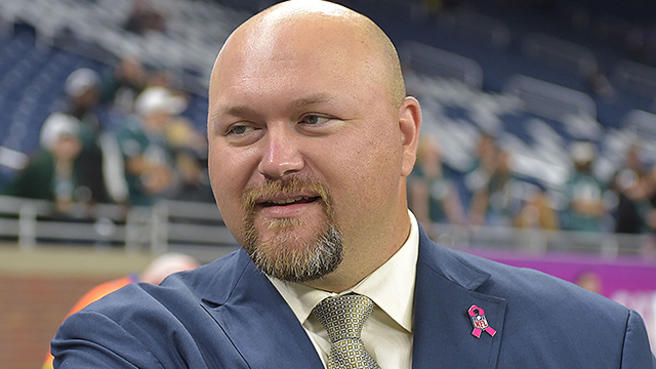 It's mock draft mania on any number of web sites at this time of year but as is the case in year's past, the hosts of JetNation Radio will resist the urge to churn out a thousand mocks and stick with three per season.  On last night's episode, we sat down and put together mock 1.0 with our three hosts and here's how things unfolded.  Keep in mind the fact that no trades were allowed in this mock and each host drafted based on how they assume Gang Green will approach free agency.  For example, with all hosts agreeing the Jets will be aggressive in attacking the offensive line in free agency, it wasn't an area that was addressed this time around.  With a clearer picture after free agency, we may change things up in the future.
The draft was completed with the draft network's mock draft simulator which has the Jets with 10 total selections.
| | | | | | | |
| --- | --- | --- | --- | --- | --- | --- |
| | Alex | | Dylan | | Glenn | |
| | | | | | | |
| Rd/pick | School | Player | School | Player | School | Player |
| | | | | | | |
| 1 (2nd) | LSU | WR Ja'Marr Chase | OSU | QB Justin Fields | BYU | QB Zach Wilson |
| 2 (23rd) | Clemson | RB Travis Etienne | Tulsa | LB Zaven Collins | Florida | WR Kadarius Toney |
| 2 (34th) | Tulsa | LB Zaven Collins | Texas | Edge Joseph Ossai | Oklahoma | Edge Ronnie Perkins |
| 3 (66th) | Miami | Edge Quincy Roche | Washington | CB Elijah Molden | Stanford | CB Paulson Adebo |
| 3 (86th) | Alabama | OG Deonte Brown | Ole Miss | WR Elijah Moore | Memphis | RB Kenneth Gainwell |
| 4 (107th) | S. Carolina | CB Israel Mukuamo | OK State | RB Chubba Hubbard | Syracuse | S Andre Cisco |
| 5 (147th) | Georgia | S Richard LeCounte | Louisville | WR Dez Fitzpatrick | Auburn | WR Anthony Schwartz |
| 5 (155th) | Georgia | TE Tre' McKitty | Pittsburgh | Edge Rashad Weaver | Penn State | Edge Shaka Toney |
| 6 (199th) | Indiana | WR Whop Philyor | Va Tech | RB Khalil Herbert | Michigan | RB Chris Evans |
| 7 (245th) | Ohio St | LB Tuf Boreland | TexaS | DL Ta'Quan Graham | California | CB Camryn Bynum |
Round 1 (2nd)
Alex Varallo: 
LSU WR Ja'Marr Chase: Taking the "stick with Sam" option, Alex opts to grab the top receiver in this class.  Chase opted out for the 2020 season so a handful of fans seem to forget just how good he was at LSU.  Chase is the top pass catcher in this class.
Dylan Tereman:
Ohio State QB Justin Fields: Dylan is ready to move on from Sam and chooses to replace him with the strong-armed Justin Fields.  Fields has been both productive and durable in his time at Ohio State while showing the ability to step up in big spots.
Glenn Naughton:
BYU QB Zach Wilson: Moving on from Darnold once again but in this case going with Zach Wilson out of BYU.  Wilson didn't have the luxury of playing with 5-star talent every Saturday and was consistently throwing to blanketed receivers, still managing to connect on 73% of his passes.  Mobility and high-level arm strength are also a plus.
Zach Wilson…He sets, feels pressure, keeps eyes down the field, rolls out, bullet completion on the move.

I mean… pic.twitter.com/RCZlLQ7saW

— Glenn Naughton (@AceFan23) December 26, 2020
Round 1 (23rd)
AV:
Clemson RB Travis Etienne: Looking to build an explosive offense around Darnold, Alex goes with the draft's best running back after grabbing its top receiver at 2.  Etienne can be a true difference maker out of the backfield as both a runner and a receiver.
DT:
Tulsa LB Zaven Collins: If Collins is on the board at 23 then the pick is a no-brainer.  A long, versatile linebacker who can play either in the middle or on the edge, Collins is a defensive coordinator's dream come true.
Tulsa LB Zaven Collins #NFL #Steelers pic.twitter.com/v6UdDdeygh

— Steelers Depot 🎄 (@Steelersdepot) March 1, 2021
GN:
Florida WR Kadarius Toney: Toney fits the profile of a receiver who can thrive in this offense.  An explosive/shifty receiver who is a threat to make a big play any time the ball is in his hands.  He can line up inside or outside and may not even fall this far on draft day.
Round 2 (34th)
AV:
Tulsa LB Zaven Collins: A second host takes Collins with Alex grabbing him at 34.
DT:
Edge Joseph Ossai: More firepower for Robert Saleh's defense as Ossai becomes a key piece in trying to get to the quarterback.  Pairing him with Collins gives the Jets an impressive duo to add to their linebacker room.
GN:
EDGE Ronnie Perkins: Loved Perkins after watching him several weeks ago and hoped he'd be a mid/late round steal.  Since that time, NFL Network's Daniel Jeremiah has raved about Perkins, listing him as a top 50 player so this is the spot to snag him.
Hot name of late Ronnie Perkins forces the errant pass showing good explosion in coming up the middle with a head of steam. Recently entered Daniel Jeremiah's top 50. pic.twitter.com/6cg9BwQcSJ

— Glenn Naughton (@AceFan23) March 5, 2021
Round 3 (66th)
AV:
Edge Quincy Roche: Roche is the first edge rusher for Alex.  Already regarded as a top 100 pick, Roche solidified his position there with a strong showing in the senior bowl.  The Jets need an answer off the edge and hope Roche is it.
SLIPPERY SPEED ! Been hard for any OL to get control of Miami Hurricanes DE Quincy Roche.

Check out his reps and much more from OL vs DL 1on1s (team American) @seniorbowl practices:https://t.co/wIVpbWFU5I@CaneSport#TheDraftStartsInMobile pic.twitter.com/jijCAizBB2

— Rivals (@Rivals) January 28, 2021
DT:
CB Elijah Molden: Anticipating the eventual departure of Brian Poole, that gap is filled by taking Molden.  The playmaking DB may not be able to line up on the outside, but should be very good in the slot while possibly spending some time at safety.
GN:
CB Pualson Adebo: Viewed as one of the top corners in the country entering the season, Adebo projects as a starting corner as a pro and the Jets need to add some players at a position that is seriously lacking.
Round 3 (86th)
AV:
OG Deonte Brown: Brown is a monster of a man checking in at over 360 pounds.  Teaming him on the left side with Mekhi Becton could be a lot of fun if Gang Green feels Brown is a fit in their system.  Brown recently sent out a tweet expressing a desire to play next to Becton.
DT:
WR Elijah Moore: Another draft class loaded with receiver talent, Moore is the pick here and gives the Jets a dynamic playmaker underneath who could eventually become the team's top option in the slot.
GN:
RB Kenneth Gainwell: Gainwell is an explosive every down back who isn't afraid to run up the gut, has the speed to run to the outside and has had a lot of success lining up as both a slot receiver and out wide on the boundary.  Gainwell will be a weapon at the next level.
— Glenn Naughton (@AceFan23) December 29, 2020
Round 4 (107th)
AV:
CB Israel Mukuamo: A 6′ 3" DB who has lined up in a variety of roles at South Carolina, Mukuamo would offer Robert Saleh another valuable chess piece in his secondary but would likely spend most of his time on the outside.
DT:
RB Chuba Hubbard: A highly touted back entering the season, Hubbard ran for over 2,000 yards and 21 TD's in 2019.  The one-cut back has been projected as a mid-round pick and fills a need on offense for the Jets.
CHUBA HUBBARD OH MY GOODNESS

— PFF Draft (@PFF_College) October 24, 2020
GN:
S Andre Cisco: The Jets are expected to hit Marcus Maye with a one-year franchise tag and could replace him nicely with Cisco, a ball hawk at Syracuse where he had 13 interceptions in three seasons.
Round 5 (147th)
AV:
S Richard LeCounte: A versatile safety out of Georgia and another spot where the Jets prepare for the possible departure of Marcus Maye after this season. The 5′ 11" LeCounte racked up 7 interceptions over the past 19 games.
DT:
WR Dez Fitzpatrick: A good route runner with strong hands, Fitzpatrick doesn't have elite speed but is another option in a deep class who could contribute as a rookie pass catcher.
Catch of the year by Dez Fitzpatrick 👀 ?!?!? #📞 #DavidTyree @dezfitz8 pic.twitter.com/30p5xvKa29

— CardsGonePro (@CardsGonePro) October 13, 2018
GN:
WR Anthony Schwartz: Arguably the fastest receiver in the country, adding Schwartz to Denzel Mims, Jamison Crowder and Kadarius Toney allows Zach Wilson to start off with quite the arsenal.
Round 5 (155th)
AV:
TE Tre' McKitty: An athletic tight end and adequate blocker, McKitty could end up stepping in if the Jets cut ties with Ryan Griffin.
DT:
Edge Rashad Weaver: There's some risk involved as Weaver missed all of 2019 with a knee injury but is worth a shot here given his college production at a position where you can never have too many quality options.
Rashad Weaver with the sack/strip/recovery vs. Tyler Vrabel. #Titans pic.twitter.com/KIMFDbZTjj

— TURRON DAVENPORT (@TDavenport_NFL) January 22, 2021
GN:
Edge Shaka Toney: Toney is unlikely to become an every down player but could have value if used in the right spots.
Round 6 (199th)
AV:
WR Whop Philyor: Another possible receiver out of the slot, Philyor shows excellent quickness underneath and should be able to get consistent separation.
DT:
RB Khalil Herbert: A smallish explosive back, Herbert could be an excellent fit in Gang Green's new offense.
GN:
RB Chris Evans: Despite taking Gainwell earlier, the value in getting Evans here is too good to pass up.  He has had some maturity issues at Michigan but if he has grown up a bit as some suggest, you're getting a player who can start in round six.
A guy who didn't get nearly enough run at Michigan, Chris Evans can be a steal at RB. Averged 5.6 YPC for his career at Michigan but had only 16 carries last season. pic.twitter.com/YPiU3jEi7F

— Glenn Naughton (@AceFan23) February 12, 2021
Round 7 (245th)
AV
LB Tuf Boreland: A 3-time captain at Ohio State, Boreland could be a special teams ace early on while working on becoming a regular contributor on defense.
DT:
DL Ta'Quan Graham: A player who would hopefully offer some depth along the interior defensive line who started 24 games at Texas.
#Texas DT Ta'Quan Graham is an interesting guy to watch. LONG athlete inside. Power to collapse the pocket. Best football could be ahead of him – lot of tools to work with. Has to put it all together. HUGE opportunity next week for him #HookEm #thedraftstartsinMobile pic.twitter.com/rpMLk9fGpu

— Fran Duffy (@EaglesXOs) January 18, 2021
GN:
CB Camryn Bynum: A durable outside corner who could become a spot starter/depth piece.
Videos
NY Jets OTA Recap; Robert Saleh Cancels Minicamp