Offensive Lineman Draft Review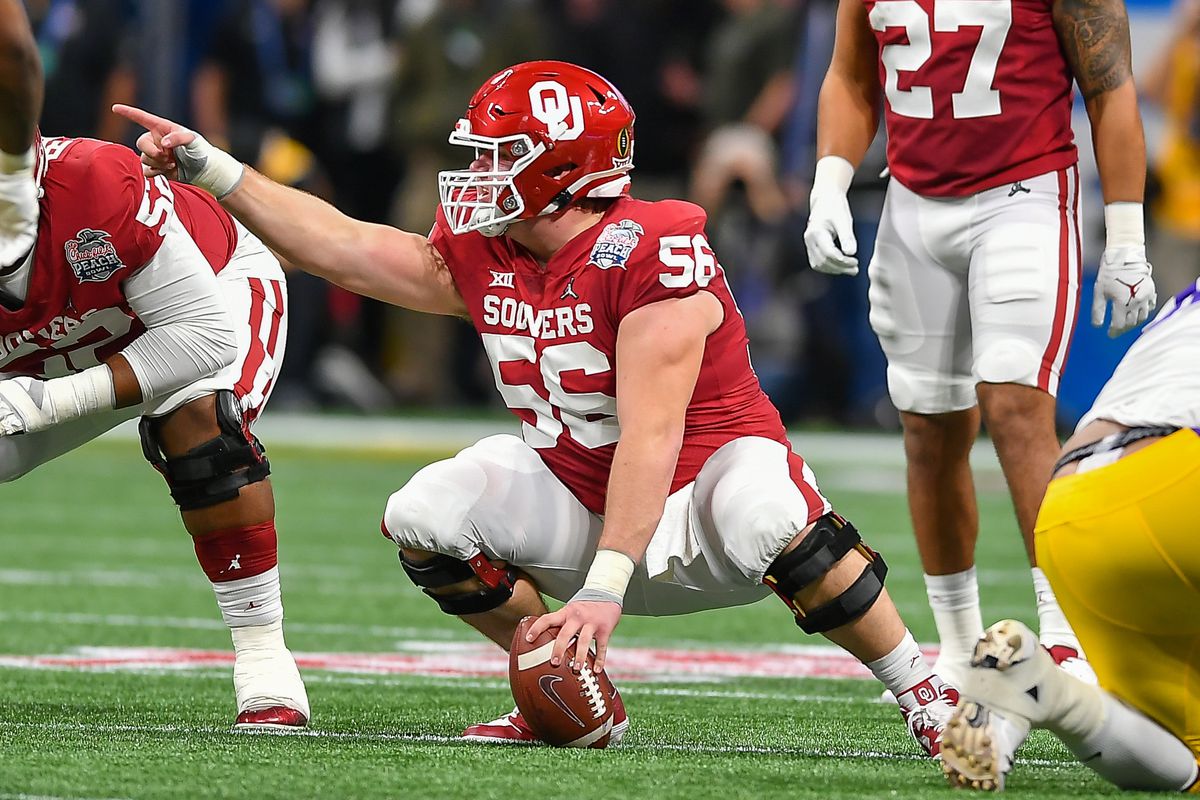 The Jets need to draft two or more offensive linemen in the upcoming NFL draft.  I have reviewed Ourlads take on this year's crop.  Here is what I would do if I were Joe Douglas.
I will start with Center.  Since we will play McGovern at the pivot and have just signed Feeney who has played an entire season at center, we would appear to be set there for this season.  Nevertheless, there is certainly room to add another Center since McGovern and Feeney can play guard and can be cut or not resigned after this season without undue dead money.
Many have pegged Creed Humphrey to the Jets at #23 and that is good value #34.  Ourlads gives Humphrey a second round grade and ranks him at 61st overall.   I think that we cannot afford to take him earlier than his grade.  Further, I am not certain that he will pan out better than the other centers who are available.  Humphrey has positional versatility and can develop at guard or center.  He also has scheme versatility and could develop in either a man or zone scheme.  He is a better run blocker than pass protector and needs work on his technique.  In short, he needs to spend a year in the program but has a bright future.   While he has zone potential, he is not a great fit for the zone scheme.  Unless the Jets get him cheap – unlikely since he is a good fit for man schemes – they should pass on him.  The other top center – Dickerson – is a man scheme only player.
Drew Dalman has a 4th round grade and is ranked at #134 overall.  Dalman is a "center only" prospect and does not project at guard.  Nor does he offer scheme versatility.  He is a "zone only" and "center only" player.  He is too light at 286 lbs for a man scheme.  Nor does he have room for more weight and is a finished product.  Highly intelligent – he went to Stanford – Ourlads says "he is a day one starter" in a zone scheme.  The son of OL Chris Dalman, he reminds me of Tom Nalen – the long-time pro bowl center for the Broncos.  Nalen played in a zone scheme at 260 lbs and the whole league was afraid of him.  Zone schemes value quickness and lateral agility over raw bulk and power.  Like Nalen, Dalman is an ideal fit for the zone scheme we are running.  Would I take him at #107?  No.  Would I take him at #146?  Yes, I would.  If we like somebody better at another position, I would pass and see if we can get him later.  This is why.
Michael Menet out of Penn State, Trey Hill out of Georgia and Jimmy Morrissey out of Pitt are all great fits for a zone scheme.  All have potential to develop into starters.  All are cheap.  Menet carries a 6th round grade, Hill and Morrissey carry 7th round grades.  It is certainly possible that none of them get drafted.  I would be happy to bring one in with one of our 6th round picks and develop him.  Menet is an athletic center who is a good fit for a zone scheme but needs to get stronger.  Hill is a monster who also has the wheels and quickness to play zone.  He has positional versatility and could develop at guard or center.  He needs work on his technique and is not ready or he would go earlier.  Like Dalmen, Morrissey is a "center only" and "zone scheme" only player.  Because Dalman, Menet and Morressey lack both positional and scheme versatility, they are going to go later in the draft than players like Humphrey who offers both.  Hill is still raw and will take time to develop.  I could see him going earlier than his grade because he offers positional and scheme versatility.
I see bargains aplenty at "center only" this year for zone scheme teams like the Jets.  As a result, I am a bargain hunter.  Think of the draft as a giant water balloon.  If you squeeze here, it bulges there.  We need to be opportunistic.  Due to the number of "zone only' – "center only" players, it's a buyer's market and we should be able to get one cheap.  I want to draft one of the players I listed.  I do not care which one nor will I reach for one.  If one goes undrafted, then I would invite him to camp.  If all go undrafted, I would invite them all.
Let's look at the guards.  The top guy is Alijah Vera-Tucker (AVT) out of USC.  Ourlads says he "has legitimate inside out versatility".  They rank him 23d overall and give him a first round grade.  I believe he is a better fit for a man scheme than a zone scheme.  He also has a higher draft grade because he has potential to play tackle.  Not because he will make a better guard for a zone scheme team like the Jets.  It would be nice if they drafted him at #23 assuming he worked out at tackle.  But if he ends up at guard then he is over drafted at #23.  There is little doubt that he is a solid player and a good candidate for any offensive line.  But that is true of the other zone scheme guards with starting grades.  I would pass on him at #23.  I cannot see bringing in an inside out player at #23 if he is not a solid starter at right tackle and a good fit for a zone scheme.  The review leaves that in doubt.  Moreover, there are several players with starting grades in this draft who are good fits for guard only in our zone scheme.  There are also tackles with better potential for a zone scheme who are also cheaper.  These players will be better fits for our scheme and will cost less to acquire.
Lets look at Teven Jenkins out of Oklahoma State since he is regularly mocked to the Jets and has risen in the eyes of the online pundits.  Ourlads sees Jenkins as a tackle and gives him a second round grade at #57 overall.  They describe a man scheme blocker who is better at run blocking than pass blocking.  They also opine that he spends "too much time on the ground" and needs work on his technique "from head to toe".   He does not appear to be a fit for a zone scheme and also will need time to develop.  Based on the review and his projected draft value, I hope we steer clear of him at #23 and #34.   Furthermore, there are tackles I do like at #34.  So if I do not like AVT or Jenkins for guard or tackle at either #23 or #34, who do I like?  After all, I agree with the whole world that the Jets need to improve the offensive line, especially inside.
There are three players I like and would not leave the third round without one.  First is Quinn Meinerz from Outer Mongolian Technical College (OK, he is from UW – Whitewater – wherever that is).  His school cancelled the season so he has not played since 2019.  Invited to the Senior Bowl, Ourlads said "he simply dominated all week".  They give him a 3d round grade and make clear he has potential to play center or guard.  He checks all the boxes, long arms (33) big hands (10) and 35 reps.  He was a two-time team captain, won the team fitness awards etc.  They believe he "is a safe bet to start" and give him a glowing write up.  Is he ready for this season?  No.  He probably needs a year in the program.  But he has tremendous upside with the excellent movement skills needed for zone.  He is ranked in the 3d round because he is not a tackle.  So what. He will pan out better at guard than Jenkins or AVT.  So will these guys.
Next is Alex Leatherwood out of Alabama.  While he played tackle last season, Ourlads projects him inside and gives him a 3d round grade (right behind Meinerz).  They make clear "he can step into an NFL offensive line week one if needed".  Despite being an obvious fit for a man blocking scheme, Ourlads makes clear that he is "capable of mirroring and sliding with balance and control" and "he has athletic quick feet".  While I believe that Meinerz is a better fit for our zone scheme, Leatherwood can work for us and offers inside out potential at right tackle.  He is ready to start right away and is a nightmare run blocker.  I would grab him in the third.  If we take Meinerz at 66, I would take Leatherwood at 86.  I would also do it visa-versa.  Yet there is someone else to consider . . .
Kendrick Green out of Illinois also carries a 3d round grade and is a good fit for the zone scheme.  Said Ourlads "everything is quick – start, feet and hands".  Further "his use of hands to stab, punch and control his opponent is unsurpassed for interior lineman in this draft".  Like Meinerz, he not a tackle and must play inside.  Like Meinerz, he has potential to play center.  Like Meinerz, he is as good in pass protection as he is in the run game.    The only knock on Green is he is only 6′ 1.7″ in height but Ourlads gives him "extra ornery points".  I believe that these three players have every bit as much potential as AVT or Jenkins and are better fits for our zone scheme.  I would take two of them in the third round if I could and grab a center only player opportunistically late in the draft and call it a day.   But what about tackle?
Obviously Sewell, Slater and even Darrisaw have potential to help the Jets.  Well, they are not getting them nor would I take Darrisaw at #23 or #34.   I prefer the potential of other players.  I like Dillon Radunz out of North Dakota State, Spencer Brown out of Northern Iowa and Liam Eichenberg out of Notre Dame.   Since they are tackles, they are expensive players.  Goes with the territory.
Dillon Radunz carries a 2d round grade and is ranked at #44 overall.  Ourlads calls him an "ideal fit for a heavy zone blocking scheme" like the Jets.  He is a fit at left tackle and has "elite body control and athleticism for the outside".  A word here about Ourlads.  I have been reading them for years.  When they say "elite" they mean it.  It is not hyperbole or puffing.  The only higher praise is when they use the word "rare".  They love this guy and said "he had a solid week" at the Senior Bowl.  Nevertheless, they make clear that "he will need to live in the weight room" and needs to "get more movement in the run game".   If we took him at #34, I would understand.  Tackles are expensive and he is an excellent fit.  He needs some time to develop but is a better fit than AVT at tackle and a much better fit than Jenkins.  Yes, his arrival means the Jets could move Becton to the right side.
Spencer Brown is a classic penthouse or the outhouse prospect.  He carries a 2d round grade and is ranked 49th overall.  Remember, we are talking NFL offensive tackles.  These are rare human beings and are costly in draft capital and hard to find.  Sometimes you have to make a leap of faith.  Risky as hell.  Spencer Brown is out of Northern Iowa (aka – nowhere).  He played 8-man high school football in small school USA, played six games as a sophomore and had his season cancelled last year.   There is little tape on this guy.  Nevertheless, Ourlads writes "there are only so many humans who are 6′ 8.5″ with his feet and ability to bend their knees and most of them are playing power forward in the NBA."  He has "elite flexibility" for a tall lineman and has "rare traits and pro bowl potential".  He is the "top athlete" at tackle this year.  At the Senior Bowl, he was beat early but then showed why he is considered an "elite pass protector".  But he is RAW and will need a year to develop.   If we took him at #34, I would understand.  Like Radunz, he is a great fit and is not ready this season.  Unlike Radunz, this guy is pure projection.  Like Radunz, it means they could move Becton to the right side.
Liam Eichenberg carries a 2nd round grade and is ranked #51st overall.  Unlike Radunz and Brown, he is ready right now.  He is an inside out prospect who can play guard if needed.  Ourlads says "his techniques are repeatable and has good brute strength in his hands and base".  They offer praise that "his lower half has obviously spent a great deal of time in the weight room".  He is more of a finished product than Radunz or Brown but does not have their elite upside.  He would start for us on day one at right tackle or either guard spot.  Like Radunz and Brown, if we took him at #34, I would understand.  He is a good fit and can help us right now.
Would I draft one of these tackles at #34?  I am not sure, I definitely would not draft them at #23.  So hard to find talent and nobody knows what the board will look like by pick # 34 and I could not answer until I see who is there.  I know I would take the running backs Harris or Etienne first.  I would also take Rondale Moore, Elijah Moore or Terrance Marshall at wideout first.  But I would understand the argument to take one of these tackles instead.  But to be honest, I think our offensive line needs help inside more than we need a tackle and we can find that help in the third round and later.  But these are the lineman who can help us complete our zone scheme.  We can plug more expensive players into the line but they are not as good fits as the players I have discussed.
Remember your Parcells: "You cannot compromise your prototypes".  These tackles are better fits than the more expensive players.  So are the guards.  The best value this year is at Center.
Let us know what you think in our NY Jets forum.
Videos
New York Jets OTA Presser Takeaways, Aaron Rodgers' Impact and Summer Delusion