Drafted: Zach Wilson; A Closer Look at the Jets new QB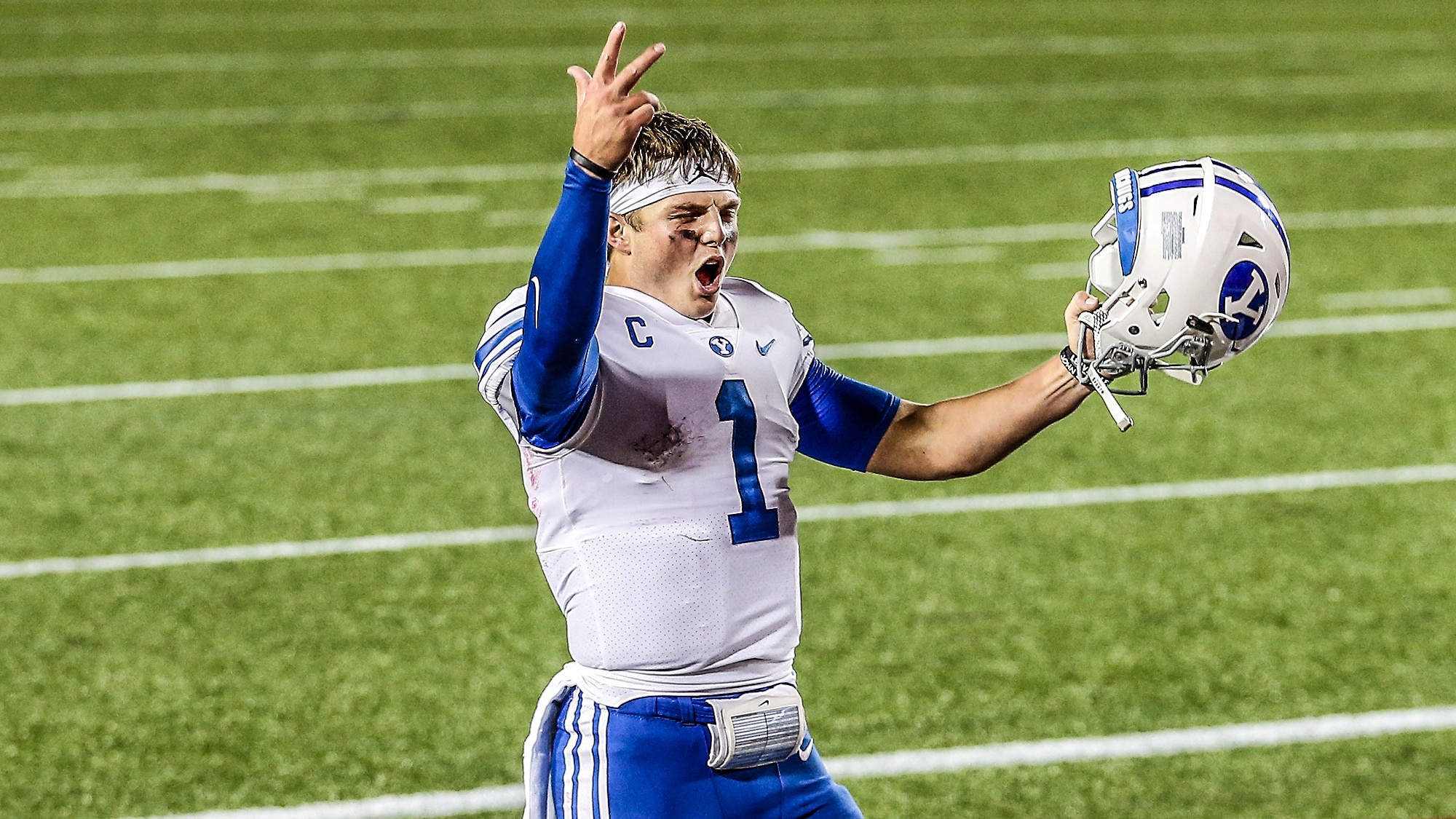 For many, long awaited months, Jets fans engaged in banter across several platforms, all with the same topic, "Who will be the next Jets' quarterback?" And now we have the answer, and it's been the most obvious one if you have watched any football media for the last month: Zach Wilson from BYU.
Before we get into what Zach Wilson will bring to New York, first I will give my two cents on the pick and how I had him stacked against the other options, Justin Fields and Trey Lance. In terms of overall player rankings, Zach Wilson was my 7th overall player, while Fields was 6th, and Lance was 11th. That means it was a 2-man race in my opinion for the pick, splitting hairs between Fields and Wilson. Now, when you get into those small details that separate the two top-tier prospects, using my own imperfect and ever-improving grading system, it truly became a tighter race than I originally thought. Fields beat out Wilson by .1 point, and the only separation was leadership. Not knocking Wilson's leadership (I rated it an A), but Fields is someone I've seen display a level of leadership, over the course of several seasons that is unmatched, and for that he received an A+. So, for as much as I love Fields and his ability, I'm equally as excited that Zach Wilson is now a New York Jet, and I'm also intrigued to see what the future holds for both he and Fields alike. The decade long debate (hopefully) begins now.
Now that that is out of the way, let's talk about what truly matters. Zach Wilson brings a unique skill set along with him from Provo, Utah to Florham Park, New Jersey. His innate ability to throw on the run is what is most attractive about his game. He can make high-difficulty throws appear easy and can change up his launch point with multiple arm angles to get the best throw every time. When you combine those two exceptional traits, it's no mystery why Mike LaFleur would see him as the best option to lead his offense. His upper-level mobility is just an added bonus, as he can slide away from pressure with ease, taking off downfield for big gains if the opportunity presents itself. With the expectation of more zone run concepts, and more play-action than we saw under the previous coaching staff (no need for names here), Zach Wilson provides a clear upgrade over former quarterback Sam Darnold in several key areas.
Diving deeper into Wilson's game, you notice moments incorporated within his plays that other top QBs in the NFL display. First, for me, I see a ton of Kyler Murray when he passes the ball, particularly on deep throws, where his compact release and flick of the wrist nearly mirror that of the former #1 overall selection of the Arizona Cardinals.
This throws from Zach Wilson just screams Kyler Murray to me. The quick release, the footwork, the easy spiral with limited effort. A less-athletic Kyler Murray is a great comp for Wilson. #Jets pic.twitter.com/qO2Y5VBcIz

— Dylan Tereman (@DTereman) April 3, 2021
Kyler Murray has such a nice arm. Great deep ball and throw by the #1 overall pick. #Cardinals pic.twitter.com/RAQYFUyt9R

— Jared Feinberg (@JRodNFLDraft) August 24, 2019
Wilson has also shown flashes of former NFL MVPs, including Patrick Mahomes and Aaron Rodgers, as Brian Baldinger breaks down below:
.@BYUfootball @zachkapono1 @Chiefs @PatrickMahomes very similar delivery on these TD "shovel passes". He makes a few throws every game which reminds us of the #MVP. #GoCougs #BaldysBreakdowns pic.twitter.com/s3JKAYEjD1

— Brian Baldinger (@BaldyNFL) April 25, 2021
Speaking of Aaron Rodgers, it's coincidental that the two passers are being compared to each other, because now they are both in the LaFleur-style offense. Mike's older brother Matt and Aaron Rodgers have led the Packers to a 26-6 regular season record, as well as an MVP season in 2020 with 48 passing TDs and only 5 INTs. If Zach Wilson can continue ascending year over year, similarly to his progression at BYU, it's not a farfetched path for New York's latest draft pick. While this should not be the expectation of him out of the gates, this is a possible trajectory his career path could take if given the right organizational structure to succeed around him. Zach Wilson also has a fan in Aaron Rodgers, despite his joking comments about the veteran quarterback's "swag" back in December. The Packers starter says "I love that kid, I think he's a good kid and good player" on Pat McAfee's show in a rebuttal.
"One college kid took a shot at my swag…

Swag is a mentality, swag is a mindset. I tried to tell this to some of the guys in the locker room. Swagger isn't that you have a SUPREME backpack on…

True swag is owning your inner essence" ~ @AaronRodgers12 #PatMcAfeeShowLIVE pic.twitter.com/DnTqvigdwk

— Pat McAfee (@PatMcAfeeShow) December 15, 2020
One aspect of Zach Wilson's game that is harder to identify on film (for obvious reasons) is how much he himself studies his opponents. There are several key moments throughout the 2020 tape where Wilson often took advantage of such matchups, and a lot of those things are taught watching film. He looks for defensive backs' keys, or tells, which allow him to get a further comprehension of the defense's play call. This type of preparation is something only the best of the best do, and if he can use these study habits at the NFL level, the sky's the limit in terms of mental awareness and pre/post-snap anticipation. NFL teams have told ESPN's Todd McShay they "love" Wilson's 'recall during games and his understanding of what defenses are trying to scheme against him.' If his off-field work ethic can match his on-field production in 2020, Jets fans will have a reason to feel as though the glass is half full.
If you would like to see Zach Wilson's 2020 Game Logs, where I chart every throw he makes, as well as his individual Scouting Report, check out the Google Sheets link below:
https://docs.google.com/spreadsheets/d/1gYm54dSYYvPuoXV3fPXDLTLfJ_rgHffdpvOL34b5AEk/edit?usp=sharing
Hopefully Joe Douglas & Co. continue to provide talent around Wilson, both in their remaining draft picks, as well as adding veterans via trade, free agency, etc. for years to come. A stable foundation must be put in place in order for the whole thing to work. If this staff, both coaching and personnel, fail in doing so, the team will be right back looking for their next QB in the 2024 draft. The time to reverse the narrative is now.
Videos
Aaron Rodgers Injury Fallout & Jets/Bills Recap