Jets Tight End Should get First Crack at Fullback Duties in Upcoming Season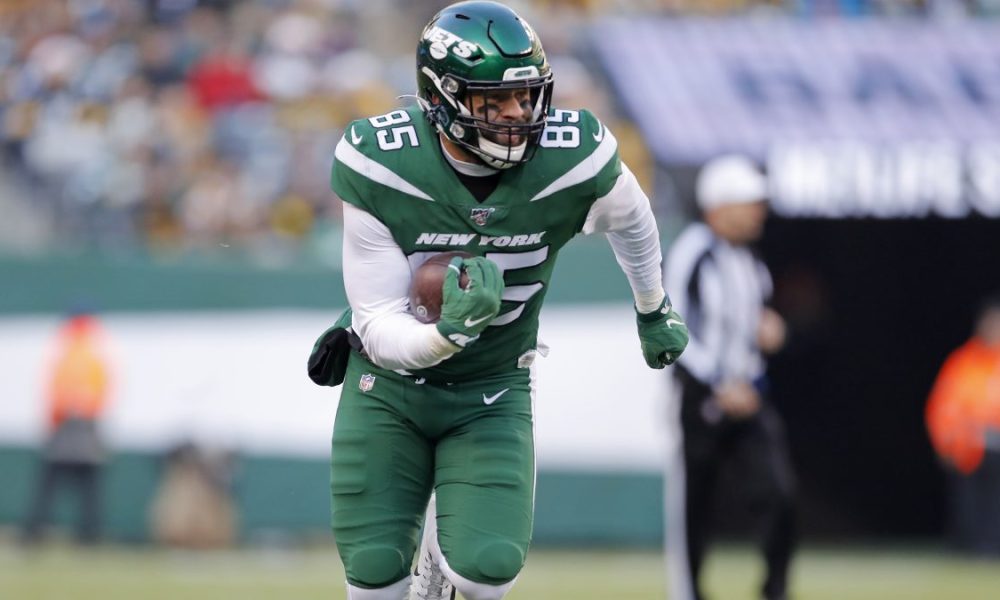 When the Jets drafted tight end Trevon Wesco in the fourth round (121st overall) out of West Virginia just a few seasons ago, the pick was met with mixed reviews from fans and critics.  Tight end wasn't a critical need and Wesco didn't resemble many of the young up-and-coming athletic pass catchers at the position.
However, Wesco's reputation as a hard-nosed "face in the fan" mauler in the run game whose receiving skills were good enough to keep a defense honest was reason for a bit of optimism.  Yet through two seasons as a pro, Wesco has spent the vast majority of his time glued to the bench with a handful of games that saw him get double-digit reps as a blocker at both tight end and fullback.  The results, while inconclusive, have been good enough for Wesco to earn a chance to win a job with the Jets in 2021.
Another player who saw too few reps to excel in a particular role, TE/FB Trevon Wesco did enough as a blocking fullback to be the guy who should get a shot to fill that role in the Jets new offense. pic.twitter.com/3kXahEaIKW

— Glenn Naughton (@AceFan23) May 25, 2021
When Mike LaFleur was brought in to run Gang Green's offense, it was believed that the team would pursue free agent Kyle Juszczyk who thrived at fullback with LaFleur as a member of the 49ers under Kyle Shannahan.  When Juszczyk opted to stay in San Franciso, rumors surfaced claiming the Jets would target fullback Ben Mason, which turned out not to be the case.
That leaves the Jets without a true fullback on the roster, but in Wesco they have a blocker who, when able to get in to a rhythm, has done some very impressive work as a lead blocker.  In looking back to the 2019 season, on the rare occasions in which the Jets running game showed some degree of competence, it was Wesco as a lead blocker that help spring some of the few quality runs they had.
Le'Veon Bell's best rushing performance of the year came against the Baltimore Ravens on a day when Trevon Wesco may have had has best game as a pro. Several key blocks on the move from Wesco in this one. pic.twitter.com/CcVHncHRFO

— Glenn Naughton (@AceFan23) May 17, 2020
The Jets have added free agent running backs Tevin Coleman and Austin Walter along with rookie draft pick Michael Carter to a group that already consisted of Ty Johnson, Josh Adams and LaMical Perine.  Fullback, along with what is expected to be a much improved offensive line, is one of the bigger question marks on offense that Wesco might be the answer to.
Videos
Aaron Rodgers Injury Fallout & Jets/Bills Recap