Numbers Game up Front Will Force Gang Green to Part Ways With Quality Players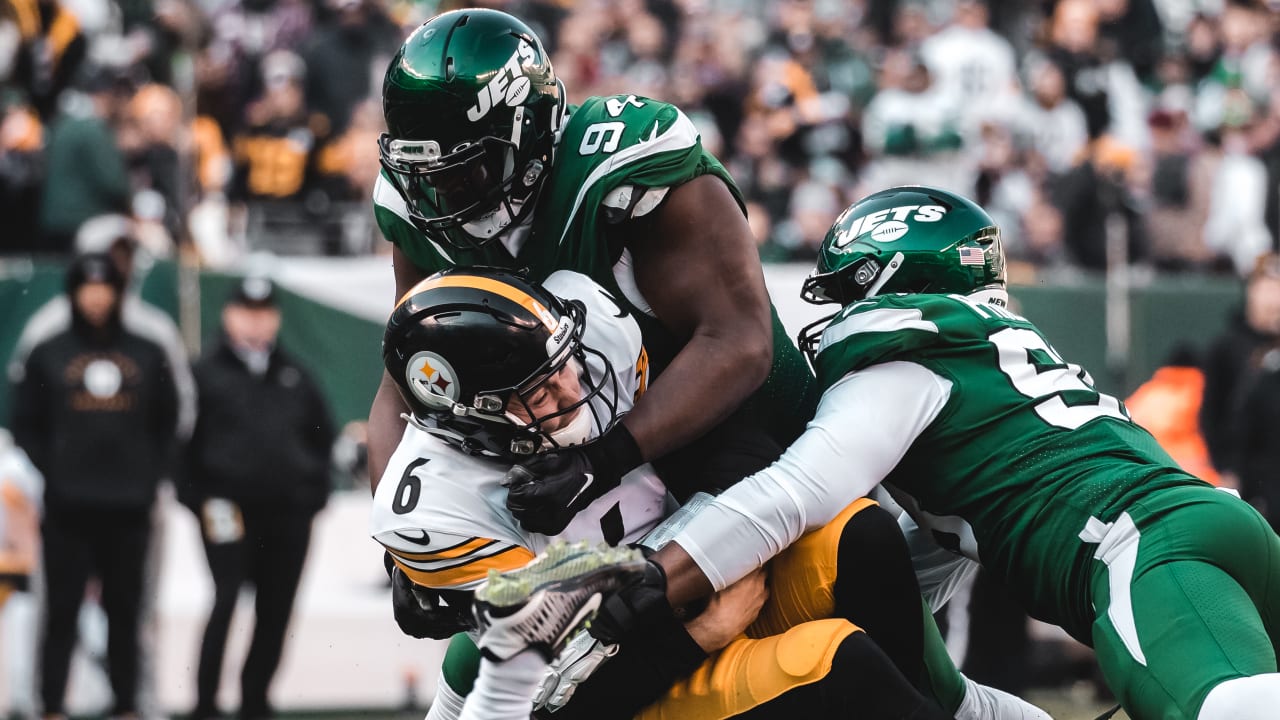 When the San Francisco 49ers opened up the 2020 NFL season, the did it with Robert Saleh's defense carrying 9 defensive linemen to  help man his 4-3 front stay fresh and ready if and when he decided to rotate defenders on game day.  When the Jets open up the 2021 season, there's no telling how many linemen they'll keep, but it won't be enough to keep everyone who's good enough to play.
Because of how the Jets maneuvered their way through the offseason, they find themselves in an enviable position when it comes to depth along the defensive line; they've got too much.  From top to bottom the Jets D-line has enough talent to be among the top in the NFL, but who stays and who goes after final cuts?
The locks are easy.  Quinnen Williams is primed to become a top 2 or 3 interior lineman by season's end.  The kid can do it all.  He gets to the quarterback and stuffs the run at a level that is matched by few.
The QB sacks, hits, hurries get all the attention, but one of the most impressive things you see from Quinnen Williams is his ability to keep his eyes in the backfield and dispose of O-lineman to make tackles at or behind the LOS. pic.twitter.com/9zgo6qI2sm

— Glenn Naughton (@AceFan23) May 27, 2021
After Williams you've got free agent additions Carl Lawson and Sheldon Rankins along with one of last year's few positive developments with John Franklin-Myers, who wasn't far behind Williams in terms of being an outright disruptive player.
.@nyjets @J_FranklinMyers sure looks like he has some "JUICE" If these J E T S are going to turn the corner and join the AFC East Race; it's going to start in the trenches. #BaldysBreakdowns pic.twitter.com/6k5fWrUHy3

— Brian Baldinger (@BaldyNFL) June 7, 2021
Then of course there's Foley Fatukasi, a dominant interior player who stuffs the run and does a better job of collapsing the pocket than many realize.  Does Fatukasi stay on board as the 5th lineman, or does he become trade bait to make room for some of the players behind him?
Because of injuries it seems undrafted free agent Kyle Phillips is a forgotten man, but his film and production make him anything but that.  In fewer than two pro seasons, the disruptive Phillips has logged 10 tackles for loss in just 22 games as part-time player.  If for some reason the Jets don't retain Phillips, he won't be without a job for very long.
In his first big game as a pro, Kyle Phillips picks up 3 TFL's vs Jax as rookie UDFA. Consistently finds his way in opponent's backfield since then. Underrated player who can be a big part of a special D-line. Has 10 TFL's, 1.5 sacks and 7 QB hits as a sub in just 22 games. pic.twitter.com/03KM1SYXSQ

— Glenn Naughton (@AceFan23) June 7, 2021
It's common knowledge that when a new head coach arrives, he likes to find a player or two who they liked and trusted with their previous club to have an experienced player who can help in the meeting rooms and in the huddle if guys have questions.  The recent signing of free agent lineman Ronald Blair shows Robert Saleh is no different.  Does Blair's experience and familiarity with Saleh give him an upper hand?
It's been an up and down ride for former third-round pick Nathan Shepherd who certainly hasn't come close to playing like a third rounder, but who has become a quality rotational guy.  As he enters the final year of his rookie deal, Shepherd could become an odd man out.
What a turnaround for Nathan Shepherd. Here, left tackle tries to kick him out to open up a hole for the back but Shepherd drives him back toward the gap, leaving RB nowhere to go and wrapped up by 3 defenders. pic.twitter.com/fyJX1AoApK

— Glenn Naughton (@AceFan23) December 10, 2019
Then of course there's last year's third-round draft pick Jabari Zuniga who looked to be in over his head in year one, but will likely get the benefit of the doubt and every chance to prove he belongs while transitioning to a system that fits his play style better than last year's because no GM wants to have to cut a player he drafted before they hit year two.  We're looking at you Mike Mike McCagnan and John Idzik.
Veteran Vinny Curry was also added earlier this offseason for what was likely viewed as a mentor/veteran role as he becomes the oldest player on the roster at 32-years-old.  Curry brings very little as a pass rusher and may have a tough time making this roster, but will likely land on his feet somewhere.
Any Jets fan will tell you that 2020 featured very few pleasant surprises but there was one that won't jump out on the stat sheet as his reps were few and far between, but undrafted rookie free agent Bryce Huff jumped out on film several times last season.  If Saleh is looking for edge guys to get to the QB, Huff is probably one of his best options, so seeing him let go would come as quite a surprise and there would surely be a team willing to scoop him up.
Oddly enough, one of the most exciting guys in the group is the one with the lowest profile.  He's never played an NFL snap and was 6th round draft choice (207th overall) in Jonathan Marshall.  Marshall's athleticism is off-the-charts and his explosiveness on film is evident.  How he lasted until pick 207 is a bit of a mystery but he's the type of developmental interior player who could allow the Jets to part with a player who may be a bit higher up on the depth chart at the moment.
Not every impact play makes it in the box score or highlight reel. Jonathan Marshall penetrates, pressures, misses the sack but forces the incomplete pass vs Auburn. pic.twitter.com/zYZJswamXY

— Glenn Naughton (@AceFan23) May 3, 2021
Undrafted free agent Michael Dwumfour shows an excellent first step and violent hands but will have one heck of a time making this roster as well as fellow UDFA Hamilcar Rashed who flashed as a good all-around defender at Oregon State.  Returning veteran Tanzel Smart will also have an uphill battle but when all is said and done, the Jets will have to cut bait with multiple players who should have little difficultly catching on elsewhere.  A nice problem to have for once.
Videos
Aaron Rodgers Injury Fallout & Jets/Bills Recap