Race to Jets Final Receiver Spots Could be Track Meet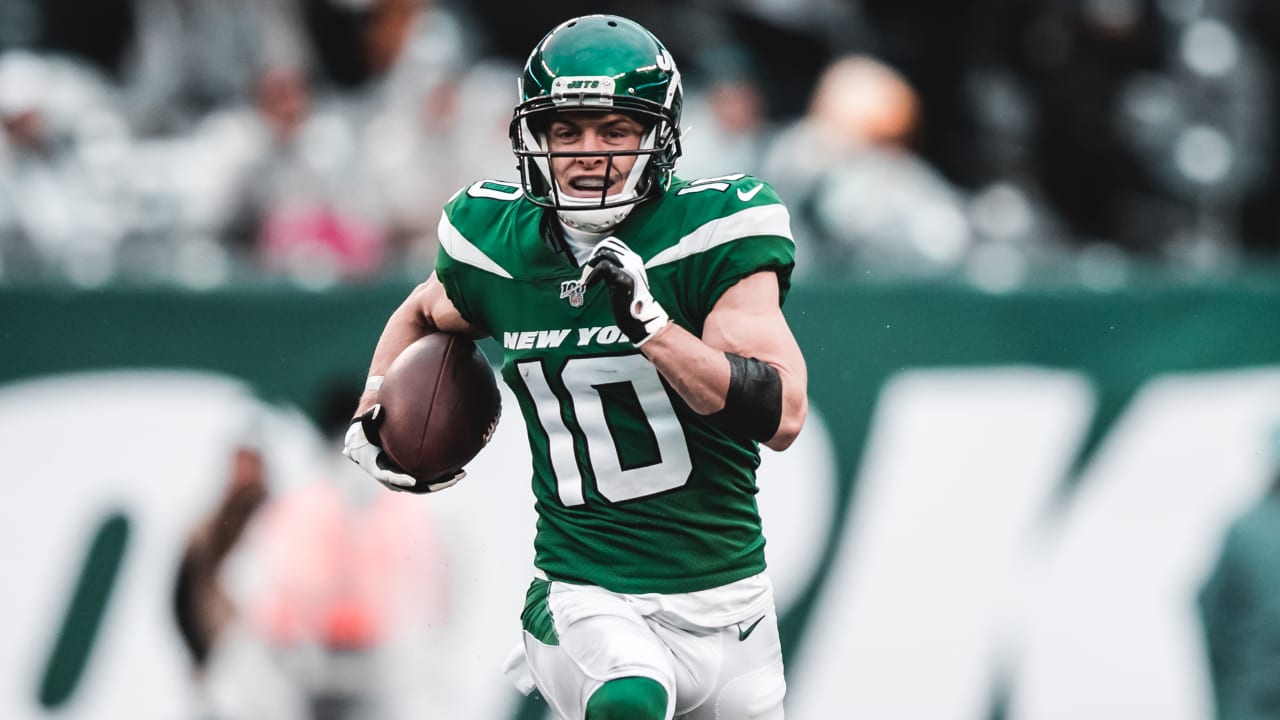 If you plan on paying close attention to the New York Jets wide receivers at training camp or in the pre-season, you may not want to blink or you might miss it.  Joe Douglas has a talented group of wide receivers to work with in Corey Davis, Denzel Mims, Elijah Moore, Jamison Crowder (for now) and Keelan Cole.  That's a total of five receivers who are viewed as locks to make the final 53, barring of course Crowder being cut or traded.
Even if the Jets opt to carry up to seven receivers, that leaves just a few spots left for the remaining seven receivers on the roster.  What makes this season a bit different though is Douglas' effort to stock is roster with guys who can flat out run.  Of the thirteen receivers currently under contract, six of them run the 40 in under 4.4 seconds while two others (Braxton Berrios and Josh Malone) come in at exactly 4.4.
Bottom line is that when these guys show up to camp to fight for those final spots, it could resemble a track meet.
Of course some are longer shots than others, but there are several speedsters who have a legitimate chance to hang around and contribute on offense and special teams while Mims and Moore are locks to stick.  Beyond that?
First time I've seen Bailey mentioned during OTA's. Jets would love one of the young burners to stick and develop with Wilson. Six current Jets WR's run sub 4.4.

Montgomery: 4.3
Moore: 4.35
V. Smith: 4.36
J. Smith: 4.36
D. Mims: 4.38
M. Baiely:4.39
Berrios: 4.4
J. Malone 4.4 https://t.co/BpC0oNMpLH

— Glenn Naughton (@AceFan23) June 13, 2021
While he's the "slowest" of the group, receiver/punt returner Braxton Berrios has been mentioned quite regularly through OTA's where it appears he building a nice rapport with Zach Wilson who is consistently finding Berrios in the middle of the field.  Berrios has had some impressive moments with the Jets but hasn't become as reliable in the hands department as you'd like.  Even still, after leading the NFL in punt return average two seasons ago, he's got a leg up on the competition early on as Wilson keeps calling his number.
After Berrios it would make the most sense to look at the two Smiths; Vyncint and Jeff.  Both run identical 4.36 40's and both have had some good moments in limited opportunities as pros.
Two players with a good chance to make this roster at the bottom of the WR depth chart are Vyncint and Jeff Smith. Run identical 4.36 40's and have shown flashes. pic.twitter.com/kCXnx0HMsh

— Glenn Naughton (@AceFan23) June 13, 2021
Vyncint is the more experienced/polished receiver who ended the 2019 season on a strong note and looked to step up in 2020 before spending the season on IR.
Meanwhile, Jeff Smith started his college career at QB before moving to wide receiver.  He has improved his game and gives the Jets an explosive player who can play the "gadget QB" role if called upon given his experience at the position in college.  Smith saw some opportunities last season and played better than the box scores would suggest as poor QB play sometimes limited what he was able to do after getting open.
Jets had some opportunities to hit on some big plays with Jeff Smith last year but QB's were just off the mark. pic.twitter.com/8C79sjJ8kc

— Glenn Naughton (@AceFan23) June 13, 2021
The fastest of the bunch is DJ Montgomery who has reportedly been clocked at 4.3 which is just ridiculous.  Montgomery was snagged by the Jets after the Browns parted ways with the undrafted wide receiver out of Austin Peay where he scored 10 TD's in his final season while averaging just under 19 yards per reception.  Montgomery's name hasn't been mentioned by a team or beat reporter since the day he was claimed last season so it would appear he's got some work to do.
ESPN reporter Rich Cimini didn't say a great deal, but was the first scribe this offseason to mention Man (Manasseh) Bailey, saying only that he has "impressed".  Another burner at 4.39, Bailey joins this long list of explosive receivers hoping to make a name for themselves.  Another small school product, Bailey is a New York native who also put up 10 TD's in his final collegiate season at Morgan State.
Last on the list is veteran Josh Malone whose time to impress is running out.  An NFL veteran of four seasons, Malone has an intriguing size/speed ratio at 4.4 while checking in at 6'3".  He does have some NFL reps under his belt with the Bengals and Jets but has managed just 11 receptions for 91 yards in four seasons.
Videos
Aaron Rodgers Injury Fallout & Jets/Bills Recap