Second Year Leap: Extended Rookie Season for 2020 Draft Class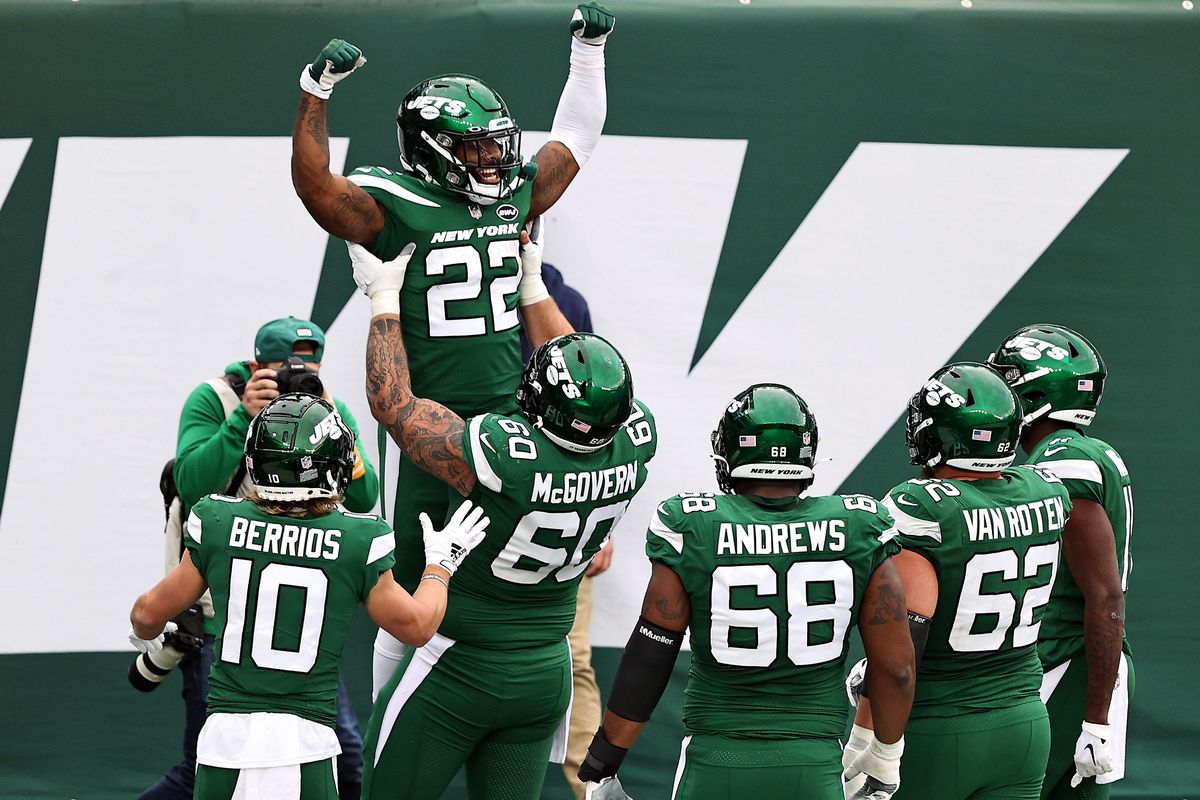 Much like everything else in the world during 2020, the landscape surrounding the NFL looked vastly different. While still transitioning back to a sense of normalcy across the league, including fans coming back to the stadiums, some players are beginning to experience a true off-season. Such is the case with the 2020 draft class. This was Joe Douglas' first draft as GM of the Jets, considering he was hired in June after the 2019 NFL Draft, and it was a draft unlike any other in history. Drafting from his home office accompanied by his children, and not the front office members of the Jets, Douglas had to navigate a nearly all-virtual draft process.
Of course, there were ups and downs.
Making nine total selections, let's look at some players who may not have excelled in 2020, but certainly can make a name for themselves this season. Only two players from the class look to be starters on the roster, Mekhi Becton and Bryce Hall, so let's turn our attention to the draft picks in the middle rounds. Wide receiver Denzel Mims, safety Ashtyn Davis, and running back La'Mical Perine all enter the 2021 campaign without a starting spot, but have the potential to get on the field and make an impact. Let's dive in and see how the new coaching staff, both offensively and defensively, can develop these young players into foundational pieces.
Denzel Mims
The draft pick that probably got the most positive reaction from fans at the time, Mims comes into Year 2 with a solid grasp on the NFL. He was injured early on in training camp, and without a pre-season, he was very raw once he got to see the field in live game action. Immediately, however, he displayed an exceptional ability to go up for contested catches, with the ability to win downfield specifically. He finished six games in 2020 with multiple receptions while averaging over 10 yards per catch, which means Mims is fully capable of being the team's main vertical threat, while Corey Davis can thrive over the middle of the field (think "Dagger" concept).
In the Dagger image above, the "W" receiver could be Denzel Mims, running the vertical, or clear route from the slot right. He wouldn't be the primary target, unless coverage is blown and the safety is out of position over the top. Corey Davis would then be the "X" receiver, running the deep in or dig route. The quarterback's read, in most offenses, would be the dig route, to the shallow across the formation, to the back as a check down, as shown in the image below.
If Mims is able to pick up and comprehend the LaFleur offense quickly, it's easy to see him carving out a starting role opposite Davis. However, if he commits more mental errors, like drops against air in OTAs, or finds himself dealing with injuries again, he could be passed by Keelan Cole on the depth chart. After missing a few practices with a non-Covid illness, Mims was slightly behind the 8-ball in terms of developing chemistry with Zach Wilson, but caught a touchdown from him in minicamp. While still early on in the process, there's still more to refine in his game before becoming a fixture in this offense.
Ashtyn Davis
The first of two 3rd round picks in 2020, Ashtyn Davis was asked to do quite a bit in Gregg Williams' complex defense. At first, he was a backup to Bradley McDougald, who was later benched after Week 7. Davis was thrust into the lineup, playing 100% snaps in the next four games, including his first against the then defending champion Chiefs. He made one poor angle against Tyreek Hill on a touchdown play which left a sour taste in fans' mouths, but it was a reasonable rookie mistake. Davis was never able to find his footing in the defense, getting injured in Week 13 and missing the remainder of the season with a foot injury, but it's evident that Davis' speed is his best trait. He may not yet display the range and ball skills to play sideline to sideline, but he certainly has the athleticism to play in the box as a rusher off the edge.
Defensive coordinator Jeff Ulbrich spoke to the media for the first time on June 4th, and made a few things about his defense clear: It's going to be simple, yet complex, and it's all about repetition.
We know the Saleh defense is predicated on Cover 3 (three deep defensive backs responsible for a deep third of the field), but it will also include Cover 6 mixed in as well. Much like Cover 3, it also features three deep players, but their responsibilities are now quarter-quarter-half. Both coverages would require a single-high safety over the top, with a roaming safety in the box or in the slot as a nickel defender. Currently, Lamarcus Joyner and Marcus Maye are above Davis on the depth chart, and both are the versatile do-it-all type safety, with abilities to play single-high as a "post" safety, or come down into the box and play man-to-man in the slot. That means Davis will have the opportunity to learn both roles from a backup perspective, which can go a lot further for his development than throwing him out there in disadvantageous situations. If Davis proves he is comprehending the defensive fundamentals and techniques, and can be counted on to fill either role, it will go a long way for the team moving forward, as this defense relies on safeties and linebackers the most in terms of versatility. Marcus Maye is playing on the franchise tag, and likely is not going to be retained if we read the tea leaves coming out of 1 Jets Drive. Joyner is an aging player that is on a minimal salary. The chance is there for Ashtyn Davis to solidify more reps in 2021 and beyond.
La'Mical Perine
La'Mical Perine was the only of Joe Douglas' fourth round selections to play any reps in 2020. And with those reps, he was less than inspiring. He had the lowest yards per rush of the three returning backs (Ty Johnson, Josh Adams), and his best performance was Week 7 against Buffalo in which he had 56 total yards on 13 touches (4.3 yards per touch) and 1 touchdown. If he wants to have a role in this offense, one that is expected to deploy a running back by committee (RBBC), he will need to show improvement in a few key areas.
Primarily a between the tackles runner, Perine was able to break off a few nice outside runs in the Week 7 contest against the Bills, both to the left side behind Mekhi Becton. First was a toss left with Becton pulling as the lead blocker, then again on a zone run play that gained 20 yards to begin the following offensive possession. He will need to continue showing the ability to stretch runs in the new offense, which is predicated off the "wide zone" scheme. In this scheme, the runner's aiming point is off the backside of the playside tight end.
In his press conference with the media, offensive coordinator Mike LaFleur said stylistically there are many types of runners that can fit his system, but with guys like Tevin Coleman and Michael Carter ahead of Perine in the pecking order, he will have an uphill battle in training camp. The team is likely to keep 4 or 5 backs on the final 53-man roster, so it's likely he can find himself competing with Josh Adams for that final spot.
Videos
NY Jets Phase 3 OTAs, Expectations and a Minor Calf Tweak with Greg Renoff