The New York Jets have reached a deal to sign second-round draft pick Elijah Moore. In an announcement published last Wednesday night, the team revealed having come to an agreement over a four-year contract with the 21-year-old.
ESPN's Rich Cimini has since reported that the deal is worth $8.94 million that includes a signing bonus of $3.86 million while the contract has full guarantees for years 1-3. "Slotted deal is $8.94 million, including a $3.86 million signing bonus. That leaves one unsigned pick – Zach Wilson," Cimini tweeted.
Zach Wilson is the only unsigned Jets rookie on the back of this, with the team having already signed Alijah Vera-Tucker.
Moore was the 34th overall pick out of Mississippi back in April. The 21-year-old led all FBS receivers in two important receiving stats, boasting 10.8 catches and 149.1 yards per game, although he opted out of the last two games of the 2020 season.
The player, a first-team All-SEC feature, leaves behind a record of 86 interceptions for 1,193 yards and 1 touchdown.
"The Jets have signed WR Elijah Moore, their second-round pick (No. 34 overall) out of Mississippi," the NFL outfit announced on Wednesday night.
"Even though he opted out of the final two games of the 2020 season, Moore (5-9, 178) led all FBS receivers with 10.8 catches/game and with 149.1 receiving yards/game. He finished with a school record 86 receptions, for 1,193 yards and 16 TDs, and was named first-team All-SEC.
"Moore, who described his game as "electric," totaled 189 receptions, 2,441 yards and 16 TDs in three years in Oxford, MS. He ran a 4.35 40-yard dash at his pro day, shedding light on his track background. He set personal bests in the 100 meters (11.11), 200 meters (23.40) and long jump (19-6.75) as a senior at St. Thomas Aquinas High School in Fort Lauderdale, FL, which produced many NFL players including NFL Hall of Fame WR Michael Irvin. He's also the most recent Ole Miss WR to turn pro in what's been an impressive recent lineage – Titans WR A.J. Brown and Seahawks WR D.K. Metcalf."
"He's dynamic," Head Coach Robert Saleh said as part of the team statement. "When he gets the ball in his hands, he becomes something different. His ability to separate on routes, run the jet sweeps, come out of the backfield – he's extremely versatile. I'm ecstatic he was able to get to us. There's not a lot of things he can't do."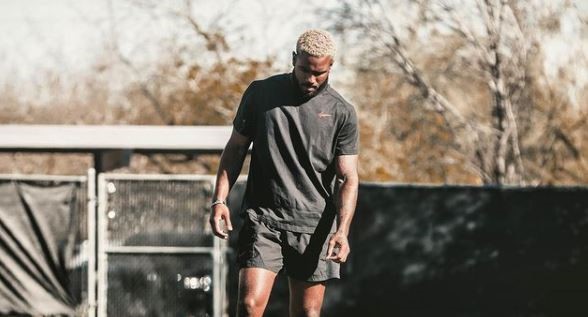 Photo via: @emoor_03/Instagram
Despite his prowess, Moore had a bit of an Odell Beckham Jr.-type moment in his final season with Ole Miss, costing the Rebels the 2019 Egg Bowl after getting penalized for celebrating a touchdown by getting down on all fours and pretending to urinate like a dog. Kicker Luke Morgan missed a 35-yard extra point after the 15-yard penalty, and they would go on to lose to Mississippi State 21-20.
The player feels like he could be a great fit in Mike LaFleur's offense. "A great fit," he said. "I feel like I'm a person who can adapt to anything. Whatever it is, I'll be able to adjust and get the job done."
"I feel like I just understand craft," he said of his route running. "Football and being a receiver is more than just catching the ball and running. I feel like you have to understand what you're doing and the art of getting open. I just take more pride to it. A lot more goes on out there than what everyone sees on the TV."
The Jets are currently 80/1 to win the Super Bowl next season and all of the top bookies have NFL odds on offer to that end. On a lighter note, the player had no idea what he was looking at after being shown an image of a VHS tape during a recent video session. While he's only 21, it's unlikely he never used one before as DVDs did not reach the US until 1997 and VHS players were still going strong way into the mid-2000s. It appears he was too young to remember – he knew it was some kind of tape but not what it actually was.
VHS has long gone out of style and, so have DVDs, with recording tech leaning towards softer storage methods. It was still a hilarious moment, though.
Fortunately for the Jets, such knowledge won't affect Moore's game and the team will hope he meets or surpasses expectations after tying him down to a contract.
The player is now the 13th draft selection by the Jets out of Ole Miss. The most notable Rebel who was drafted by the team is Larry Grantham, who was taken out of the first round of the AFL Draft in 1960 before going on to play 175 games as a Jet and Titan. He made five AFL All-Star appearances and was named to the second Jets Ring of Honor class in 2011.