KRL Jets Camp Notes (7/31/21)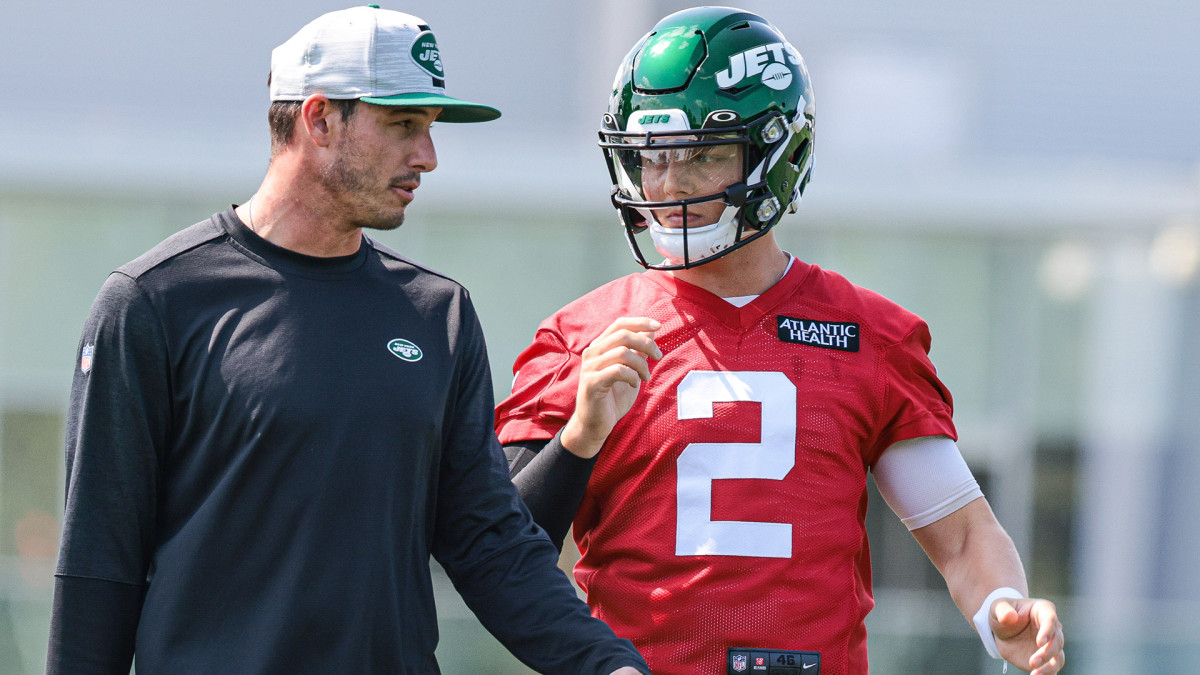 Good to be back, let's get started with initial impressions.  We'll see if these hold true with the two other practices I'll be attending:
General Notes
– Props to the staff for the smooth movement of 1000+ fans to the practice facility.
– Practice ran 2 hours and 40 minutes.
– Shockingly players were in jerseys & shorts (not even shells).  Usually by day four pads are worn.
– With no pads there were no 1 on 1 periods to really break down players movement skills.
– For the most part it was a 50/50 practice with each side of the ball "flashing" during certain periods.
New Staff Notes
– Practice has three portions now a 24 minute individual warmup period where players work with their position coaches.  A 15 minute offense/defense installation period and then the formal practice begins.  During the calisthenics period the performance staff added ball skills, where the players had to catch the ball while exercising.
– As mentioned before only jerseys & shorts on a day that full pads usually come on.
– During the 15 minute installation period the defense really emphasized the  coordination of LB's & DB's in their coverage responsibilities.  At various points Jeff Ulbrich (DC) would pull a LB, CB and S and send a route combination at them to see if they knew what they were doing.
– The DLine staff has brought in a blocking sled that is MUCH lower to the ground than normal.  Forcing the DLinemen to get low in their stances and to get underneath OLinemen.  Because as the saying goes in line play "the low man wins".
– I don't know if this is what Mike Lafleur (OC) normally does but in the initial 11 on 11 periods he really emphasizes the running game.  Then later on he opened up the pass game.
Player Notes
– The players auditioning for PR are Elijah Moore, Braxton Berrios, Michael Carter and Keelan Cole.
– Carl Lawson is going to be a problem.  Relentless pursuit in rushing the passer, excellent get off and a wide variety of moves and hand actions.  It was a pleasure watching him go against Mekhi Becton, they should really push each other to be better.
– The DLine as a whole has much more freedom in getting up the field.  To the point where Sheldon Rankins pulled a "Dwight Freeney spin move" from his DT position to rush the passer. Quinnen Williams will be scary in this scheme when he comes back.  But that comes with a price because with the emphasis on attacking upfield they got "gashed" a couple of times on cut backs.
– Nice to finally see a creative run scheme straight out of the "Shanahan book".  Tons of motions to influence the defense and out of the same formation multiple plays can be run for multiple players.  Michael Carter and Tevin Coleman stood out, showing the ability to read the play and determining when/if it was time to cut back.
– The OLine was effective in run blocking but they'll need to stiffen up in pass blocking. At assorted times the DLine really pushed the pocket causing QB's to throw on the run. Nice holes opened on the left side by Mekhi Becton and Alijah Vera-Tucker.
– Solid coverage for the most part by the back seven as they seemed to work on matchup zones.  Covering receivers to a certain point and then passing them off to another player. They were solid in their assignments to the point were the QB's had to hold the ball for
what would be a "sack".  An impressive, acrobatic INT by Jason Pinnock (from his back) off of Mike White as he returned it for a TD (30+ yards).
QB Notes  
– They seemed to be "over repping" Zach Wilson to get him up to speed from the two days he missed.  And the talents you see on his tape and from his BYU Pro Day were on display.  The play of the day was his 80 yard TD (50 yards in the air) to Elijah Moore.  Wilson got pressure from his right side, shifted to the left side of the pocket and "flicked" the ball to Moore in stride 50 yards down the right side of the field.  In addition you saw Wilson's ability to create when things broke down and throw with accuracy and velocity even when his feet aren't on the ground.  It would be nice to finally not be teased by a young QB, we'll see.
– Surprising performance by James Morgan, he's big and not overly mobile so you wouldn't think he would fit in this offense.  But he did a good job moving within the pocket and showed a strong and accurate arm.  His two best throws were a 20+ yard seam strike to Tyler Kroft and a 40+ yard TD to DJ Montgomery.
Standouts
– Zach Wilson
– Carl Lawson
– Elijah Moore
– Michael Carter
– Jason Pinnock
Concerns
– DLine run defense on cut backs
– OLine need to tighten up the pocket for the QB's
Read more about #JetsCamp in our forums.
Videos
Was Boomer Right to Blast Becton? Former Jets QB Sounds off Against Jets Tackle.