Featured Editorials NY Jets Training Camp
With Pads set to Come on in Week 2, What did we Find out About Gang Green Through First Week of Camp?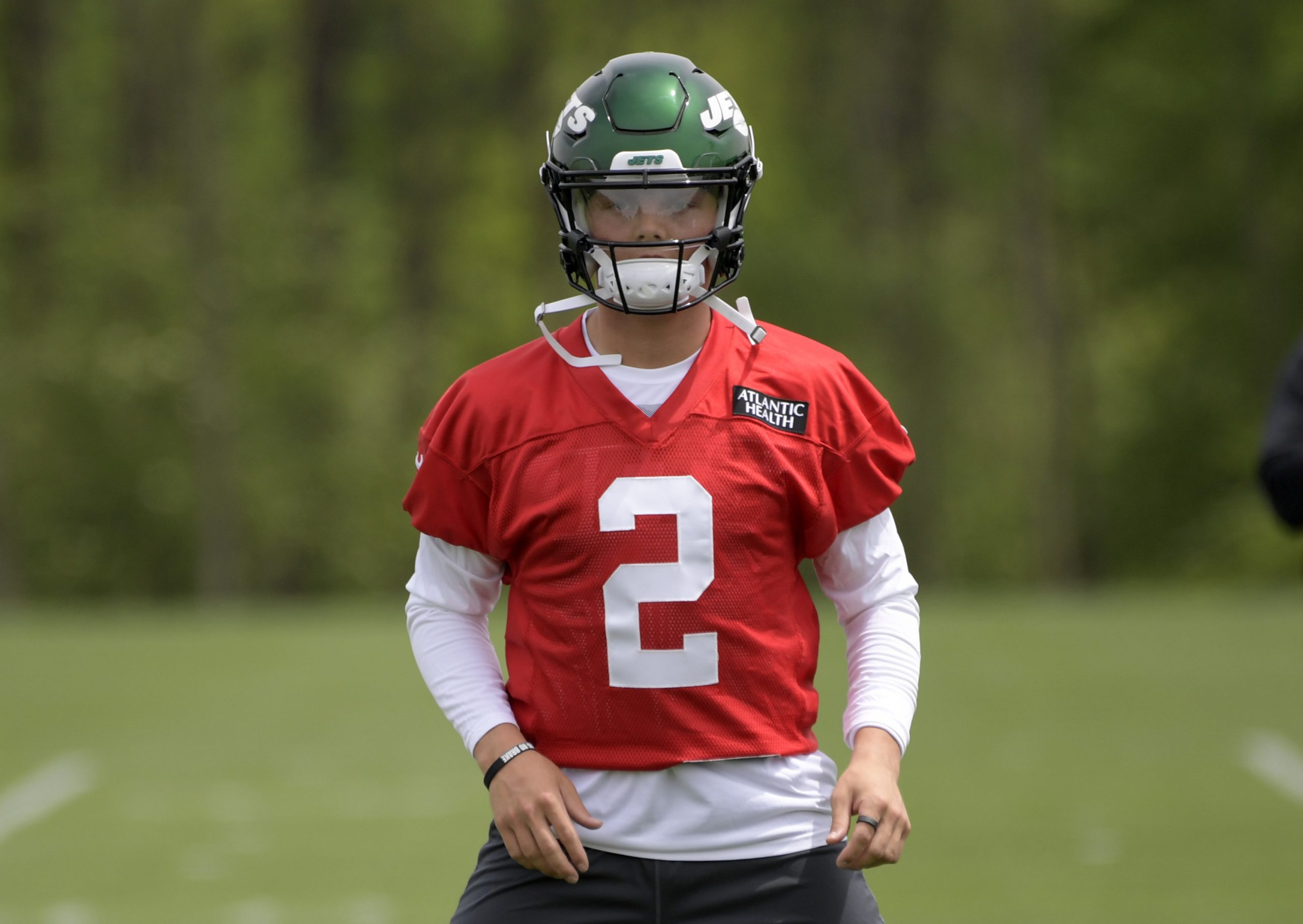 The Jets wrapped up their first week of training camp under new Head Coach Robert Saleh and while not a whole lot can be taken from early padless practices, there are a few notes and observations worth keeping an eye on.  What were they?
Wilson's Will: Whether players come out early on and flourish or fizzle, it's always good to see guys come out and have some success doing the things that the team surely hoped they would be able to do in going from the college game to the NFL.  In the case of Zach Wilson, we've already seen him make a several plays in which he escapes the rush, moves around outside the pocket and delivers a ball on target.  This ability to move the ball when it looks like things have broken down was one of the biggest reasons Wilson was a hot prospect to begin with so seeing it early guarantees nothing, but it's a very good sign.
Is Nasirildeen the Will?  There's not a fan in the NFL who doesn't love to see his team snap up a draft pick in the middle to late rounds and then play well enough to win a starting job.  In the case of Hamsah Nasirildeen, they may be the case.  A projected early-round pick, Nasirildeen fell in the draft due to injury and has been getting plenty of run with the 1's early on at the WLB spot.  Can he grab the job and hold on?
OLB Hamsah Nasirildeen (23) has been getting some run with the 1's early on in camp. Big hitter who can steal a starting job as a sixth-round pick. pic.twitter.com/d3i15RRmml

— Glenn Naughton (@AceFan23) August 1, 2021
Can't Hold Moore Back for Long: There was an interesting exchange on twitter this week in which a fan asked if rookie Elijah Moore was good enough to break the 1,000 yard mark this season.  The person he asked said it was unlikely to happen with Corey Davis atop the depth chart.  However, how long will it be before Moore is no worse than second on the depth chart and how likely is it that he won't see plenty of targets if he looks as good as he has early on in camp?  At some point the kid is going to become a starter who makes plays.  Those guys see tons of targets.  If Moore isn't starting by week 2 or 3 it will be a huge surprise.
Morgan and White jockeying for position: Keeping up with who looked best between the two backup QB's was heavily dependent on which observer you listened to and the day of the week.  One day White looked better to one beat writer while Morgan came out on top in the eyes of another.
Receiver Cuts Wont' be Easy: We've talked about it quite a bit this offseason and the early results in training camp just serve as a reminder; the Jets depth at wide receiver is a nice problem to have.  It seems every receiver on the roster has had their number called at one time or another for finding the end zone, making a fingertip grab or picking up a big chunk of yards.  From the big names such as Davis and Moore all the way down to Lawrence Cager and DJ Montgomery.
Every day is a chance to make a play. pic.twitter.com/iQ7ecxD6Cs

— New York Jets (@nyjets) July 30, 2021
Becton vs Lawson Should pay huge dividends: Only a few days of camp and this topic as already been beaten to death but it feels wrong to not mention it.  The Jets have a couple of studs in LT Mekhi Becton and DE Carl Lawson who should each make the other better.  Lawson got the better of Becton through the first couple of sessions but it sounds as if Becton won the most recent round.
Tyler Kroft Watch: It was a side note on the transaction wire when the Jets signed former Bills tight end Tyler Kroft, but the veteran has been running with the starters since mini-camp and appears to have every chance to displace Chris Herndon as the starter.  Good news for the Jets is that no matter how you stack them up on the depth chart, the pair could for a very nice duo this season.
Videos
Aaron Rodgers Injury Fallout & Jets/Bills Recap