Featured Editorials NY Jets Training Camp
JetNation Position Preview: Sorting out a Stacked Defensive Line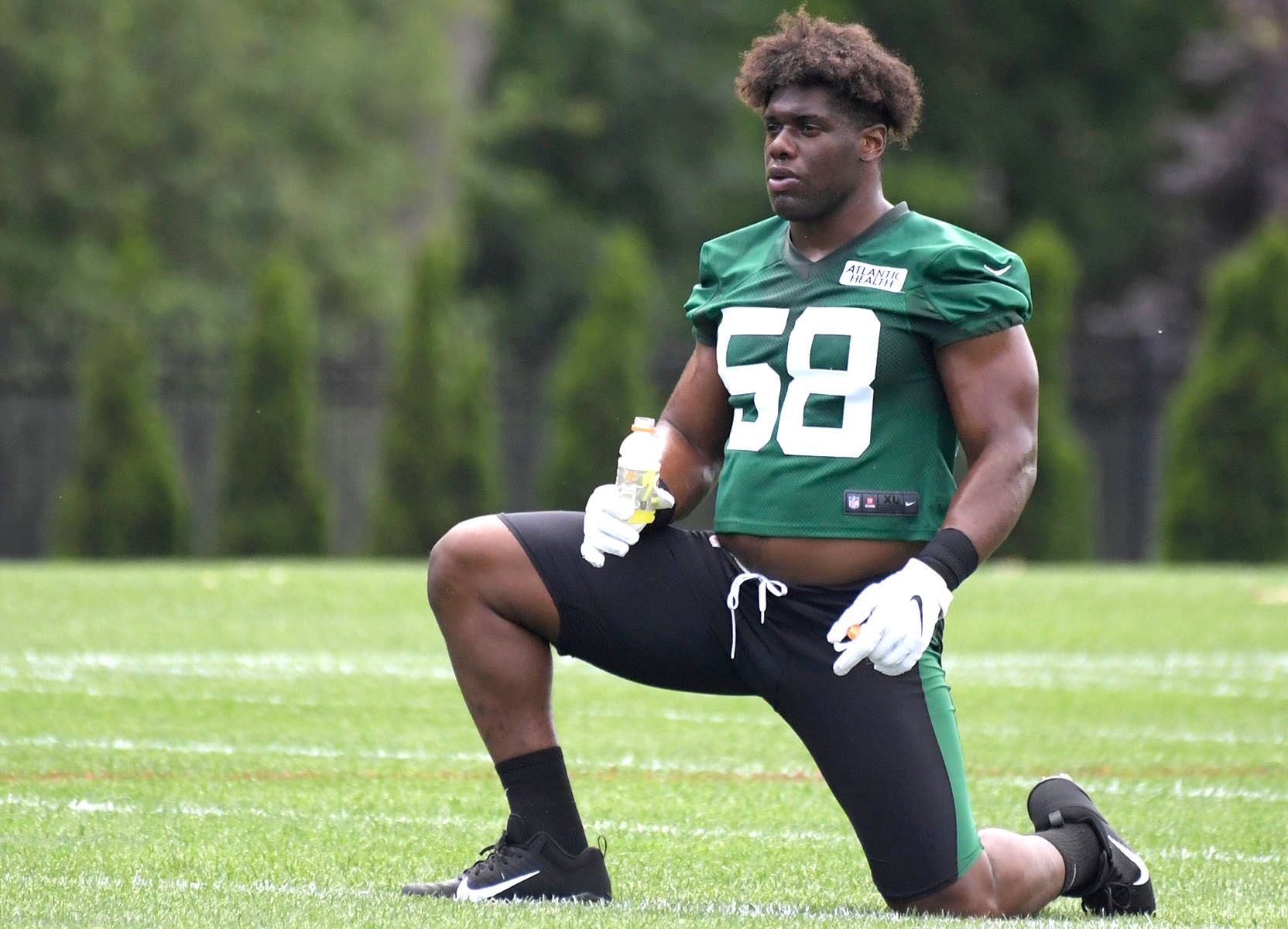 With the hiring of Robert Saleh, former defensive coordinator from San Francisco, as well as Jeff Ulbrich, former Falcons' DC, the defense will be making a shift from a 3-4 defense to a 4-3 defense. That means it will traditionally include 4 "down linemen" with their hands in the dirt, instead of the outside linebacker position as seen for the last few decades in New York. With the personnel additions made in Free Agency and the 2021 NFL Draft, the Jets are fully immersed in the scheme change, including signing veterans Carl Lawson, Vinny Curry and Sheldon Rankins.
According to Oscar Aparicio of Better Rivals, the Saleh defense is broken down into three categories: Alphas, Bravos, and Turbos. Alphas are the starters, the players that are hard to take off the field. Bravos are the high-level backups that will push for more reps as the season progresses, and the Turbos are the speed players that are likely to come in for situational roles, including 3rd downs. Sending heavy blitzes is not the focus of this defense, so the onus will be on this unit to create pressure on the quarterback. If the front 4 can find success early, the tone will be set for the Jets to be an above average defense in 2021.
Alpha: Carl Lawson, Quinnen Williams, Sheldon Rankins, Johnathan Franklin-Myers
Quinnen Williams – We know what Williams is, and what he can be and it's just a matter of hitting his ceiling under coach Saleh. If he can stay healthy, All-Pro/Pro-Bowl aspirations are realistic expectations. Defensive coordinator Jeff Ulbrich said Williams is the "ideal 3-tech" and has all the stuff you can coach. Williams is currently on the PUP list, but all signs point to him being 100% for the start of the season.
Carl Lawson – With an absurd 32 QB hits in 2020, 2nd in the NFL behind only T.J.Watt, Carl Lawson enters New York with the chance to up his sack totals alongside Williams. Ulbrich said Lawson should have an easier time rushing off the edge, due to the talent of the interior group making it harder for a quarterback to step up in the pocket. 
Carl Lawson only played 52% of snaps in wk 3 game vs Philly but still had two sacks and at least 3 pressures that led to busted plays. Had some very good reps against Jason Peters at LT. pic.twitter.com/bZRNvfLuoK

— Glenn Naughton (@AceFan23) March 16, 2021
Sheldon Rankins – A potential "X-Factor" signing on the defensive line, if Rankins can play at even 80% of what he was pre-injury in 2018, it would be a great signing. He looks to be a perfect match in the middle with Quinnen, and his presence will make it impossible to double-team anyone in particular up front. He will likely play the 0 or 1-tech role on passing downs.
Johnathan Franklin-Myers – The most versatile of the starters, Franklin-Myers has the ability to line up inside or outside and can do both at a high level. He was an above average player from the outside last season under Gregg Williams, so his transition to the 4-3 scheme won't be difficult. Still only 24 years old, Franklin-Myers could be on the brink of a breakout season.
Bravo: Vinny Curry, Folorunso Fatukasi, Nathan Shepherd, Ronald Blair
Vinny Curry – A "sleeper signing" during the free agency process, Curry brings a vet presence to a relatively young unit. He likely won't make any mental mistakes, but also isn't going to blow you away with production. A true designated pass rusher (DPR), 20-30% snaps per game is where Curry will do his best work. Ulbrich says Curry is "why you coach", so all signs point to him having a role once returning from injury. His return is likely to come after Week 1, according to Robert Saleh.
Folorunso Fatukasi – In the final year of his deal, Fatukasi has the chance to excel in the Saleh/Ulbrich defense. He will be given every opportunity to be the rotational tackle of early downs, where he finds most of his success. In the final 10 games of 2020, Fatukasi played 53% of defensive snaps and had 36 total tackles, 2 sacks, 5 TFLs, 5 QB hits, 1 FF and 1 FR.
Nathan Shepherd – Depending on how well he develops this August, Shepherd's spot could be in jeopardy in favor of 6th round rookie Jonathan Marshall. Coming off a career high in sacks, total tackles, and QB hits in 2020, he enters the final year of his rookie deal, so a lot is on the line for the former 3rd rounder in 2018.
Ronald Blair – The newest addition to the group, but one that the coaches are excited for, Blair comes over from San Francisco with experience in Saleh's defense. While better against the run than the pass, he can still give solid production as a pass rusher. Despite not playing in 2020 due to a torn ACL suffered at the end of 2019, Blair has 13.5 career sacks and 22 TFLs in his first four seasons.
Turbo: Bryce Huff, Jabari Zuniga, Jonathan Marshall
Bruce Huff – Huff is a better fit for the 4-3 defense due to his size, and has a real bend off the edge with the speed to get to the passer. He showed enough flashes in 2020 to garner more looks going forward, and his snap count should rise from the 26% mark from last season.
Not a guy many folks are talking about, Bryce Huff is a player who could become a real factor as a rotational DE for the Jets. pic.twitter.com/qujKb9XSm1

— Glenn Naughton (@AceFan23) August 2, 2021
Jabari Zuniga – A potential cut candidate if he doesn't show promise, Zuniga was not easy to watch in 2020. He was not put into a ton of advantageous situations, so he was rarely in the ideal position to make a play. This upcoming season will likely be a make-or-break year for the 2020 3rd rounder from Florida.
Jonathan Marshall – Marshall has a great chance to not only make the roster, but play in 2020. Marshall may even get a spot in the rotation over Nathan Shepherd, due to his explosiveness and first step quickness off the line of scrimmage. His Relative Athletic Score (RAS) is off the charts and can be found in the backfield wreaking havoc quite a bit when you put on his Arkansas tape.
Not every impact play makes it in the box score or highlight reel. Jonathan Marshall penetrates, pressures, misses the sack but forces the incomplete pass vs Auburn. pic.twitter.com/zYZJswamXY

— Glenn Naughton (@AceFan23) May 3, 2021
Practice Squad/Cut: Tanzel Smart, Hamilcar Rashed Jr., Michael Dwumfour, Jeremiah Valoaga
PUP: Kyle Phillips
Videos
Aaron Rodgers Injury Fallout & Jets/Bills Recap