Jets Camp Report 08/03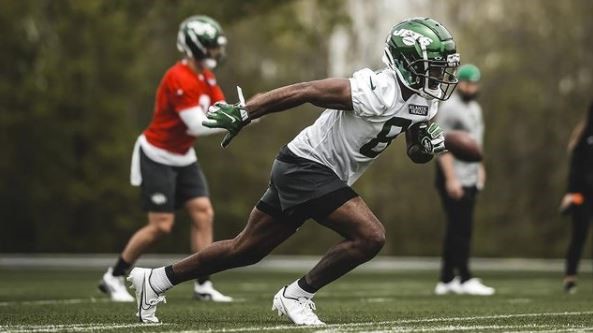 Alex Varallo is at NY Jets Camp and here is his report from practice on Tuesday.
The practice began at 10:20am and lasted for 2 hours
Zach Wilson
Happy Birthday Zach!
Wilson was up and down most of the day.  He was pressured often, forcing several incomplete throws in the beginning but progressed in later series.  Some of his best plays came from an Eli Moore sideline catch, Jamison Crowder caught a slant that split the Safeties for a big gain and Vyncint Smith had the longest reception of the day.  In this drive Wilson found Corey Davis for a completion with pressure in his face, the next play was Wilsons best of the day.  Smith beat Bless Austin deep down the field and would have had a touchdown but the ball was slightly under thrown and he had to come back for it.  Wilson did show quick decision making while under pressure, he found several outlets like his tight ends or running backs.  It will only be a matter of time when his eyes and body synchronize to the NFL speed and he should be great!
Running backs
Each back has had a fair share of reps with all levels of 1st, 2nd and 3rd string.  My guess at who will start is Tevin Coleman due to his experience but Michael Carter has already shown he can split the duties. The defense clogged a lot of lanes and did a good job of keeping the runners to minimal gains if any at all.  There were a few goods runs that came from Josh Adams, TY Johnson and Coleman. 
Tight Ends
Chris Herndon was the only one that made a few plays from the group.  He caught a couple passes near the sideline and took one of them up the field for a nice gain.  Herndon and Kroft seem to be featured the most when Mike Lafleur called for two TE sets.  Trevon Wesco continues to get work as the fullback and will sometimes line up in the H-back position.  The most intriguing of the bunch has to be UDFA Kenny Yeboah from Ole Miss.  He looked solid in Monday's practice and was a little quiet today, someone to monitor for sure. 
Wide receivers
The ball has been distributed quite evenly so far.  The only standout is Elijah Moore, every time he touches the ball something fun happens.  He will soon be a fan favorite.
Special teams
Punt Returners: Braxton Berrios, Elijah Moore, Michael Carter and Keelan Cole. 
The kickers made 7 out of 8 field goals today.
"One the mend" 
George Fant was on the side field conditioning after missing some time.
Kyle Phillips worked on limited drills individually, he suffered a season ending ankle injury in October of 2020.
"Heating up"
Jarrad Davis is a passionate player and showed some emotion on a defensive bust.  Robert Saleh has his players putting everything into this system. 
Javelin Guidry and James Hardee are having a good camp. In recent days both of them have made pass breakups during 11v11 and 7v7 competition.
Carl Lawson makes impactful plays each day, against the run and applying pressure as a pass rusher.  Mekhi Becton is competing against 2020's 4th best Edge defender for Quarterback pressures (64) and ranked 2nd with 24 QB hits. Lawson has had multiple sacks throughout this camp and stuffed a run today for a big loss.  Lawson shows promise to end the long void that this team has had at pass rusher, he will be a focal point in this defense.
Nate Shepherd had a strong practice. On 1v1 drills he bested Alex Lewis twice with his bull rushing skills.  In the 11v11 segment he had 2 QB pressures, 1 run stuff and an offside penalty.  If he continues this type of play, he might be in the rotation once the season arrives.  The defensive line is stacked with talent and easily one the most talented groups on the team.
The day ended on a scary note as Cam Clark went down with a spine injury and had to be sent to the hospital.  Fortunately, reports from his family have said he is doing well and should make a full recovery. 
Videos
Aaron Rodgers Injury Fallout & Jets/Bills Recap