Fant Activated; Lewis to Exempt List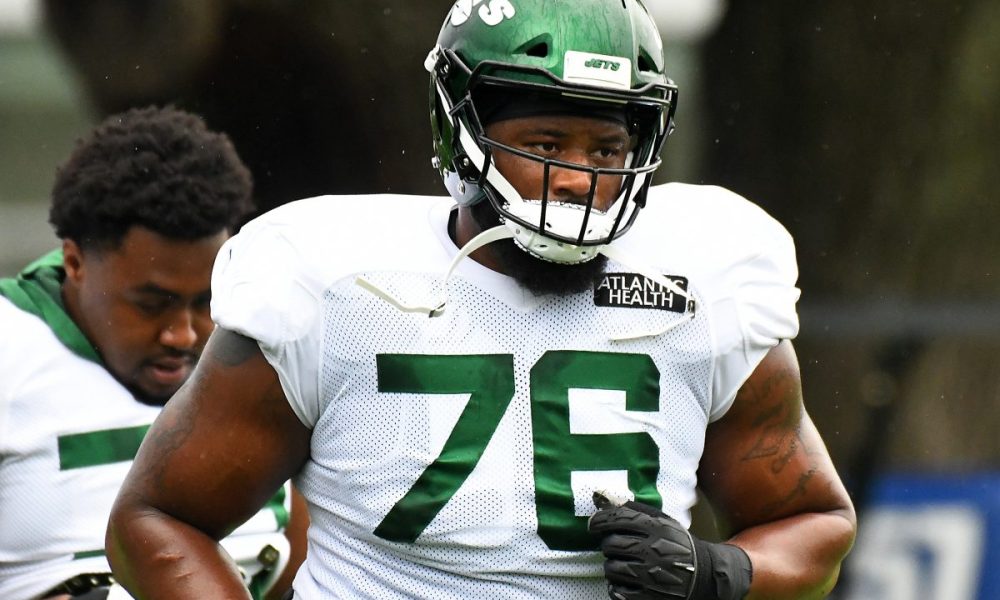 Some good news for the Jets offensive line as George Fant returned from the Reserve\Covid list. He will begin his competition at right tackle with Morgan Moses.
We've activated OL George Fant from Reserve/COVID and placed OL Alex Lewis on Exempt/Left Squad.

📰 https://t.co/eLyiz73qsS pic.twitter.com/dWjvNkYkeU

— New York Jets (@nyjets) August 6, 2021
Fant (6-5, 322) was placed on the reserve/covid list July 27th. He hasn't practiced, but was on the field the end working with a trainer during practice earlier this week. He will compete with Morgan Moses for the right tackle job after starting 14 games in that spot for the Green & White last season. He was also a team captain in 2020.
Lewis (6-6, 305), sustained a head injury in Thursday's practice. He originally joined the Jets in 2019 and has played in 24 games (21 starts) over the last two seasons.
Head coach Robert Saleh commented on Alex Lewis and the offensive line after the Green & White scrimmage on Saturday night.
On Alex Lewis
Can you give us any clarity on what happened with Alex Lewis?
You know what, he's going through some things that are much greater than football right now. We're just giving him a chance to sort through it all. That's about as detailed as I'll go right now for him.
Rich Cimini, ESPN: Is there a possibility he can come back at some point?
Leaving the line of communication open for him. Letting him sort some things out.
On George Fant
Yeah, credit to him. We're trying to get him out of there to give him a breath. First time out and he's just already trying to play a half of football when everyone else kind of had a ramp up. He gritted it out and we're right there watching him. He fought through it so credit to him.
Do you know who your five starters are going to be so those guys can develop that chemistry together as opposed to having a competition there?
That's a good question. You never want to rush it, right? So, as long as it is going to take. When you're looking at those two (Fant and Morgan Moses), they're both going to get chances to roll with the ones. The communication is all going to be there, they're in the same room. Where things can go haywire is when you're missing two to three guys on the line, but (reps) getting split between two for one spot, it's not going to be as big of an issue. We should still be able to create that continuity with them.
Videos
Aaron Rodgers Injury Fallout & Jets/Bills Recap