Injury Report NY Jets Training Camp
Jets Camp Notes 8/11/21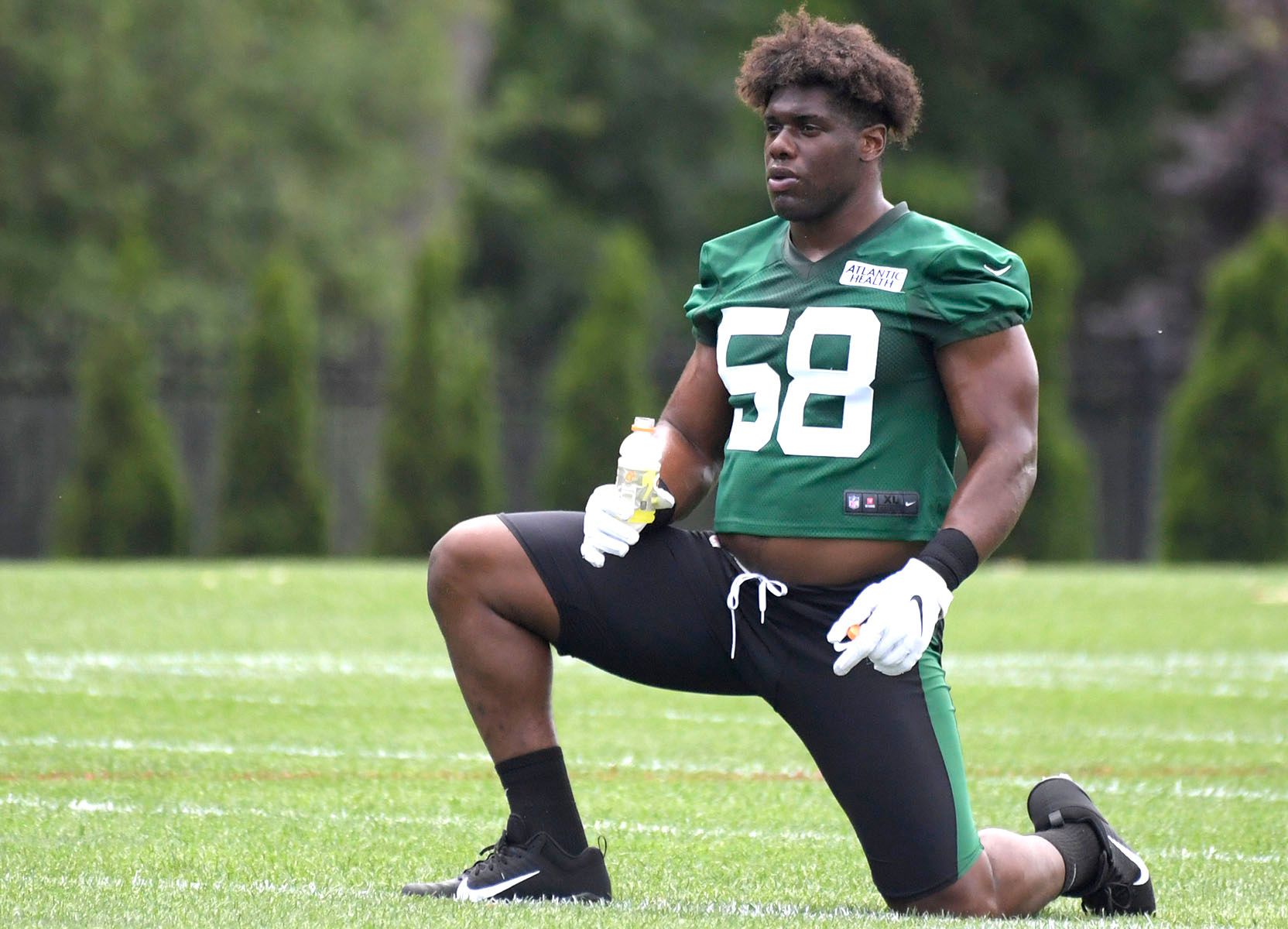 Practice began at 10am and lasted 2 hours
The practice focused a lot on Special teams and individual drills in preparation for the first Preseason game verse the Giants this Saturday

Injury news
Kyle Phillips. Quinnen Williams and Alijah Vera-Tucker were getting light treatment on the side field.  Other players that were limited were Bennet Jackson, Foley Fatukasi, Del'Shawn Phillips and Ashtyn Davis 
Jabari Zuniga was an active participant in practice
Rising Stock
Denzel Mims worked with the first string during the 11v11 series.  Mims was very active, easily his best practice of training camp. He caught a beautiful pass today in stride and turned up the field for a major gain.  
Brandin Echols had 2 pass deflections and an interception 

Linebackers
CJ Mosley is moving quicker and smoother in his new body, dropped from 245 lbs. to 235 lbs. this offseason 
Hamash Nasirildeen is long and agile, safety skills from college truly show even though he is converting to linebacker
Jarrad Davis looks very impressive and should be a good one two punch with Mosely
QB Corner
Mike White took 2nd string reps in 11v11 series and was a bit up and down, made several good throws 
significant plays of the day
1) Jermain Sherwood Intercepted a pass
2) Lawrence Cager made a big play off of a slant route
3) Elijah Campbell had a pass deflection and it was intercepted by Brandin Echols in Red Zone series
4) Lawrence Cager caught a TD in the Red Zone series
5) Denzel Mims made a great catch in stride off of a post corner route in the 11v11 series
6) Elijah Moore snagged a touchdown in 5v 7


James Morgan worked with the 3rd string in 11v11 series

Red Zone TD to Vincent Smith back corner end zone
Running backs
Big run down the left sideline Ty Johnson
Michael Carter busted out a huge run in 11v11 with first string
La'Mical Perine has shown a good combo or power and speed, seems like a different player this season

Receivers
Corey Davis was the best in show yet again, caught 3 touchdowns today
Best day for Denzel Mims and Lawrence Cager this camp 
11v11 Series Notes
1st series
Michael Carter had a big run on the right side
Tevin Coleman run left for a small gain
Incomplete pass intended for Elijah Moore over the middle
Ty Johnson run up the middle for a small gain
2nd series
Incompletion by Zach Wilson
Coverage Sack, Carl Lawson on the scene
Trevon Wesco Completion popping out the backfield into the flat
Huge play for Corey Davis, lots of yards after catch
Red Zone Series Notes 11v11
Touchdown to Corey Davis
Pass Deflection by Javelin Guidry
Incomplete Pass due to pressure, would be sack
Inc pass intended for Corey Davis, Bryce Hall had tight coverage
Inc pass to Tyler Kroft
Touchdown Corey Davis. 
7v7 Series was rough as there was 3 drops by Corey Davis, again covered by Bryce Hall, Tyler Kroft and Vincent Smith dropped passes as well 
5v7 Red Zone Series
Zach Wilson went 3 for 6 with 2 touchdowns, one to Corey Davis and the other to Chris Herndon
Videos
New York Jets OTA Presser Takeaways, Aaron Rodgers' Impact and Summer Delusion