Wilson Impresses but Defense Steals the Show in Jets Pre-Season Opening 12-7 win Against Giants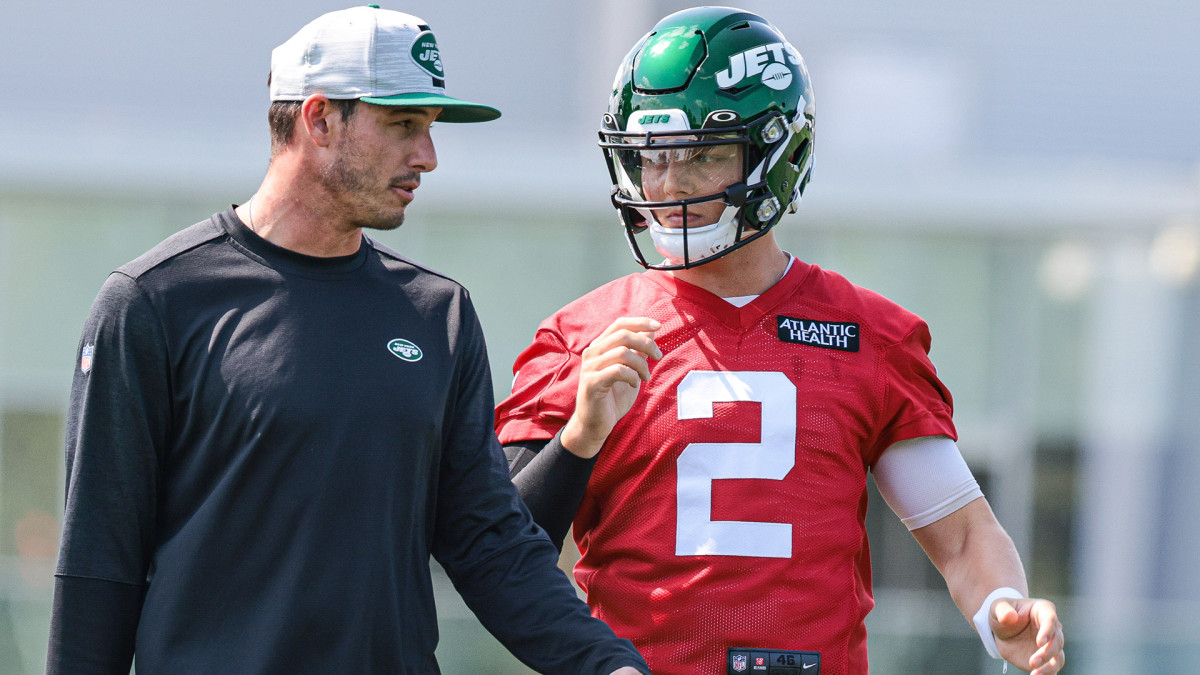 Jets fans finally got a look at their shiny new quarterback as Zach Wilson was impressive in his NFL debut.  Limited to just two drives, Wilson had limited opportunities but did some good things against the Giants at MetLife Stadium.
First and foremost, the young QB looked poised, moved the chains and most importantly, he protected the football.
Wilson would finish up 6 of 9 for 63 yards with no touchdown passes or interceptions but did lead the Jets on a 12 play, 52 yard scoring drive the ended with a Chris Naggar field goal to put the Jets up 3-0.  The key play on the drive being a Wilson 9-yard completion to Corey Davis on 3rd down and 6.  On  his second drive, the Jets would turn it over on downs when Ty Johnson was stuffed for a one-yard loss on 4th and 1.  But again, a big third down completion for 16 yards on third  and 9 Wilson to Keelan Cole.
First time out and we'll call it a success for Wilson.  Next up…Green Bay.
So While Wilson looked good on his two drives, who else impressed for Gang Green?
There wasn't much on offense as indicated by the final score, but Denzel Mims had the play of the game when he took a short completion on 3rd down and 18 and evaded multiple Giants defenders (six by our count) to pick up 20 yards for the first down.  It was a huge play for Mims who has been buried on the depth chart early on in camp.  Mims would finish the night with 3 catches for 59 yards.
As a group, the offensive line was solid for much of the game as all three quarterbacks (Wilson, Mike White and James Morgan) all had time to throw and the running backs were able to pick up a few chunk plays.  Undrafted free agent rookie guard Tristen Hoge saw a good amount of action in the second half and looked very good as a run blocker and held his own in pass pro.  Vyncint Smith tied Mims for the lead in receptions with 3 and also did a great job of downing a punt at the 1-yard line as he batted the ball out of the end zone as his momentum carried him up and over the goal line.
The second and third offenses were led by Mike White and James Morgan respectively, with Morgan appearing to have a handled on the QB2 job if the Jets don't acquire a veteran before the season kicks off.  White went 13-19 for 127 yards while Morgan went 5-9 for 45 yards.  The Jets lone TD came on a short run from La'Mical Perine who has picked things up as of late.
As far as the defense goes, they were as good as advertised.
They started the game about as well as Jets fans could have hoped for.  The first play of the game was a Mike Glennon pass that was deflected by linebacker CJ Mosely before Glennon was hit as he threw for an incomplete pass on second down and that was followed by Bryce Huff picking up his first of two sacks to send the Giants back to the sideline.
In all, the Jets would pick up 5 sacks on the day with Huff (2), rookies Hamilcar Rashed (1.5), Jonathan Marshall (1) and Michael Dwumfour (0.5) getting to the QB.  The final sack of the game was shared by Marshall and Rashed who caught Giants quarterback Clayton Thorson for a safety.  On review it looked as if Marshall's sack was a solo, but officially he shared it with Rashed.
On the back end of the defense, the Jets had their moments as they came away with four pass break-ups in the secondary as Corey Ballentine had a pair while Javelin Guidry and rookie Brandon Echols picked up one apiece.
Rookie linebacker Hamsah Nasirildeen who came out as a starter had a big play himself.  The safety turned 'backer forced a fumble inside the 10-yard line that gave the ball back to the Jets just as the Giants looked poised to punch one in early on.
Rookies Elijah Moore and Alijah Vera-Tucker were not active and running back Tevin Coleman was inactive for what Robert Saleh called "personal reasons".  Saleh also said defensive linemen Jabari Zuniga (knee) and Michael Dwumfour (calf) left the game to be evaluated for injuries.
Videos
New York Jets OTA Presser Takeaways, Aaron Rodgers' Impact and Summer Delusion