Early Wilson Critics Overlooking Huge Aspect of Development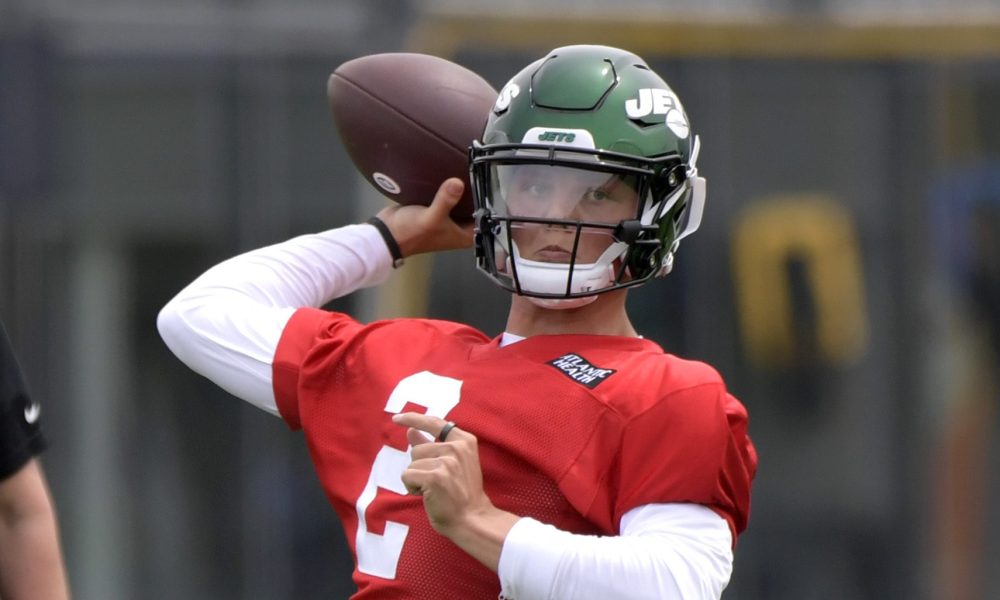 In case you haven't heard, the New York Jets have a new franchise quarterback (or so they hope), and his name is Zach Wilson.  A first round pick taken second overall in this year's draft, Wilson has looked every bit as good as the Jets had hoped when they chose him.  In a pair of pre-season games Wilson has played a total of six drives, completing 15 of 20 passes for 191 yards, 2 touchdowns and no interceptions.
Zach Wilson's 2021 preseason (6 drives):

15/20, 191 yards, 2 TDs, 0 sacks

vs Man: 4/8, 47 yards
vs Zone: 11/12, 137 yards, 2 TDs

in + territory: 5/8, 72 yards, 2 TDs
in RZ: 2/2, 36 yards, 2TDs

vs 2-high: 3/7, 50 yards, 2 TDs
vs 1-high: 12/13, 134 yards#Jets #TakeFlight

— Dylan Tereman (@DTereman) August 23, 2021
Predictably, anyone who isn't a fan of the Jets, or in some cases Jets fans who didn't like the Wilson pick, are quick to regurgitate the same criticisms we hear of successful rookies every pre-season; Wilson has done what he has done against what has largely been NFL backups.  A fair point to be made, but only to a degree.
The point is fair in that the players and schemes Wilson will see on game day during the regular season will be far superior to what he's facing in the pre-season.  However, anyone dismissing his performance outright is ignoring an important aspect of his development.
Coming out of BYU, which is hardly a football factory, these second and even third-string defenses are more talented than any group Wilson faced at any point in BYU.  So while the rookie isn't dropping TD's in the bucket against Pro-Bowl corners, he's also not throwing succeeding against Navy, Massachusetts or North Alabama.
More often than not, that was the caliber of teams on BYU's schedule when Wilson  was under center.  The fact that the QB played and thrived against low-level competition was largely held against him leading up to the draft.   Yes, Wilson did beat USC and Tennessee who were better than most teams on their schedule, but they were far from the powerhouses they once were.
How many players did Wilson face who are good enough to find themselves on an NFL roster even while teams carry 85 players? Not many.  How many teams did Wilson face in college that had 11 defenders on the field, all of whom were good enough to be in an NFL camp at any point?  Zero.
So for Wilson, while he may be feasting on defenses that he won't see during the regular season, he is facing the most talented defenders he has ever seen and the kid hasn't flinched.  He has been poised, decisive and effective.  Wilson has thrown the ball accurately on the move, with pressure in his face and while going through multiple progressions.
.@ZachWilson & @TheCDavis84 got goin' yesterday pic.twitter.com/P1qDz4UkJU

— New York Jets (@nyjets) August 22, 2021
Whether or not this continues on Sundays over the coming months remains to be seen.  Wilson may or may not become an elite quarterback, but one thing he has done without a shred of doubt is continue to play at a high level even as the competition has dramatically improved which is what the expectations of a young quarterback should be.  Watch, learn, play and elevate your game.  Wilson has done all of that so far whether his detractors choose to acknowledge it or not.
Nobody is putting the kid in Canton after a couple of pre-season games, but denying or trying to diminish his progress is just foolish.
Videos
Aaron Rodgers Injury Fallout & Jets/Bills Recap