Joe Douglas Press Conference Wed 09/01/21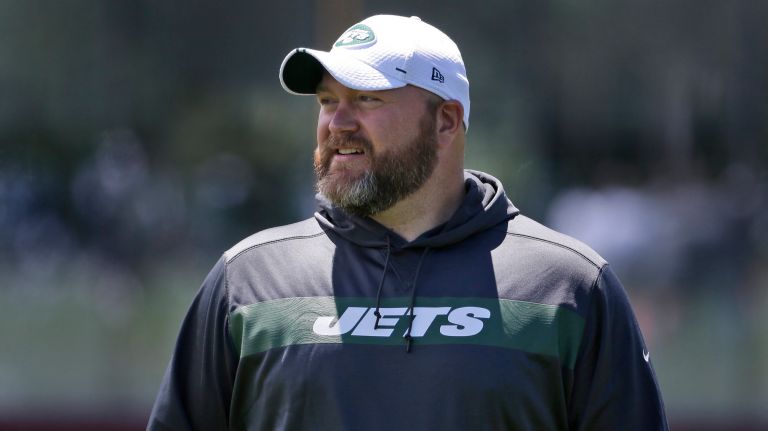 Joe Douglas spoke to the media on Wednesday and gave an update on the team, the current state of the NY Jets roster and why certain moves were made.
Opening Statement…
Good to be back in person. I don't think we were in person since the end of the 2019 season, so it's good to be with you guys. I know you guys have a lot of questions, so I'll just start briefly. At first, I'd like to thank every single player that participated in our training camp this year. I know all the effort, dedication, hard work that goes into the year when we got together as a group. Starting all the way back in April. I just want to thank them and there were a lot of tough decisions and obviously a lot of action the last couple of days. I really want to thank all those guys for their hard work and dedication. It's been great watching our staff, watching the players build chemistry. Lot of energy with Coach (Robert) Saleh and his staff, I feel like there was a lot of progression made this summer.
What led to the Bless Austin release?
So that was a very difficult decision, DJ. We made two claims on the defensive side of the ball and ultimately, we made the decision, we drafted young players at the position. Instead of asking Bless to take a reduced role, we're going to give these young guys an opportunity and out of respect to (Austin), give him an opportunity to find a larger role with another team. Very difficult decision because Bless is a standup guy and a hell of a competitor. But a difficult decision.
Another one of those, Jabari (Zuniga), making the decision to kind of move on from him. Does that have to do at all with his injury, I mean is he someone you want to get back on the practice squad or is it just moving on?
No, not moving on from Jabari. We're still very much excited to work with Jabari., That was another difficult decision. Claiming a defensive end from Kansas City, Timmy Ward, we made the decision. (Zuniga) was back healthy today. Jabari was ready to go at practice and we told him we were going to make this move, get him through waivers, bring him right back to practice squad, assuming he clears.
Joe, what's it like for you? First off, have you ever been associated with a team with this many young players, this many rookies, going into a season?
I think with my calculations you're right. We're around 20 first and second-year players. Almost 40 percent of the roster are first and second-year players. There's a lot of excitement, a lot of energy. At the same time, there's going to be some ups and downs. But the passion, the excitement, the speed these guys play with, it's been exciting to see during training camp. I know these guys are fired up to get going as we prepare for Carolina. I know the coaching staff is fired for them as well.
We didn't see Jamison Crowder out there at practice. I don't think he's hurt, unless something popped up.
Yeah, he has a minor tweak with his groin. Something, and Coach can talk about it, as well, just a minor tweak with his groin. Not expecting it to be a long-term thing. We'll see where he is on Monday, next week.
With (Chris) Herndon, was it just the case of moving on and what the return was that you were getting? Was it a combination of that or what went into that move?
I think Chris was having a good camp for us. He was getting a lot of run. We had a good rotation going, him, Tyler (Kroft), (Ryan) Griffin. So, I think this was a situation where Minnesota was aggressive in their pursuit, starting last Saturday. I think they had a rash of injuries at the position. They felt that they needed a player that could come in and help out with them running a similar system to us. They targeted Chris and things really heated up Monday into Tuesday.
How comfortable are you at the quarterback spot? I know Josh (Johnson) is back, but you really have no veteran back-ups.
Having Josh, bringing Josh on, having him in the room, I feel like we're in a really good place in terms of the chemistry. These guys really push each other. Mike, having been here the last couple of years, watching him develop the last two years. Adding a guy like Josh and his experience and you guys saw what he did in the first half of last week's game against Philadelphia. His presence, he's a rock that a lot of the guys can lean on and he's been through a lot of scenarios, he's seen a lot of things. We feel good about this group and the way they push each other as a whole.
Is it tough for you though, at all, to not have that veteran quarterback behind Zach, considering the two rings on your finger from Nick (Foles) and Trent (Dilfer)?
Each situation is mutually exclusive. I've been in situations where rookie quarterbacks have had to come out and play and there wasn't a lot of experience in the room behind them. I think back to 2008 (Baltimore Ravens). I think each situation is different. I think it depends on the quarterback being asked to play and the scheme, the coaching staff, the room as a whole, the chemistry and I think where we are right now, with Zach (Wilson) and his progression, I think we feel good about it. I know we feel good about it I should say.
Has he progressed the way you hoped and expected? What's impressed you most about him this summer?
He's been everything we've hoped for. Scouting him at BYU, again just his passion for the game, the way he soaks up information, his process, his preparation. Just the way he gets ready for practices, it's been good seeing him download this information, not making the same mistake twice. Obviously, his physical skills jump out the way he throws the ball, it's just an effortless motion when the ball jumps out of his hands. He's been everything we hoped he would be coming out.
Joe your job, you have to see the long view. I think players and coaches, obviously they have a shorter view. How do you balance the youth that you talk about and the development and all of that sort of thing, but also wanting to win in 2021?
It's a good question because it is really my job to stay out in front and see a big picture. This staff is focused on win now, but we're all focused on win now, but we're all focused on doing what's best for this organization this year and in the future. I know Coach, and what I've been preaching really since I've been here, we want to do this the right way. We want to build this foundation the right way so that it's a long-term success and not just a flash in the pan. I feel good about where we are in terms of the foundation of this team moving forward.
How will you gage success this year?
I can't wait to see these young guys play. I really can't wait. It's been great seeing the veterans take all these young guys under their wing and I said chemistry a lot, but it's really cool to see this chemistry develop. I think success is going to be watching us go out like we did in preseason and play good, sound, fundamental football with a lot of intent, with a lot of passion, with a lot of explosiveness, a lot of violence as Coach says and watch us develop as the year goes.
Is part of that excitement for you as well? Because I think all but nine of these players are your guys. Guys you picked, guys you signed, guys you added. I mean, is the fact of this is basically your hand-picked team. Does that add to your excitement to see them on the field?
No, I'm just excited for our staff to put their fingerprint with the scheme that they brought in. I'm excited to see these young guys develop and really reach their goals because each of one of these guys have individual and team goals and I feel like with the support staff we've been able to put in place that we can really help every single person through individual player development plans reach their goal. Whether it's personal or professional.
Brian Costello, New York Post: Joe, the cornerback position is so young. Talked about young players but cornerback really stands out. I think it's all first and second-year guys now, except for (Justin) Hardee probably. Does that worry you at all? I mean, there's going to be some long days, I imagine, with cornerbacks that young?
When you have a young position group, you do wonder how some guys, there's a little bit of an unknown factor with a young group. But also, we've been at practice, we've seen the games, we've seen these guys compete, we've seen these guys move around. I know they're getting the best coaching they could possibly get from Coach Saleh, from Brick (Jeff Ulbrich), from TO (Tony Oden), so I have a lot of confidence in this secondary. They're all wired the right way, there are high-level competes in that room and I think you guys are going to see that as the season progresses.
Obviously you had a lot of high hopes for Carl Lawson, being part of the defense. How big a loss is that going to be, and do you have enough to overcome that?
Carl, obviously tough loss, but injuries are part of this game unfortunately. And I think the thing that gets you excited is that we know that we brought in the right type of person and the right type of player in Carl. Also, we have a great d-line group. There are some real passionate, just, war daddies out there that bring it every day and no one's feeling sorry for themselves. I know you guys talked to several of those guys. Everyone's got Carl's back. Carl has got everyone's back. These guys have bonded together. Adversity happens. I think adversity happened early in the year, early in training camp and it's going to happen again. I think this group is wired to handle it.
What do you expect from Shaq Lawson?
Shaq brings energy. We talk about junk-yard dog mentality, Shaq brings that. He's brought it since day one. I remember evaluating him at Clemson, he brought that mentality, that toughness, that grit that we want. The strain, the intent, he brings that. So excited to have him and I know he's excited about letting his personality show and being the player we all know he is.
Robert had mentioned to us that, and I don't know if Dan Brown and Griffin are resigning or what he was referencing, but he said you were looking to do some things with the tight end room and bring some guys in. Is that done now for the most part with Griffin and Dan or are you looking at…?
Getting Griffin and Dan back in the room is big and we know what Griff brings from a leadership standpoint and we know what Dan brings from an athleticism and special teams standpoint, his ability to create mismatches in the pass game. We do feel good and we feel good about getting Kenny (Yeboah) back to the practice squad.  I think you guys saw some upside he has in that last game against Philadelphia.
You guys also lost Jarrad Davis, and he was going to play a big role from what happened early in the season. You got some young guys there making position changes from college, so what do you see out of that group and how much do you think you can get out of those young guys early in the season and they make this league?
When we took those guys, we were excited about them. I think it wasn't the plan for these guys to play as much as they are, but they earned it. They went out there, they attacked the practice every day, they just soaked up the playbook. Both those guys, JWood (Jamien Sherwood) and Ham (Hamsah Nasirildeen), they do a phenomenal job of preparation. They compete every day, they play fast, it's exciting to see those guys really attack the position switch and progress and show the improvement they've made throughout Spring and early part of camp. To see where they are now, to see where they're going to be by the end of the season, it's going to be exciting.
Joe, when you were first hired, you talked to us a lot about how it starts on the offensive and defensive lines. You mentioned the defensive line a couple minutes ago there, but how would you assess the job you've done upfront with that offensive line to this point and your expectations for them going into the season?
Obviously, there's been a lot of resources put into both sides of the lines. Look, what we've done the last couple of years hasn't been good enough as a team, as a whole, 9-23, it wasn't good enough, but we're excited about this group. This group didn't really have time, in terms of the o-line, to get together and build that chemistry, last year. You've seen that chemistry build this year, having another year here with George (Fant), with Connor (McGovern), with GVR (Greg Van Roten), adding Morgan Moses, an established vet who's an absolute stud and a pro's pro. And the young guys continuing to develop. I think you're really starting to see this group come into their own and add on top of it this scheme and this coaching staff. I'm excited to see how this group does.
Did you want James Morgan back on the practice squad?
James was a guy that we talked about bringing back. Ultimately, he felt that the best place for him would be to go to Carolina.
Did you find it interesting, I mean it's always interesting, when the team you're about to play picks up one of your players? Do you think there's anything to do that?
We've had experience with that a couple years ago with Davis (Webb). It's part of the game.
Joe, you're coming off a two-win season. You have all these new players. What's the realistic goal for 2021?
I think it just goes back to what I said earlier. The goal is to get better every week. The goal is to play sound, fundamental football. Establish a line of scrimmage and really develop as the year goes. I think when you see the character of this team shine through in the early part of training camp, I think you're going to see it shine through as we progress through the season.
(Follow Up): You've said things like playoffs though or Super Bowl? You don't do that?
Nice try, Brian. (laughter)
Have you ever been in this situation, where you're claiming a current player's brother.
I've had experiences in the past with being around brothers, back in Baltimore and two years ago. We had Jamey Mosley, C.J.'s brother. I think if you were to ask Quinnen of any transaction we make, if this player helps us win games, he's all for it.
What do you feel Robert has brought to this team that was needed?
Obviously, you guys see the energy every day. You guys see the passion. What you guys probably don't see day-to-day is just the thoughtful nature of how he approaches everything. You see someone that really, how him and his staff create accountability and ownership. These team meetings are phenomenal. Robert does such a great job of having his finger on the pulse of every aspect of our team from the locker room, from offense, defense, special teams. All of that, you see in his team meetings and how he communicates with the team. I think his ability to really have his finger on the pulse of everything, along with his passion, his people skills, his communication skills and this staff of great teachers that he brought in, it's been special to watch.
Bless was one of your more experienced cornerbacks. Obviously, you're going to have Isaiah (Dunn), you're going to have Brandin Echols, Jason Pinnock. How close are they in terms of ability to fill in avoid that Bless Austin left?
Well, it is a void and these guys certainly have the athletic ability to play in this league. I think we've seen that as training camp progressed. I think once they go through the rigors of this season, the early parts of this season, to get that experience under the belt, they're only going to get better and go from there.
With Denzel Mims, from our standpoint, he's had an up and down offseason and training camp. Just where do you see his development and how do you think he fits into this offensive scheme?
Denzel obviously was battling some sickness through OTAs. Came in, was really progressing well. You guys were there for the Giants game and the second half, some big-time plays, was really making strong progression through training camp. Had the hip flexor prior to the Green Bay game, so that as a little bit of a down point but he's battled back, he's fully healthy now. We're very excited to have Denzel and continue to develop him. Obviously, his talent, his explosiveness, his size, his catch radius, strong hands, you see all of that. It was on full display in the second half of that Giants game. He's someone we're very excited to continue to work with and develop.
Videos
New York Jets OTA Presser Takeaways, Aaron Rodgers' Impact and Summer Delusion