Zach Wilson Press Conference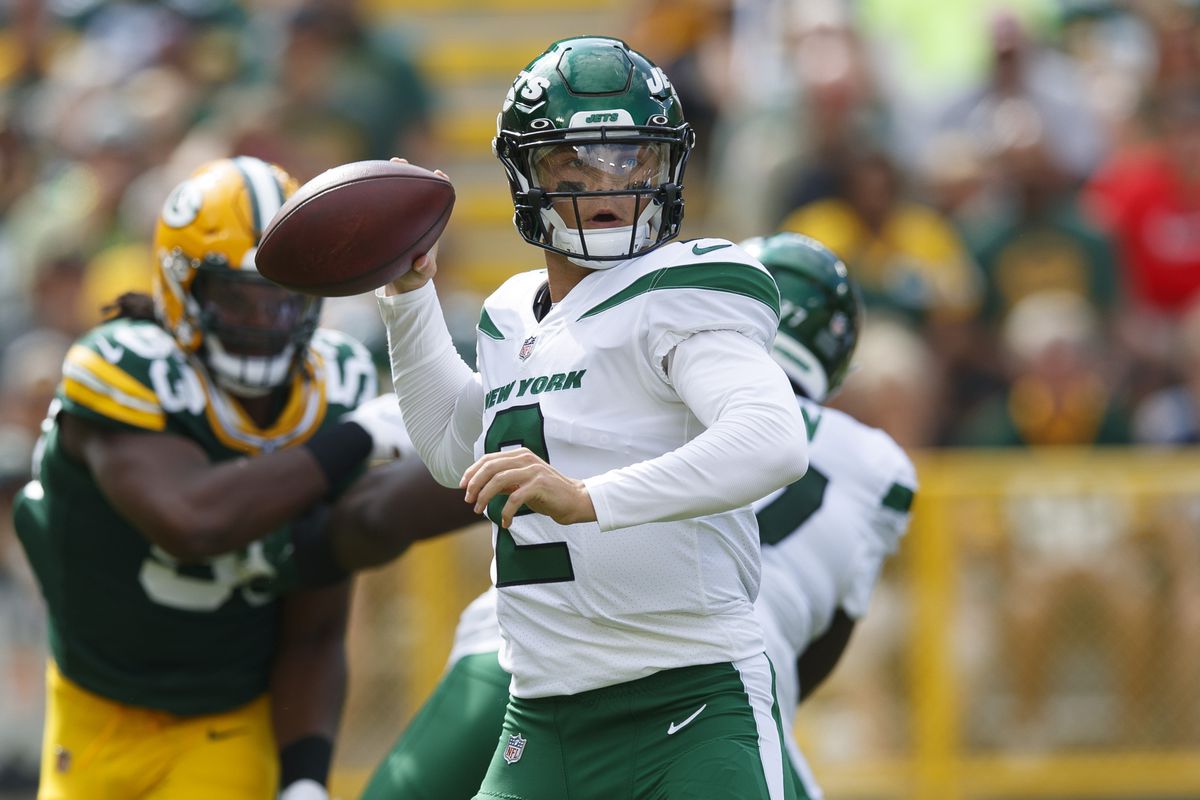 Here are some highlights of Zach Wilson's press conference with the media on Wednesday.
Named captain, obviously, can you just take us through, kind of, your reaction when you heard that, if it's an accomplishment for you and, kind of, what it means to you?
Yeah, for sure. I think it's definitely an honor, I think it's a role you definitely got to take seriously. It's who people look up to on the team, who they feel like they can come to when any problems or whatever questions come about. I definitely don't take it lightly, I thought it was cool.
Going through the game plan this week, what are some things that you've seen from the Panthers defense?
They do different things. I think they got a good front on them. I think guys like to run around, they got some speed on the edges, they're going to do a good job. They have one new corner and one guy that's experienced and played quite a bit of football. I think just a good football team overall and I think it's going to be a good challenge for us, I'm excited.
You're trying to live in the moment, I know that but, have you allowed yourself to think about what Sunday is going to be like for you? Lifelong journey come true?
I mean, not in that regard. Yeah, it is the first game and I'm really just doing everything I can to just get ready for that. I don't know if I thought of it as the situation how you say, this is a big moment, my first start. I think it's exciting but really, I'm excited to get back and playing football again and making sure I'm doing everything I can day in and day out to have the right routine to just get ready for this game.
Zach, Coach Saleh said that there was consideration of keeping both you and Sam (Darnold) on the roster here, do you feel any added pressure to prove the team and the management right, that they made the right decision in Week One here, going up against your predecessor?
That's definitely not something I think about. He's doing his own thing now, he's got a great situation going for him. I think the organization already decided to go one way and it's not because Sam's not a good football player, it's just they wanted a fresh start. So, I'm happy for him and it's a new situation for me. That's not even something that crosses my mind. It's just how can I continually get better every single day, prepare to do the right things on Sunday. How can I help our team win football games?
Did you ever hear from him? From Sam? Whether it was during the pre-draft process or anything like that?
We ran into each other in San Clemente, California. This was before the draft, kind of before everything kind of happened. Super cool guy, we kind of just got to talk about the life in the NFL and things to expect, and how it's been and all that kind of thing. Since then, we haven't spoken.
Zach, you're very popular among NFL analysts now. One of them, Tony Romo, said the other day, I'm sure you got wind of this quote, he said, "You're going to be one of the top three to five quarterbacks in the league in a very short order," even comparison to Mahomes. When you hear a guy like Romo say something like that, what's your reaction?
I mean, it's cool obviously, of course, you know, but Romo can't tell the future and everything that's going on. I think it's very nice of him to say that stuff. I think Tony was a great quarterback in his day when he played and so it's awesome. It kind of goes back to what I've always said, 'You can't take the highs too high and the lows too low.' You can't let things like that disrupt you. It's cool, it's great to hear but, at the same time, you got to handle what you got to handle and keep getting better, just taking it a day at a time.
Zach, have you thought at all about the challenge of controlling your emotions on Sunday? Not so much along the line of the life-long dream, but full stadium, you know, it counts, the scoreboard counts now, and just everything that comes with that, what that challenge is going to be like?
I mean I really don't know if it'll be a challenge. I've played football my whole life and in college it's a lot of emotion there as well. I can think back when I was at BYU, and we played at Tennessee in Neyland Stadium, had 110,000 people. I feel like the nerves and kind of things you get is the same as that. Whether it's the NFL or not, it's just the energy and everything that's there. And so, I feel like I'm going to handle it the exact same way. 'How can I just stay focused with the plays?' And just kind of that self-talk and being able to just smoothly just kind of relax in the moment and just get through your thoughts.
Obviously, Corey Davis, was also named a captain, and he says that he's the number one receiver. So, from your perspective, what about him makes him the number one receiver for you?
It's cool. I thought Corey was a perfect pick to be a captain. And really, he's not a vocal leader and I don't think you need him to be, at all. I think you see his leadership day in and day out and just the way that he approaches the game and the way that he just does everything right. And, you know, he never complains about anything, you're never calling on him in meetings for not giving enough effort on a play or something like that. Guys see that and everyone is just like, "Geez, look at Corey," this guy's always doing the right thing. And I think that he's bringing guys along with him. And what makes him the number one receiver is literally just that. I think he's, obviously, physically blessed and he's got good size on him too, and he catches the ball well, knows how to run routes. But I think it's just his demeanor and the way he approaches the game.
How important is it, for you, to have him next to you? Not necessarily a security blanket, but he's someone you can rely on as you're going through this process.
Yeah, no doubt. He's a great receiver and I'm excited that we have him on our team and my job is, 'How can I get the ball in those guys hands?' And especially Corey, and let him go out there and make plays, you got a lot of guys like that. Obviously not this week, but when you play teams that come out and just man coverage, you know those guys got to win, and I got all the faith in the world in them.
Videos
New York Jets OTA Presser Takeaways, Aaron Rodgers' Impact and Summer Delusion