Davis & Coleman Expected Back; QB Decision on Wednesday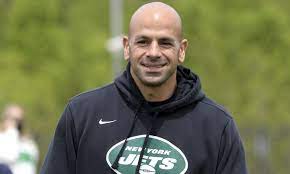 NY Jets head coach gave a few injury updates and they were good.
We should get Tevin Coleman back, we should get Corey Davis back, we should get Zach (Wilson) back on the practice field and other than that, should be good to go for this week.
The team needs some good news after losing Marcus Maye for the year with an achilles injury.
On the QB front, that was a hot topic during the presser on Monday.
Do you have a plan yet on how you'll handle the quarterbacks in terms of first team reps and things like that Wednesday?
No, we're waiting some more updates as we progress over Monday and Tuesday, as we get closer to Wednesday.
If Zach passes every test that you guys want him to pass in terms of health, just his physical ability to play. Will he play on Sunday?
If he passes, yeah. If he's fully healthy, for sure.
So, meaning like he'll start on Sunday, then, if he's fully healthy?
Yeah, but again, it's one of those, we'll see how he is. Based on today, I'll just give you guys the heads up, we'll see how it looks, but we're not in any hurry to rush him back at the same point because of the fact that this is a two-to-four week injury. He's going into week three and there's a couple of things, a couple of hurdles he has to pass yet.
What it sounds like, reading between the lines, Robert, which I sometimes like to do, but it sounds like you don't have all the information yet, but based on what you have right now, your gut is telling you that you may want to be conservative with Zach, in terms of playing this week.
Correct. Yes, Rich, that's pretty much it. If he's not fully healthy, guys, it would be irresponsible for us to throw him out there.
Robert, whenever Zach is fully healthy. Whether it's this week or next week. Regardless of how Mike (White) plays, will Zach be your starting quarterback when he is fully healthy?
Could we go to day-to-day on this one, Darryl? We'll see. This is also guys, I do want to take a moment on the fact that Mike, and just speak on Mike White, the fact that he has taken advantage and one of the great things of this league is you do get these guys who sometimes come out of nowhere and they get their opportunity, and they showcase who they are, and they show that they belong. I've got a great appreciation for what Mike is going through and I have a lot of respect for his opportunity, and I know you guys have a job to do and with regards to controversies and QB playing, I get it. But it would be really cool if you guys were able to take a moment and just kind of appreciate what Mike's kind of going through as an individual quarterback and the opportunity that he's been presented with and the heck of a job he's done. Now does this mean anything for the future, I don't know. I just know as it goes from day-to-day and game-to-game, I just think it's really cool that Mike's been able to take advantage of this opportunity and let's just see how he does.
(Follow-up): So in terms of Wednesday, will both Zach and Mike be full participants in practice or will either of them?
Yeah, we're hoping that for sure that Mike, Zach, Joe (Flacco), Josh (Johnson), all of them, will be full participants. Again, as we get closer to Wednesday, it's looking like that will, but there's a couple of hurdles they have to pass.
Robert, obviously you have to divide up the reps during practice and Zach has been taking all the reps when he's been starting. So, how does that work in terms of does he need to have all the practice reps for you to feel comfortable with him starting or is there a situation where if he can't take all of the practice reps, he could still start?
We'll have a decision on Wednesday once we get all the information and whoever's starting, is going to get all the reps. They have to get those reps. But there's also show team reps, there's a lot of things that can be done. There's walkthrough reps, there's still a lot of reps to go around. I think we practiced almost 500 reps a week, for crying out loud, when you include walk through and through group install and show team and all the different things we do. So, there's plenty of reps to go around, but at the same time, when the time comes, it's about getting ready to play a football game.
Will you tell us on Wednesday who the starting quarterback is?
Sure. (laughter) Yeah, there's nothing to hide. It's not like there's a difference in game plan.
Videos
NY Jets Phase 3 OTAs, Expectations and a Minor Calf Tweak with Greg Renoff