Key to Jets Offensive Explosion, Jets Offensive Line is Better Than you Think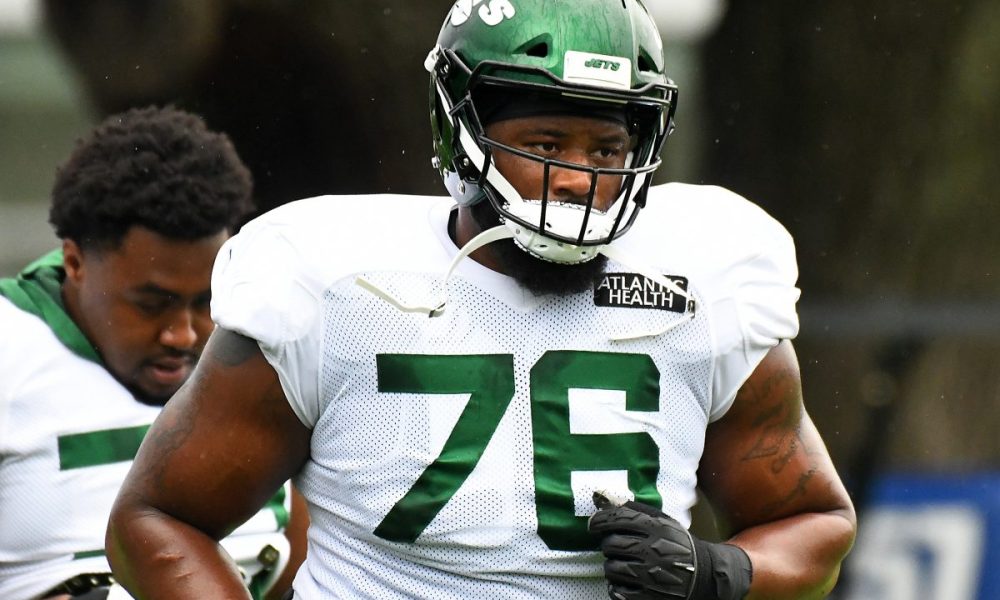 After spending the better part of the past decade as the team's collective whipping boy, and often justifiably so, the New York Jets offensive line has quietly started to turn things around.  This, according to Football Outsiders and Pro Football Focus and anyone who has watched the team closely enough over the past several years.  It has also been evident on the field, where the Jets offense looks better than it has in years in both the run and the pass game in recent weeks.
When GM Joe Douglas took over just two drafts ago, he inherited what many would have viewed as the worst offensive line in the NFL.  And to his detriment, Douglas made things worse by bringing in a hail mary signing in Ryan Kalil to play center.  Kalil was the worst among the group and those around him weren't much better.  More changes were in order.
Jets 3-yr OL grades:

PFF
2019
Run Blk: 47.1 (30th)
Pass Blk: 62.8 (28th)

2020
Run Blk: 65.2 (20th)
Pass Blk: 53.4 (31st)

2021
Run Blk: 73.8 (10th)
Pass Blk: 64.1 (16th)

Football Outsiders adj. line yards rank:

2019: 22

2020: 30

2021: 18

— Glenn Naughton (@AceFan23) November 12, 2021
Those changes were made via the draft and free agency.  Gang Green added Broncos center Connor McGovern and Seahawks free agent left tackle George Fant.  Fant was then moved to the right side after Mekhi Becton was taken at the top of the first round to cover the blind side.  Douglas followed that up by taking promising small-school lineman Cam Clark out of Charlotte to compete with Alex Lewis and free agent guard Greg Van Roten.  Unfortunately for Clark, he landed on IR with a spinal injury earlier in the season.
Then of course the team traded up in the 2021 draft to take the best o-lineman in the class in guard Alijah Vera-Tucker to play alongside Becton.  Later in the offseason, Douglas stayed aggressive and brought in free agent right tackle Morgan Moses.  The results were shaky early on, but things are starting to turn around for the group.
Injuries have kept Becton on the shelf this season but Fant has made a seamless transition to his natural position at left tackle where he has been very good.  Next to him, Vera-Tucker has played at a pro-bowl level for much of his rookie season and the decision to move up and take him at 14 was a stroke of genius.
After what was a very poor year one with the Jets, McGovern has been vastly improved this season and while Moses has shown his age at times, he's still a good player at right tackle.
Huge improvements on the Jets OL. From bottom 3 to middle of the pack and getting better.

Pre Joe Douglas OL:

LT: Beachum
LG: Carpenter
C: Spencer Long
RG: Brian Winters
RT: Brandon Shell

Joe Douglas OL:

LT: Becton/Fant
LG: AVT
C: McGovern
RG: GVR
RT: Fant/Moses

— Glenn Naughton (@AceFan23) November 12, 2021
Van Roten is where things have been ugly far too often, but even he's playing better football of late.  And as it stands, that may be a moot point.  Douglas went out and traded for former Chiefs starter Laurent Duvernay-Tardif before the deadline and he may challenge Van Roten for his spot.
In all, the Jets have seen their O-line completely overhauled in a matter of just a couple of seasons and seen the group climb from the depths of the NFL's rankings, to a respectable unit with what looks to be an elite young left guard and a tackle who has shown the traits to be elite in Becton, who has to find a way to stay healthy and elevate the group from middling to dominant.
Videos
New York Jets OTA Presser Takeaways, Aaron Rodgers' Impact and Summer Delusion