Pass Heavy Jets: Is the Passing Offense Sustainable?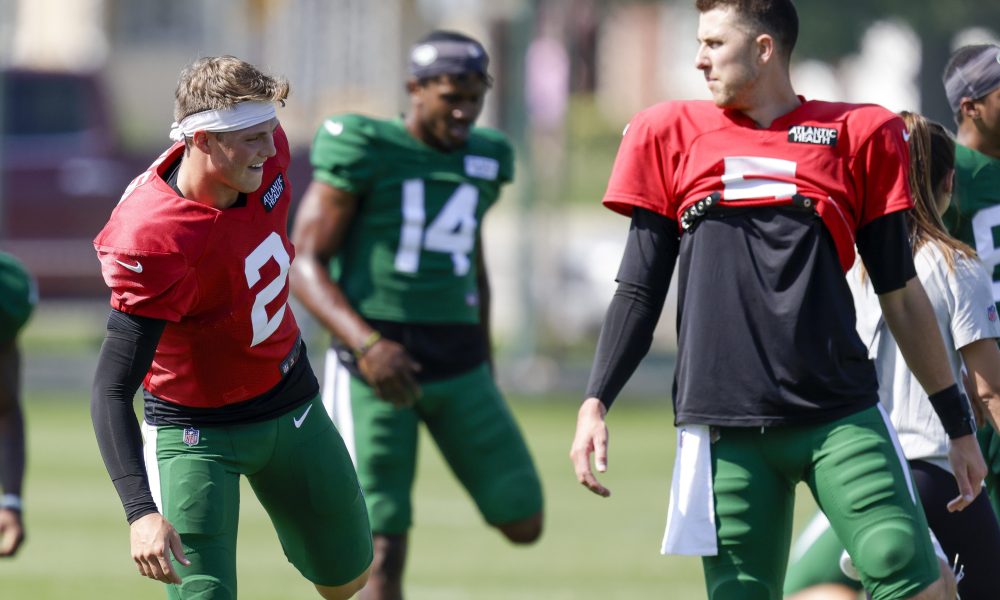 The New York Jets have not had the 2021 season they had hoped for, starting 2-6 and having to fight tooth and nail for each win they've managed to pull off. Both wins came against quality opponents in the Titans and Bengals, a pair of potential playoff teams. The losses to New England and Denver are ones that cut deep when trying to establish a culture built on discipline and toughness. The last two weeks, however, have shown a glimpse of what the Jets' offense, particularly the passing game, could look like when operating on all cylinders.
Coming into the year, some expected this Jets team to operate through the run game and the defense. So far, they have done the exact opposite, whether by design or game flow in certain matchups. New York has 314 total pass attempts, spread across three quarterbacks, in their 8 games, which is currently 10th in the NFL. With an average of 39.25 attempts per game, the Jets are on pace for 667 attempts, more than the Pittsburgh Steelers had when they led the NFL in 2020 (656).
2021 Run:Pass Rate, according to sharpfootballstats

NYJ is T-1st in Pass Rate with TB at 67%, with a slightly below average Success Rate at 46%.

Since Mike White took over, the Jets have a 69% (+2%) Pass Rate, w/ a Success Rate of 58% (+12%).

YPA is also up from 7.0 to 8.3 pic.twitter.com/RyhkdLw3sz

— Dylan Tereman (@DTereman) November 13, 2021
Is this a sign of the Jets catching up to the rest of the pass-happy NFL? Or is this a product of playing "catch up" in most of their games? Perhaps, both?
It's safe to assume the Jets would not like to pass the ball as much on a week-to-week basis, but with a run game that hasn't fully blossomed yet, offensive coordinator Mike LaFleur may have no choice. Over the last two weeks, with backup Mike White and third stringer Josh Johnson, New York has thrown 101 times. In that same two game span, the next highest team in attempts was the Los Angeles Rams (92), and the league is averaging only 70 attempts in their last two games entering Week 10. The Philadelphia Eagles have passed the ball just 33 times in the last two weeks. Yes, thirty-three. Expect this number to come down for the Jets as they look to get the running game established with Michael Carter, as well as facing a softer strength of schedule moving forward where the offense can be in more "positive game scripts" and can afford to run the ball more.
What New York has been doing since the absence of rookie Zach Wilson is nothing short of remarkable from a quarterbacking standpoint. Utilizing more WR-centric formations, like 10 Personnel (1 RB, 0 TE, 4 WR), White and Johnson are averaging 417 passing yards per game in Weeks 8 and 9, with 7 touchdowns and 3 interceptions. So, not only are they passing much more than fans are accustomed to, especially on first down, they also have more success when doing so. While many factors can be attributed to the recent explosion in offensive production, including LaFleur going upstairs to the booth to call plays. The main contributor is the efficiency with which White and Johnson run the offense. Both take the "easy" check-down passes to the running backs to set up YAC situations, while getting the ball out quicker to create better timing within the structure of the offense. Wilson was prone to holding onto the football for slightly too long, as well as stretching passes downfield that risked potential turnover, habits you can expect from a rookie thrown into the fire from the word "go".
According to @NextGenStats, the Jets QBs have a stark contrast in terms of advanced metrics:

Zach Wilson
– 8.8 ADoT
– 3.1s TT (Time to Throw, slowest in NFL)

Mike White
– 5.7 ADoT
– 2.62s TT (5th-fastest)

Getting the ball out quickly is what this offense is based on. #Jets

— Dylan Tereman (@DTereman) November 13, 2021
The hope is that Wilson is able to learn from his time on the sideline, and from watching film on his teammates running the offense better, and emerge into the player the Jets drafted him to be. If he can pull it all together, and learn to "play boring at times", this offense's potential is clearly pointing straight up. In the meantime, it's "Mike White! Mike White! Mike White!" against a top rated Buffalo Bills defense.
Videos
Aaron Rodgers Injury Fallout & Jets/Bills Recap