The Jets Defense Is Making History, In All The Wrong Ways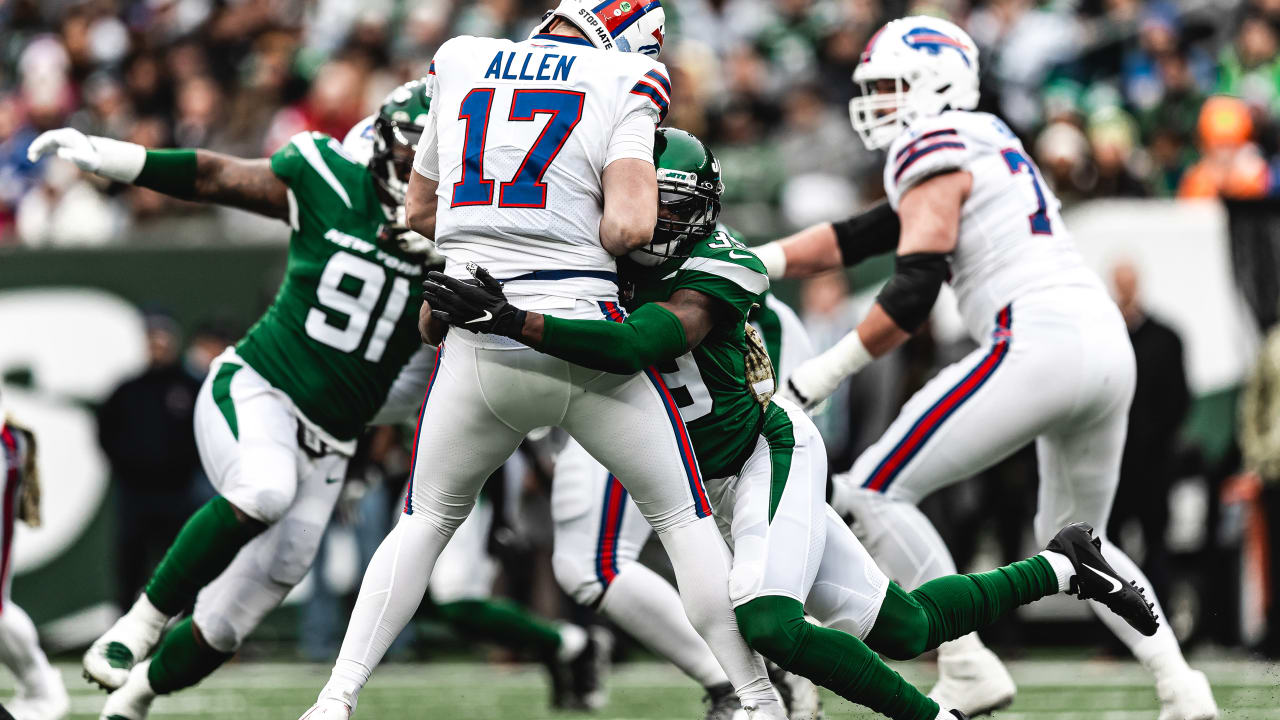 The New York Jets gave a pretty poor account of themselves against the Buffalo Bills on Sunday, falling to 2-7 courtesy of a poor defensive showing that translated to a 45-17 loss at the MetLife Stadium.
The Bills made it a point to show they had put their loss against the Jacksonville Jaguars behind them, having failed to score a single touchdown in their previous game. They wasted no time getting down to business on Sunday and, following a three-and-out on New York's end to kick the game off, Josh Allen began moving the chains.
The quarterback would put Buffalo ahead by avoiding a sack and throwing to running back Matt Breida for the touchdown and a subsequent 7-0 lead that opened the floodgates.
The Jets were not expected to win this one and the NFL picks certainly relayed as much. However, the disappointment and frustration were thick in the locker room following the poor result.
"Every man should be embarrassed," defensive tackle Sheldon Rankins declared. "Every man should be angry."
The Jets are, admittedly, a work in progress both offensively and defensively but the latter has been incredibly poor this term. The Jets have permitted opponents to score 175 points in their last four games, which marks the second-most points allowed in such a period by any team since the merger of the AFL and NFL back in 1970. They're also the first team to concede at least 45 points three times in a run of four games since the New York Giants in 1966 and have given up a whopping 1,890 total yards.
This is the worst four-game span in the team's history.
 Head coach Robert Saleh was unable to come up with an explanation for the blowout but admitted that the team's system has shown zero improvement and isn't meeting its goals.
 "Our system prides itself on being able to get better as the year goes on," Saleh, who made his name as a defensive tactician, said. "Clearly, it's not happening."
The Jets' last three opponents have scored 54, 31, and 45 points, respectively but they registered a close win against the Cincinnati Bengals in their last game. Backup QB Mike White impressed in that game yet should be preparing to hand the starting spot back to Zach Wilson, who could be on the brink of a return on the back of a knee injury.
"There's a lot of passionate guys in there who want to get better." – @MikeWhiteQB pic.twitter.com/IikMwIWugZ

— New York Jets (@nyjets) November 14, 2021
"He's getting better every day," Saleh said in reference to his injured QB. "So we'll see where he's at from an injury standpoint before we make any decisions."
White threw four interceptions against the Bills on Sunday. Prior to the game, white had spoken of his admiration for Dallas Cowboys QB Dak Prescott, whom he disclosed he tries to emulate.  "I thought, off the field, what Dak does so well is the relationships he has with every single person in that locker room and in that building," he said, per ESPN. "That's just kind of how he operates. That's what I noticed firsthand when I got there to Dallas.
"Whether it's Zeke (Ezekiel Elliott) or the starting receivers or the practice-squad backup corner, he's got a relationship with everybody. I try to emulate that."
Saleh is unable to call on safety Marcus Maye, whose season ended after he suffered an Achilles injury last week. Jarrod Wilson has stepped up to replace him but the loss is a big one for New York, especially given the circumstances.
Allen, meanwhile, simply punished the Jets' defense, making 21 of his 228 pass attempts for 366 yards and a pair of TDs.
New York was also unable to handle Stefon Diggs. The wide receiver made eight catches for 162 yards and one touchdown, bullying rookie cornerback Brandin Echols and his replacement Javelin Guidry after the former went out with a thigh injury.
"That's one thing we're not going to do: ride the roller coaster of we're the worst team to ever play, and now we're the best team to ever play," Allen remarked. "We're going to stay consistent and steady."
The Jets are playing with all of their starters barring Maye and Carl Lawson, a defensive end who is also out for the season after suffering an Achilles injury in preseason. None of their position groups have met the required standards, however. Their front four proved key in their upset against the Tennessee Titans back in Week 4 but they've since cooled.
"It just hasn't been good enough ever since that Tennessee game," Saleh lamented. "We played Atlanta all right, but ever since that bye week, we haven't been nearly as good as we've wanted to be. We have eight games left, and from coaches to players, we have to find a way to get better every day. Otherwise, you're selling yourself short."
Videos
Aaron Rodgers Injury Fallout & Jets/Bills Recap