Mid-Season Musings; A few Thoughts on Gang Green as Second Half of Season Kicks off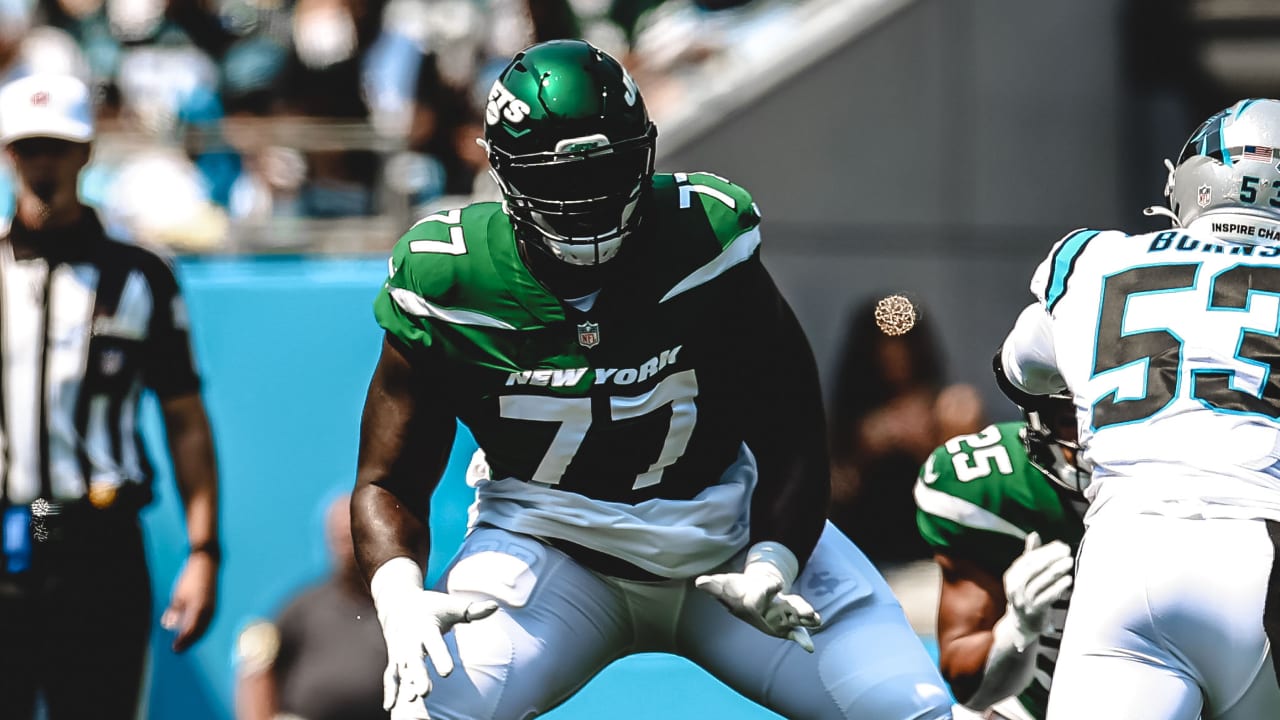 While the half-way point of the 2021 season was actually halftime of last Sunday's blowout loss to the Bills, we'll take this opportunity to throw out a few random thoughts in regards to Gang Green with the first half in the rear view mirror.
Becton setback is crushing: There were hopes that Mekhi Becton would be suiting up this week but we now know his return is up in the air.  With the season already lost, one of the last things Jets fans had to look forward to this season was watching Becton team up with left guard Alijah Vera-Tucker to see just how good the left side of the line can be in the future.  If Becton keeps getting hurt this often, his future with the team may not be long.  If he stays healthy, he and AVT should team to form the best left side in the NFL.
The Feeney Flub: Joe Douglas has done some good and some bad as Jets GM.  The fact that Dan Feeney hasn't been given a look at right guard tells us quite a bit about how bad the lineman and the decision to sign him is/was.  Feeney has turned out to be a waste of a roster spot and $4.2 million.
Something in the water at 1 Jets Drive: Something seems to happen to guys when they come to the Jets and put on the Green and White.  And we don't mean that in a good way.  From 2017 to 2020, wide receiver Corey Davis had 4 fumbles on 167 catches.  That's 1 fumble every 40 catches.  With the Jets, Davis has 2 fumbles on just 25 catches, or 1 fumble for every 12.5 catches.  This, of course is in addition to Davis having issues with holding on to the football as drops have become a regular thing.
Fantastic Fant: With Becton out, George Fant has stepped in and done a tremendous job at left tackle where he has yet to surrender a sack while giving up just 2 QB hits according to PFF.com.
JFM Slump or Mo Wilkerson 2.0: You hate to be "that guy" who stresses the negatives but John Franklin-Myers' lack of production since signing his new deal hasn't gone unnoticed.  He had 3 sacks in 4 games before getting his deal.  Since then?  Just 1 garbage time sack in 5 games. Jets fans are right to be worried because of what they saw from Mo Wilkerson, but give it more time.  JFM's effort is still there. With Mo Wilk it disappeared.  The numbers should come.
Kroft can be a solid TE2: But a better starter must be brought in.  Mo Alie-Cox and OJ Howard should be targets if they hit free agency.
Which TE would you rather see the Jets sign in free agency if not retained by their current club?

— Glenn Naughton (@AceFan23) November 20, 2021
McGovern much improved:  When you're an offensive lineman on a bad football team you go completely unnoticed unless you're stinking up the joint.  That's why Connor McGovern's improved play hasn't registered much of a mention among Jets fans.  If you don't get points in fantasy football, nobody wants to hear about you.  But the fact of the matter is that McGovern is looking more like the player the Jets thought they were getting when they signed him last offseason.  The Jets should be considering a move to right guard for McGovern next season if they address center in the draft and grab Tyler Linderbaum out of Iowa.
Offensive Cornerstones: Zach Wilson still needs time so the jury is out, but we've seen enough from Alijah Vera-Tucker, Elijah Moore and Michael Carter to believe the Jets found three big time players for years to come.
The 2020 draft class is on life support: 
In short…
Mekhi Becton can't stay on the field
Denzel Mims had 1 drop on 44 targets in 2020. He has 3 on 14 targets in '21.  He's pressing and playing his way back to the bench.
Ashtyn Davis has been more bad than good, but has been better lately.  A reason for hope?
Jabari Zuinga continues to be underwhelming.
La'Mical Perine does not fit this offense.  Expect him to play elsewhere next season.
James Morgan is already gone.
Cameron Clark's future is up in the air after a spinal injury.
Bryce Hall is the best pick of the class by a wide margin at this point as a legit starting corner.
Braden Mann hasn't been as good as advertised.
There's still time for Becton, Mims and Davis to come around and bring the class from bust to boom, but that feels about a million miles from where they are right now.
No safety net: The Jets secondary gets smoked on a weekly basis and that has fallen largely on the safeties.  They'll need to add two this offseason.
Nah to Nas?  The Jets drafted safety Hamsah Nasirildeen, moved him to weak side linebacker and handed him the starting job immediately after the draft.  That lasted roughly two weeks.  Since that time it's been a combination of injuries and ineffectiveness that have limited him to special teams duty.  Nasirildeen has not played a snap on defense since week 2.  It's too early to bail on the kid, but this clearly isn't what the Jets had in mind.
Videos
Aaron Rodgers Injury Fallout & Jets/Bills Recap