Here's why the Jets Should see a Better Version of Zach Wilson on Sunday vs Texans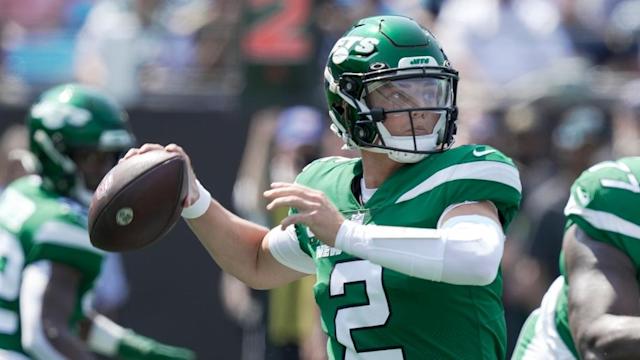 When Zach Wilson steps on to the football field against the Houston Texans this Sunday, it will be the most important game of his pro career thus far.  No, it obviously won't be about the standings or the final score.  But a lot has changed since the last time Wilson took a snap and recent success from multiple QB's will have Wilson under the microscope more now than ever.  So why is this one so much different?
Personnel Groupings: 
If you took a stroll through Jets twitter from the time Wilson was injured, you'll see fans, pundits and former players asking why Wilson didn't do more in Mike LaFleur's offense.  "It's the same system" they'll say.  "Mike LaFleur isn't doing anything different, why couldn't Zach do this?".  With all due respect, those folks haven't been paying very close attention.
Since getting sidelined, the Jets have seen a significant increase in the number of four and five wide receiver sets they've deployed.  Along with that, we've seen an increase in the number of reps the team's wide receivers are getting.  What this has meant is more opportunities for QB's to look for mismatches between the Jets receivers and opposing defenders.
Think back to how fans raved about this receiving corps that consisted of Corey Davis, Elijah Moore, Jamison Crowder, Keelan Cole, Denzel Mims, Braxton Berrios and Jeff Smith.  More than enough talent to exploit mismatches, but the Jets rarely had four or five of them on the field together.  That has changed in recent weeks as the team has dropped the number of reps their tight ends have receiver.  All of this has meant a more talented and athletic group of receivers for Mike White, Josh Johnson and Joe Flacco to work with.  Now it's Wilson's turn.
Jets 4 and 5 WR sets w/ Z. Wilson under center: 4 (1%)

Jets 4 and 5 WR sets w/ Z. Wilson sidelined: 41 (15%)

Time for the Jets to open things up for Wilson just as they have for the other QB's on the roster.

— Glenn Naughton (@AceFan23) November 25, 2021
Philosophy:
In addition to changing up the personnel groupings, LaFleur has been far more aggressive on first down, putting his quarterbacks in fewer third-and-long situations.  If Wilson executes on the early throws, it will give him more options on the later downs with fewer obvious passing situations.
Perspective: 
We've heard offensive coordinator Mike LaFleur say from the time the team was in training camp that he's most comfortable calling plays from upstairs in the booth.  However, due to Wilson's inexperience, Robert Saleh had LaFleur working from the sideline.  Since moving upstairs, LaFleur has a different perspective on the action and is now doing his job in an environment where he's more comfortable.
Watch and Learn:
When Zach Wilson lined up for his first NFL snap in week 1, he had never faced an NFL defense at full speed.  Now?  He has six starts under his belt.  In addition, his injury has allowed him to watch veteran quarterbacks prepare and perform in a system that has been one of the NFL's best in recent weeks.
Crazy stat: In the four games since Zach Wilson's injury, the Jets have averaged 436 yards per game — tops in the… https://t.co/wvX1365nxi

— Rich Cimini (@RichCimini) November 24, 2021
So the next time Wilson takes a snap, he'll be doing it with both live reps to have learned from as well as the benefit seeing the offense perform at a high level when veterans have been at the helm.  If Wilson is a quick study, we should see significant improvement starting this Sunday.
Level of Competition:
Having previously faced the Carolina Panthers, New England Patriots (twice) and Broncos, Wilson played 4 of his first six NFL games against top 10 pass defenses.  This week?  It's the 24th ranked Texans.  That will represent the second-worst secondary (24th) he has faced to date with only the Titans (28th) being worse.  Wilson will be without running back Michael Carter, but the backs behind him and receivers in the huddle should be more than enough for Wilson to thrive against the Texans?  If he doesn't?  The fans will have plenty to say.
Videos
Aaron Rodgers Injury Fallout & Jets/Bills Recap