How do the Projected Top Picks fit with the Jets?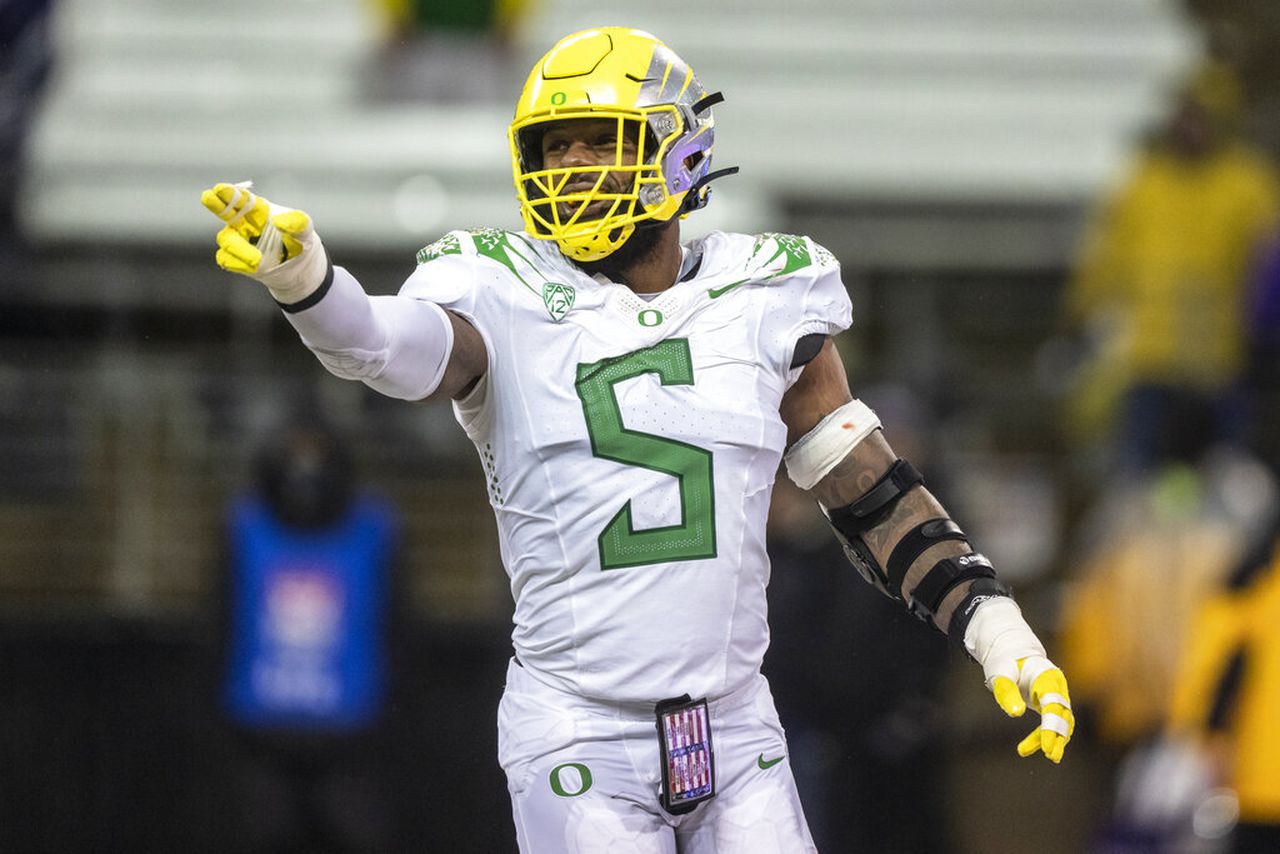 While there's much to be disappointed with as another underwhelming Jets season winds down, there's also plenty of reason to look forward to next spring's NFL Draft.
After dropping Sunday's matchup with the Eagles, the Jets now have sole possession of the fourth overall pick in the Draft, in addition to owning the Seahawks' fifth overall pick from the Jamal Adams trade. Both teams will face an uphill battle to improve their rankings by the end of the season, as they both have to contend with an above-.500 strength-of-schedule the rest of the way.
While there are a million mock drafts out there, sometimes it's most interesting to look at how the oddsmakers see things shaking out. Betting on the NFL Draft is legal in New Jersey and New York will open up online sports betting in its own right in early 2022. So, if you want to wager on the Draft, many New York Sportsbooks will soon be available.
Let's take a look at some of Vegas' favorites to go #1 in the Draft and how they'd look in Gotham Green.
Odds via DraftKings Sportsbook
Kayvon Thibodeaux, EDGE, Oregon (-110)
Thibodeaux is a long, athletic edge rusher. He has a ton of obvious athleticism paired with a wiry strength that makes him stand out as a potential All-Pro pass rusher. As a player, he is not an ideal fit in Robert Saleh's system. As currently constructed, the Jets prefer to play out of a base 4-3 system, while Thibodeaux projects more cleanly as a stand-up 3-4 edge rusher. Still, he would most likely be a huge long-term improvement over the Lawsons and John Franklin-Myers and a true centerpiece to build a defense around. 
With a Thibodeaux, Quinnen Williams, and C.J. Mosley, the Jets would have a solid front 7 to build the defense out from, a style of team-building that Joe Douglas was a fan of in Philadelphia. It will most likely be a moot point as Thibodeaux projects to be the first non-QB off the board, but it's still a nice thought to picture him wreaking havoc on opposing quarterbacks in the Meadowlands if he were to drop.
The Quarterbacks
Matt Corral, QB, Ole Miss (+250)
Malik Willis, QB, Liberty (+450)
Carson Strong, QB, Nevada (+500) 
Next in the rankings, we have a collection of Quarterbacks. This isn't a particularly strong QB class, but with signal-callers in high demand for the league's bottom feeders, they always tend to get drafted too early as we know all too well.
These quarterbacks are all talented and have diverse skill sets, but this is really a conversation about Zach Wilson at the end of the day. It would be generous to say that Wilson has merely struggled in his rookie season, missing time due to injury and  ranking 32nd in ESPN's QBR to go along with 11 picks in the 8 games he has played. While the front office might not want to admit to a mistake on such a big pick, it seems like Wilson may not have what it takes to be a high-level starter.
Douglas and co may be wise to take a lesson from the Cardinals, who quickly gave up on first-round pick Josh Rosen when presented with the opportunity to draft Kyler Murray. That's not a one-to-one comparison, of course, but Arizona wasn't tied down to the sunk cost of a high draft pick and it was the right decision for their franchise.
If the team sticks with Wilson, this glut of QBs also presents some nice opportunities to potentially move back in the Draft and pick up some extra capital. With two-projected top 5 picks and many holes to fill on the roster, it might be wise to cash in one of those picks for more opportunities to fill out the roster later in the Draft.
Evan Neal, OT, Alabama (+700)
The Jets selected Left Tackle Mekhi Becton with the 11th overall pick in the 2020 Draft, it seemed like they were suring up the blindside for the foreseeable future. Becton got off to a promising start with an impressive rookie season where Pro Football Focus gave him a 74.3 score, good enough to be the Jets' second highest-rated player. While injuries have sidelined the Louisville product for the majority of this season, there's no reason to think he won't still be a building block for the future. 
Joe Douglas loves to build from the line of scrimmage out and Evan Neal could combine with Becton to be the two bookends of a dominant offensive line for the future. The massive Alabama product is one of the strongest players in the Draft. With experience at both Left and Right Tackle, Neal projects to be a versatile player moving forward and has loads of potential to be a star player on either side. I think he would be a very nice fit opposite Becton
Aidan Hutchinson, EDGE, Michigan (+1,500)
Aidan Hutchinson has set the college football world on fire this year, posting 14 sacks while leading the Wolverines to a College Football playoff run. It wouldn't be a stretch to call his 2021 one of the most dominant defensive campaigns in recent NCAA memory.
As a traditional 4-3 edge rusher with size and speed, Hutchinson would easily slot into the Jets' starting lineup and could be an immediate difference-maker. If the Jets remain around the 4-5 slot in the Draft, Hutchinson would be a nice pickup.
Derek Stingley Jr., CB, LSU ( +1,500)
The defensive backfield is an area that can always be improved upon. While the front office has done a decent job patching together spare parts like Elijah Riley to make up for the injury to Marcus Maye and the hole left by Jamal Adams, there aren't any real pieces to build a solid unit around. 
Derek Stingley Jr. could be exactly that piece. He has good size at 6-1 and has shown the ability to play in both zone and man defenses. Stingley also has the playmaking instincts that are necessary to thrive in Saleh's zone-heavy defensive scheme. If the Jets stand pat in the middle of the top 10, then adding a combination of Stingley and Hutchinson as defensive weapons would go a long way towards building a top-flight unit.
Videos
NY Jets Phase 3 OTAs, Expectations and a Minor Calf Tweak with Greg Renoff