Elijah Riley & Fant Might Play On Sunday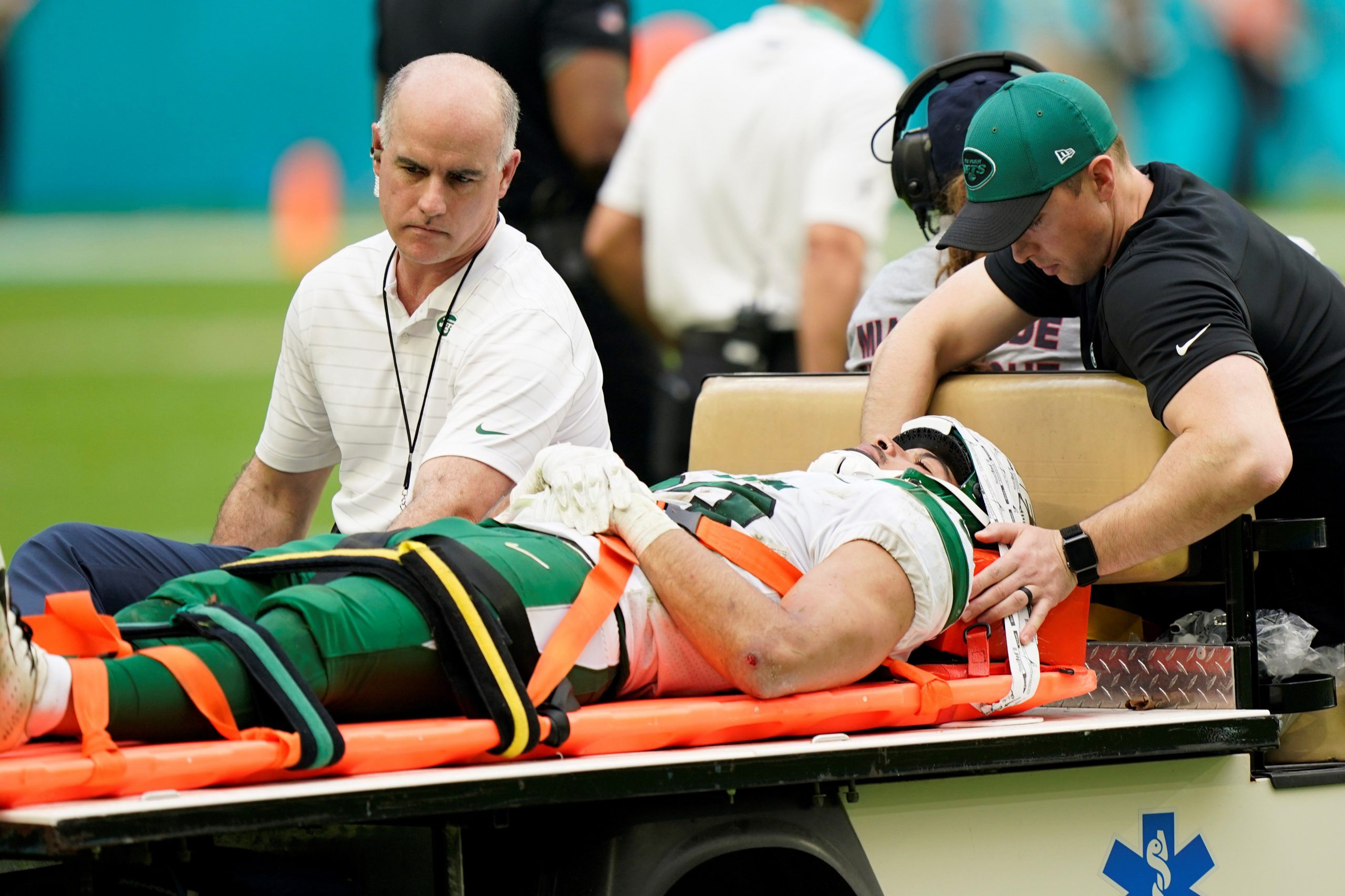 Elijah Riley had a scary moment during the loss to the Dolphins as he was down for an extended period of time. He was taken out on a stretcher and today there was great news provided by Robert Saleh.
Elijah Riley, that's the big one, he's in the concussion protocol. Knock on wood, checked out really good at the hospital yesterday and we're optimistic that he'll be able to return this season, hopefully, this week.
Rich Cimini, ESPN: Robert, just going back to Elijah for a moment, you mentioned hospital, I'm wondering if you could just take us through, from the stadium to where you are now with him? He obviously flew back with you guys, you said that after the game and maybe just walk us through how he got from there to here and what happened in between?
I'm going to try to speak English on this one. Knock on wood, obviously very scary moment for everybody. Everyone in the stadium, especially the ones wearing the uniform, they're the ones that have got the greatest empathy for what was actually happening. Elijah was, from my understanding, gave a couple symptoms and for precautionary I thought our staff did a phenomenal job, same with the Dolphins staff, really did a good job getting it all under control, wanted to be as safe as possible. Obviously, carted him off, got him to the hospital and from there, they were able to run all the scans and he checked out good. Obviously, a very scary concussion is what it ended up being, he's going to have some soreness and all that stuff, but he's going to make a full recovery and his playing career is not in jeopardy. We're very optimistic that we'll get him back this year, and like I said, hopefully this week.
Al Iannazzone, Newsday: Robert, how were his spirits when you spoke to him after everything?
You know, I still haven't gotten a chance to see him, but I know my spirits are up and I'm sure his are, too. It's a big sigh of relief, it's not a comforting feeling laying there, it's not a comforting feeling watching it. I'd imagine he's in great spirits.
Other injury updates:
Good afternoon guys. Ryan Griffin is dealing with a knee, not looking good for this week, we'll see though, we'll get more evaluation tomorrow. And then, obviously, we had a bit of COVID run this morning. Foley (Folorunso Fatukasi), obviously, he's from the weekend. Tanzel Smart, JFM (John Franklin-Myers), (Sharrod) Neasman, Lamar Jackson and Vyncint (Smith). They still have a chance to make it this week, they've got to go through the protocol with regards to asymptomatic plus two negatives and all that stuff, whatever the protocols are, but that's where we're at.
George Fant and also, Quinnen Williams?
Quinnen looks good, we're not ruling him out for this week. We've got to see what happens here today, tomorrow, Wednesday. We're going to limit him some, try to get the harness back on him, see where he gets to from a comfort level standpoint, but he looks good. We're optimistic on him. George, we're optimistic for Sunday. Obviously, we're going to limit him this week also, but we're optimistic that we should get him back at left tackle.
Will Mekhi Becton be practicing this week?
No, update DJ. Sorry.
Videos
Aaron Rodgers Injury Fallout & Jets/Bills Recap