Saleh Tests Positive for COVID, Ron Middleton Takes Over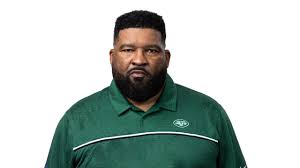 Late this morning the NY Jets announced that head coach Robert Saleh has tested positive for COVID-19.  Tight ends coach Ron Middleton will assume head coaching duties until Saleh is cleared to return. Saleh will still run all the team meetings virtually, according to Middleton, but that isn't etched in stone.
Coach Middleton was asked what the morning was like and how he found out.
We had virtual meetings and 11:15 or so Coach Saleh called a staff meeting and that's when he informed us he tested positive for COVID. That was when he informed the staff that I would be standing in until he gets back. We had a walk through at noon. Only 45 minutes for it to soak in. I addressed the team on the field right before the walkthrough. told them what coach Saleh had said and we commenced to practice.
The injury update for today:
Did Not Practice: Jamison Crowder, CJ Mosley, Elijah Riley (concussion), Sheldon Rankins (knee), Bryce Hall (illness, not COVID)
Limited Practice: George Fant (knee), LDT (ankle), Quinnen Williams (shoulder)
It is unclear when Robert Saleh will be cleared to return. Coach Middleton explained the current thought process.
The good thing about that is there is a good plan in place, Robert has done a good job of hiring staff, of course, I am a little biased about that (laughs). He has a great plan and he is very clear with his plan, I am not inventing the wheel here just trying to keep the ship steered in the right direction, so far no issues.
Have you discussed this plan about you taking over prior to today?
Yes we talked briefly last week when he was not feeling well and he informed me that if something did happen he wanted me to fill in for him
The full injury report appears below.
Videos
Aaron Rodgers Injury Fallout & Jets/Bills Recap