Wilson Sets Team Record as Jets MASH Unit Squeaks Past Hapless Jaguars in 26-21 Victory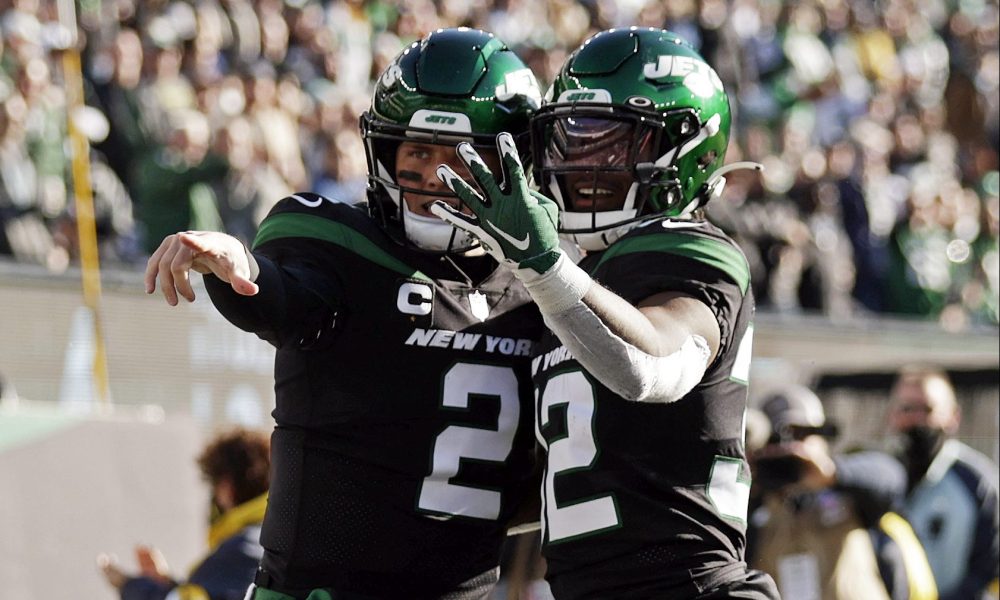 For those asking the question, "how can the Jets possibly compete" in a game that found a total of 20 of their players in covid precautions along with their head coach, Gang Green had an answer.  An unconventional answer?  Yes.  But an answer nonetheless.
A record-setting TD run from the quarterback, a 102-yard kick return from Braxton Berrios and of course, a surprisingly athletic touchdown reception from their fourth-string left tackle in Conor McDermott.  Yup, all of that really happened in the team's 26-21 victory over the Jacksonville Jaguars.  All of that under the watchful eye of tight ends coach turned head coach for a day, Ron Middleton.
Heading in to the contest, the only story line worth discussing was the head-to-head meeting between the first and second overall picks in the 2021 draft in Trevor Lawrence and Zach Wilson respectively.  By the time kickoff arrived, covid had taken center stage.  The Jets would be without their two starting guards, their top three wide receivers and their best defensive player in Quinnen Williams.  Even against a train wreck like the Jaguars, this was going to be a tall order.
Luckily for the Jets, Zach Wilson was able to overcome the lack of weapons on offense by using his legs, running for 91 yards on four carries, including a team-record 52 yard TD run early on.
Zach Wilson with the insane TD run. Not a bad way to start the day. pic.twitter.com/SJawvpiakA

— Glenn Naughton (@AceFan23) December 26, 2021
A little later in the game it was a Braxton Berrios 102-yard kick return that got the Jets on the board next.  The final score, and shockingly most entertaining, was a TD pass from Wilson to Conor McDermott from inside the 10-yard line when Wilson had immediate pressure in his face, kept his poise, rolled out and hit McDermott in the back of the end zone.  It was a play Wilson would refer to after the game as "the best" moment of his football life to date.
On defense, it was a mix of rookies and guys that even the most ardent Jets fan could have told you very little about.  Safeties Will Parks and Kai Nacua found their way on the field for a significant chunk of time while Freedom Akinmoladun, who was signed just a few days ago, took the place of Quinnen Williams on the roster and picked up a pair of tackles along the D-line.
Rookie cornerback turned safety Jason Pinnock looked as comfortable as he has thus far at his new position, forcing a fumble while also knocking loose what looked like  a deep completion on a jarring hit against receiver Marvin Jones.  Head coach Robert Saleh discussed Pinnock earlier in the week and said that the move to safety is a new one for the DB, so the Jets should be happy with the progress.
Wilson wasn't the only rookie to shine on offense either.  Running back Michael Carter, running behind a line made up largely of backups, posted his first ever 100 yard rushing day as he finished with 118 yards on sixteen carries, continuing to show his ability to weave in and out of traffic, making people miss.
Of course there will be plenty of conversation about what the win means for the Jets draft position, Jets fans should be happy to see that Wilson found a way to win without having his top 3 receivers and several starting offensive linemen.  In that respect, it was a good day for the kid.  On draft day?  That could be a different story.
Videos
Aaron Rodgers Injury Fallout & Jets/Bills Recap