C.J. Mosley Voted Team MVP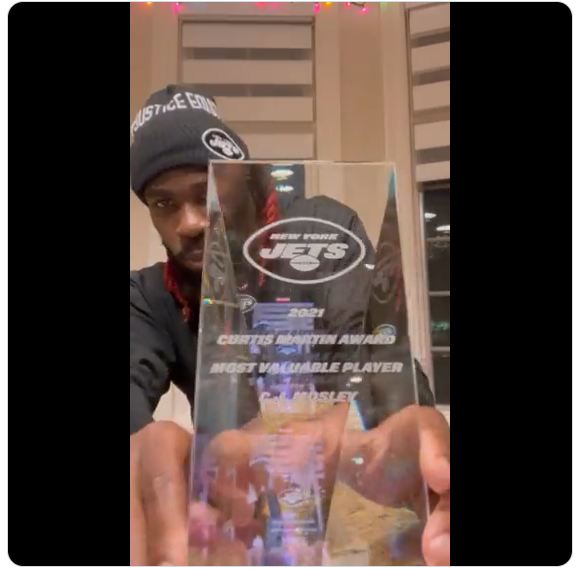 C.J. Mosley was voted team MVP and received the award on Wednesday. He spoke about the two-year hiatus and getting back to where he is now in the video embedded below. Mosley said that he is honored to be back on the field and appreciates this award from his peers.
Robert Saleh added this about his star linebacker.
C.J. is awesome. You guys know how I feel about C.J. I know everyone saw that he was voted Team MVP, but I've made a comment before that he's an All-Pro player and an All-Pro human. He's one of the more thoughtful individuals. I think his locker room presence is phenomenal, his leadership is phenomenal, when he speaks, everyone listens, even though he doesn't really speak that much. Just been a pleasure. For a guy who's accomplished so much in his career, to have a new staff come in here and ask him to lose 20 pounds and he does it. To ask him to show up to OTAs and he does it. To ask him to adjust the way he's played linebacker his whole career, he does it and he's having a heck of a season. Not because of coaching, but because he's an unbelievable football player and he works so hard at it. Credit to him and everything. He deserves every accolade he gets and I'm really happy he's here.
You can hear from Mosley himself during this short unboxing video.
If I haven't said it enough, THANK YOU!To everyone that has helped me, guided me, believed and didn't believe in me, prayed for me, and showed unconditional love, I'll always be grateful for my blessings! When one wins, we all win! pic.twitter.com/PNBTmGdgzz

— CJ Mosley (@TreyDeuce32RTR) January 5, 2022
Videos
Aaron Rodgers Injury Fallout & Jets/Bills Recap