Mike LaFleur On The 4th and 2: Wilson Did What He Was Supposed To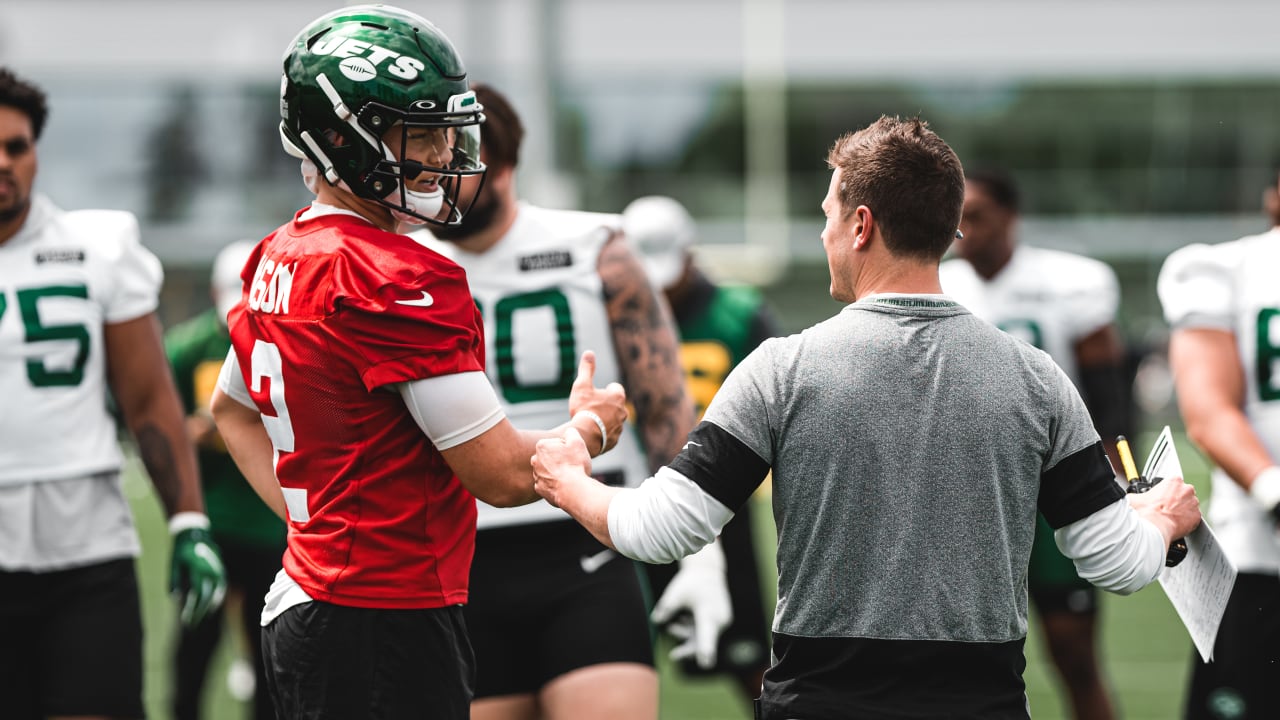 Mike LaFleur spoke to the media today and the hot topic, the 4th and 2 play call, came up.  Here is what LaFleur had to say about the play call and Zach Wilson's decision.
Yeah, obviously (Robert) Saleh has talked about it a few times. First, it's 100% on me. Disappointed with myself for two reasons, I pride myself on communication and our unit on execution, you've heard me talk about execution a lot and I failed at both of those. The total intent was to get Braxton (Berrios) the ball, he was balling, and I failed at both of that to get that relayed. Our quarterback did exactly what he was supposed to do in that moment. Like I said, I know what our intent was, whether people want to believe that one or not, but that's what happened, and I failed at both. And, again, I have to live with that. I know I'm going to learn from that, I know I have learned from that. You can't let the same play beat you twice, and in that situation, I'm going to make sure that absolutely does not happen again.
You said you didn't get it down there, what didn't happen that was supposed to happen? And, secondly, the follow up to the follow up is, I think he called the play, he snapped with about :19 seconds left. So, in theory, someone could've radioed in at the last second before he snapped it to hand it to Braxton, correct, because the communication was still ongoing?
Yeah, that's what I'm saying. There's no more to talk about, it was flat out in the moment, I did not relay what we wanted to get down. That's what's disappointing. Like I told the players, I know we called the right play, I didn't get the communication down, so it doesn't matter. The play was ran the way it was designed to go, I needed to communicate exactly what we wanted, I didn't get that done. Whether there's 19 seconds, whether the quarterback communication was clicked off, it didn't happen. That's what I'm disappointed with and there's no one else's fault but mine.
Watching the TV tape, and I'm unclear how the operation works here, during the timeout, Zach (Wilson) stayed on the field and I'm assuming you're talking to him in the helmet at that point, but he can't communicate back with you? How does that work in a timeout there? Is it just you in his ear or sometimes is he on the sideline talking to (Matt) Cavanaugh? 
Every timeout is a little bit different. This was a 30-second timeout, so this one was a little quicker. We were still trying to decide whether we were going to go for it or not. Trying to figure out, honestly, how far we were. I know it said fourth-and-two, it was fourth-and-one-and-a-half. Not a time to sneak it, obviously, that's why I can't call that play. That's why I needed to communicate what needed to happen, but it didn't get done. I wasn't saying much to Zach in that instance because I was just looking at the call sheet going through what I wanted to get done. When we knew that Braxton was good to go, who we thought was just balling at that time, it was just like let's get him the ball. And, again, it didn't get communicated the way it needed to get communicated. And, again, I have to live with that and learn from that. It sucks.
Was there any point, Mike, pre-snap, where you kind of, you said, 'Oh crap. I didn't tell him to not sneak it.' Or was it until you saw the ball snapped that you realized it?
Ball snapped.
Besides the quarterback sneak, how did you feel about the way Zach (Wilson) played on Sunday? It looked like, in my opinion, his best game of the year.
Yeah, it probably was his best game of the year. I thought Zach did a good job, he went out there and he's been getting better and better every single week. You guys are seeing that. Obviously, stats tell a story, but it also doesn't always tell a story. I think the eye test and how comfortable somebody is, particularly a young quarterback, and I think even people that don't know the game as much as you guys and us as coaches, I think everyone can kind of see how much more comfortable and how much more free he's playing. And free doesn't mean just going around playing street ball, it means just running the offense and when it's not there, making the best decision for the unit in that moment. So, he played well, he threw the ball well, his tempo was good, his eyes were good, his ball placement on some balls was just spectacular. The in-break to Braxton with on the drift when the corner was all over him and holding him, what an incredible route, catch, throw. The one that he zipped into Keelan (Cole) on first-and-10 on the 19. For a rookie, let alone any quarterback in the strike zone there on first-and-10 at the 19, to just let that ball rip within the timing of the play, that was an awesome play. But before, just in case it doesn't get asked, he played well, but the guys around him played phenomenal. Our offensive line blocked well, we ran the ball very well, our backs did a heck of a job, receivers were getting separation against a good secondary and that's a good defense, like we talked about all last week. Just proud of the fact of what those guys did all last week preparing for that game and that moment and they did everything that we asked them to do, and they fought their butt off. It was fun to watch.
Videos
Aaron Rodgers Injury Fallout & Jets/Bills Recap