Senior Bowl Practice Recap: National Team Notebook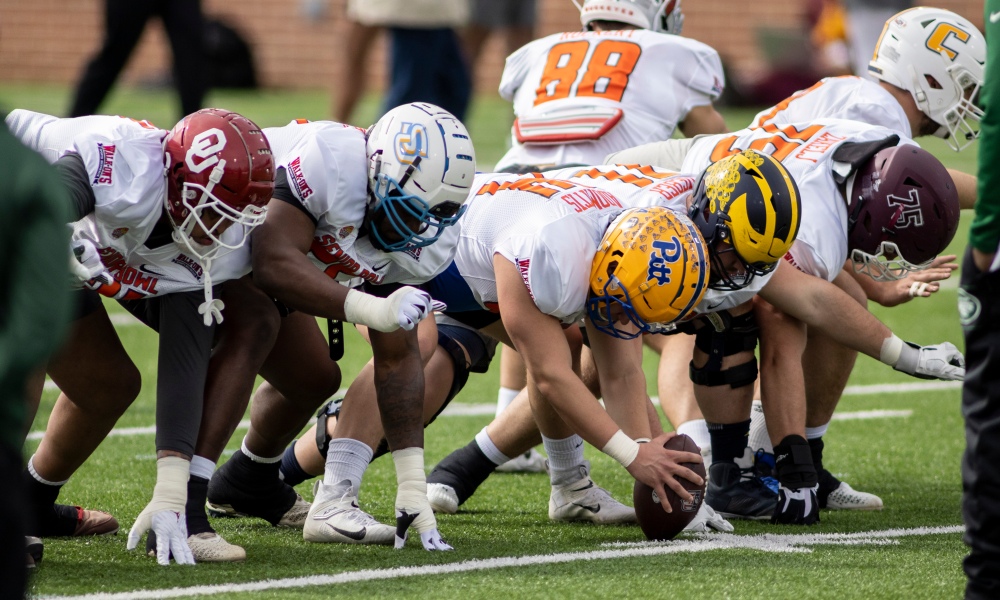 On my first trip to Mobile, Alabama for the Reese's Senior Bowl, I came away with only one word to describe my experience – incredible. For anyone who has thought about going in the past, I strongly encourage you to go in the future.
Beginning with quarterbacks, the buzz was growing regarding Kenny Pickett's hand size, Desmond Ridder's accuracy and touch, and Carson Strong's injury history. In the monsoon of Day 2 practice, you could tell Pickett was struggling mightily with ball placement. None of them particularly stood out to me throughout the week. Fortunately for the Jets, they have their hopeful franchise QB in house with Zach Wilson.
The Senior Bowl practices were often difficult to evaluate running backs, unless in a 1-on-1 drill going through routes or pass protection. Jerome Ford from Cincinnati looked the cleanest in all three phases, but Arizona State's Rachaad White showed flashes and caught the eye of Jets' Special Teams assistant Leon Washington, breaking a long run in team drills.
As far as the pass catchers go, both wide receivers and tight ends, Colorado State tight end Tre McBride was the one to watch. He had multiple contested catches, including one with Baylor's Jalen Pitre draped on his back. Christian Watson from North Dakota State also had a dominant two days of practice. When you watch him on film, you can immediately see his speed. In Mobile, he showed he could also run multiple routes efficiently, displayed strong, natural hands at the catch point, and gained separation that players at his size (6'4", 211lbs) normally don't on a regular basis. Rutgers' Bo Melton showed off his versatility, working as a return specialist and a slot receiver, with speed that will entice plenty of teams, clocking 20.83 MPH in the rain on Wednesday, according to Zebra Sports.
The offensive line did not have the best showing over the course of the two practices, getting torched on Day 2 in 1-on-1's. Northern Iowa's Trevor Penning is a bully at left tackle, and he was not afraid to ruffle the feathers of defensive linemen, playing through the whistle (and sometimes beyond it) each and every rep. Zion Johnson from Boston College had an impressive outing as an interior linemen, taking snaps at both guard and center. He even stayed after practice each day to continue improving his snapping ability, something he has never done in college.
Defensively, the big guys up front were the group to take the most away from on the National team. Multiple players stood out, including UConn's Travis Jones, Penn State's Jesse Luketa,  Myjai Sanders from Cincinnati and Houston's Logan Hall. Jones immediately caught my eye for his sheer size alone, and once practice started he was pushing people around. Logan Hall moved extremely well from the 3-tech, splitting blockers in the run game and ruining plays for the offense. Sanders had a ton of "wow" plays, including putting 387-pound Daniel Faalele on his back in 1-on-1's. Luketa spent time specifically at edge rusher, even though during his time at Penn State he spent a lot of time as an off-ball linebacker, and looked like he belonged. He is an interesting prospect for the Jets in the range of their 4th-round pick at 107 overall.
Much like the running backs, linebacker is another tough position to get a true look at during practice. Cincinnati's Darrian Beavers, who weighed in at 252lbs, showed athleticism for his size and could see his stock rise. Chad Muma from Wyoming was the best of the bunch, and he will likely see his name called in Round 2 of the Draft.
Looking at the defensive backs, Coby Bryant from Cincinnati was the player I watched the most. He displayed his versatility as a gunner on special teams, and had great technique in the competitive periods. Ouachita Baptist's Gregory Junior, a Division II player, showed that the level of competition was not going to be an issue for him. He was able to play sticky coverage in man-to-man during 1-on-1's, and also showed his strength and versatility during special teams drills. He looks to be a developmental prospect, but the Jets love taking swings at the position late in the draft. Jalen Pitre, a safety from Baylor, was the best backfield defender in my opinion. He played great in coverage, even on reps that he got beat, and he showed off his play speed and ability to be a do-it-all safety.
I was only granted access to two days of practice, so after watching Day 3 of practice film I will follow up with an article that will include some of my takeaways from the game itself.
Videos
Aaron Rodgers Injury Fallout & Jets/Bills Recap