Douglas on Berrios, Mims & the Upcoming Draft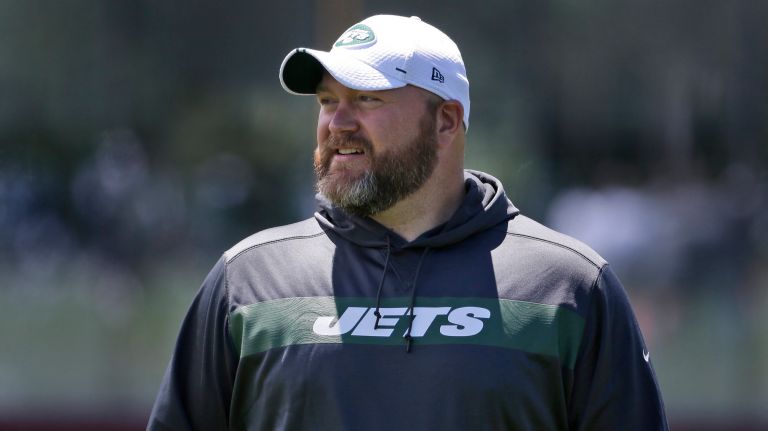 Combine week is here and Joe Douglas spoke to the media. Here is the full transcript and it is definitely worth checking out.
Opening Statement:
I know you guys talked with Robert (Saleh) earlier today, so I'm sure you only have one or two for me (laughter). Good to be here. I know Robert touched on it, we had two great days of meetings with our coaching staff, getting their input on free agency. Obviously, a lot of work to be done this week, a lot of conversations to be had and a lot of information to gather. I know you guys got questions, so fire away.
On how aggressive he'll be in free agency…
There's a lot of different avenues, a lot of different tools to improve your roster. Free agency is one of those tools, and so I think we have a good opportunity. We have assets that we've acquired, we have financial flexibility, so again, there's a lot of conversations that need to be had in the next coming days and weeks before this kicks off, but we're going to get this team better, any avenue we can.
On maintaining financial flexibility…
I think we always want to be financially flexible. We always want the opportunity to strike if the right opportunity presents itself. I think that is something that we're going to be looking to do moving forward.
On how he anticipates approaching free agency…
Again, I'd say those are conversation we're going to be having in the next days, weeks leading up to the start of the league year. But again, we still have to talk to not only with our staff, but also agents.
On how much of priority it is to add more weapons on offense to help Zach Wilson…
In terms of developing Zach, I'm going to piggyback a little bit what Robert said today, I think there's a lot of ways we can help our young quarterback. I think you saw it this year. When a young quarterback is playing with a 14-point lead versus trying to come back from a 14-point deficit – if we can put pieces around him to make sure he has the lead instead of playing from behind, young quarterbacks are going to be in better position to succeed. Obviously, one avenue to help the quarterback is playmakers. It's the weapons, it's the wide receivers, it's the tight ends, it's the backs. There's also the other ways to help it which is a good solid defense to get him the ball back as often as we can.
On deciding between bringing in veterans and young players…
Those are discussions that we have to have. Obviously, when you're watching a pro player, it's apples to apples. You're watching him go against the best players in the world, versus a college player where you're seeing him playing against guys that may not be playing on Sundays. Pro scouting gives you that opportunity where you're really seeing them, like I said, apples to apples. There is a little bit more certainty when you're talking about the pro player market versus the draft market, so I think that's why you see volatility in the draft. But, again, like I said earlier, if the right opportunity presents itself in the trade market, we're ready to strike.
On the importance of this offseason…
I've said this before, but every time I walk into the building, every time I step foot into Lucas Oil (Stadium), there's inherent pressure that comes with this job and you're always thinking about getting this organization better. Like I said, when I talked to you guys after the season, four wins, it's not good enough. We have a lot of work to do, and so I feel like we approach this offseason with the same intensity and focus that we approached last offseason. This is my third offseason here and second offseason to work with Coach Saleh and his staff, the work that we've done last year, the work that we've done leading up to this offseason. There's been a lot of trust, and so I'm just excited to get this thing going. I can't wait for the start of the league year.
On the status of the offensive line…
I think our offensive line is in a better place now. I think, if you ask me, I'm always going to say we can be better on the offensive line. I thought we had a group of guys that battled their butts off this year, I think we have a lot of versatility in that group, a lot of good people, a lot of great, great guys, great pros. And, again, guys that have been forced to move different positions, in season, in game. So, their flexibility, their versatility, it's really been a great tool for us moving forward. Like Coach and I have always said, offense and defensive line, it's always going to be a priority here.
On the depth of edge rushers in the draft…
This is a really good draft in terms of the depth of pass rushers, d-line, offensive line, you can say even wide receiver, tight ends, this is a good draft. The opportunity to get any player that we feel can come in here, improve our roster, help our team, on a team-friendly deal, a draft contract, it's a huge thing. It's a great opportunity with us, currently with picks four and 10, and then four picks in the top 40, we have a real opportunity to add four dynamic difference makers to this team.
On the potential of drafting a safety in the top 10…
I love Coach's answer. Where I've come from, you take the best player available, and I've had a lot of success being around that mindset and that philosophy. If there is a player, regardless of position, that we feel can come in here and be that type of difference maker, we need to talk about it and have that discussion. At the end of the day, we're going to bring in the player that we feel is the best fit for the Jets, not only as a player, but as a person, competitor, character fit.
On the progression he saw from Wilson throughout the year…
From the first half of the season to when he came back from injury, what I saw from Zach is, I saw his confidence go up, I saw, and I touched on this a little bit at our end of season meeting, the way that he protected the ball, the way that he executed the offense with confidence. Let's face it, in the last three, four, five games, we weren't at full strength, we had a lot of guys down. So, for him to play well, take care of the football, put our offense in the position to score points, keep our team in a lot of these games down the stretch with often third, fourth, fifth-string guys, that showed a lot of grit and a lot of poise and a lot of confidence.
On not having the coaching staff at the Combine…
Obviously, we had a great kick start to the offseason with the Senior Bowl. Having that week, and it was an outstanding week, really hats off to our coaching staff and our college scouting staff for coming together and getting great insight. I know a lot of you guys were down there, as well. We had to adjust our February schedule a little bit and so, look, I'm in total agreement with Coach that this is a great opportunity for them to not only connect with us here virtually, they're part of every meeting that we're part of and then it's almost the best of both worlds. They're able to stay back, work on the projects they need to work on as a staff, really an opportunity to have max efficiency this week, to not only get the work done that they need to get here but be a part of every single meeting that we're a part of.
On the consideration he's given to trading back in the draft…
Look, we're always open to business. I think in the last two drafts, I had experience with going back and coming up. So, again, if the opportunity is right, we're going to look at every opportunity as it comes and if there's an opportunity to trade back, accumulate more picks, more assets and still be in target range to get the players that we're excited about. Of course, we're going to consider that.
On Michael Carter and what he considers the optimal number of touches for him next season…
Young MC is a dude. The evaluation on him, unbelievable contact balance, great feet, lateral agility, he's a weapon out of the backfield in the passing game, really good hands, one of the more elusive running backs coming out in the draft last year. In terms of optimal carries, touches, I think that's dictated on a game-by-game basis by our staff. I think this offense has had a lot of success with a really strong rotation, but we love Michael.
On if the way he has looked at the offensive line has changed at all…
I think you look at any team that has success, you become inquisitive, and you want to know the whys and you kind of dig into, okay, they did this and what opportunities did they make the most of? So, again, I think Coach said it, there's a lot of different ways to skin a cat in terms of roster building, it's just what your core philosophy is at the end of the day. I think you've seen teams have success devoting a lot of skill early. And by the way, I think Cincy did a great job in free agency last year, as well, and they didn't blow the doors off in terms of signing super high-priced guys, they brought in guys that fit exactly what they wanted to do. You look at teams like Buffalo and you look at teams like the Rams, who obviously traded a lot of picks to get to where they were and so, I think the constant theme was building around a young quarterback or adding a quarterback and the best way to go about helping that quarterback. So, I think that's the constant theme, but there's a lot of different ways to do it.
On how Denzel Mims fits into this offense…
I would say with Denzel, obviously documented last year with his bouts with sickness and some injuries. I know Denzel's attacking this offseason. I know he's in great shape. I've had great conversations with his agent. I know he's working his tail off and I know he's excited to get back here for OTAs and compete with the rest of his teammates.
On if they will pick up the option on Quinnen Williams and if they've had any conversations about an extention…
Had a good opportunity to get with Nicole (Lynn) at the Combine. Had a productive conversation with her, as of right now. But we are going to pick up Quinnen's option and we had that conversation. I don't think that's huge news, but we are going to pick up that option moving forward. Look, we're excited to have Quinnen. This is going to be year two in a defense we feel really extenuates his strengths, his positives and looking forward for him to come back and dominate this offseason and have a great year.
On a contract extension for Braxton Berrios…
Braxton, again, had some good conversations with his representation, Drew (Rosenhaus), and we're going to have more conversations. Obviously, Braxton has been awesome since we brought him in and he's an asset to this team and for us, it's important to keep the guys that do things the right way and carry themselves the right way.
On the biggest deterrent on quarterbacks…
The things you're always trying to look for, obviously you're looking for leadership, you're looking for mental, physical, psychological toughness. You got to have a certain amount of ruggedness psychologically to handles the slings and arrows coming your way when things aren't going well. Obviously, timing, anticipation, accuracy, those are all things that we were looking for when we were diving into the quarterback class. We do it every year, but especially last year. And so, when there is a deficiency in one of those areas, it sends up a flag.
On Joe Flacco…
I think every circumstance is different when it comes to every player, but especially quarterbacks. In Joe's case, just his coming out in 2008, a lot of people were questioning him, his competitive level of leaving Pittsburgh and going to Delaware. When you dive into the why, just understanding the whys of every single player and why they are where they are, why they've had the success they've had, what motivates them, what kind of competitor they are, I think that's across a landscape of what we do, regardless of position. I think specifically with Joe, with guys like Tyrod (Taylor), you've seen a lot of success with quarterbacks taken sometimes not in the top five, just really the why and just how they're wired.
(Follow-up)
I think you look back through the late-round quarterbacks that succeed, there's obviously, touching on the last question, there's a certain amount of intense competitiveness. There's a certain amount of physical, mental, psychological toughness that those guys have, not to mention confidence. Obviously, when you're not taken high, it sparks a fire in a lot of guys, and I think we've seen that.
Videos
New York Jets OTA Presser Takeaways, Aaron Rodgers' Impact and Summer Delusion