Saleh on Zach Wilson & the Offense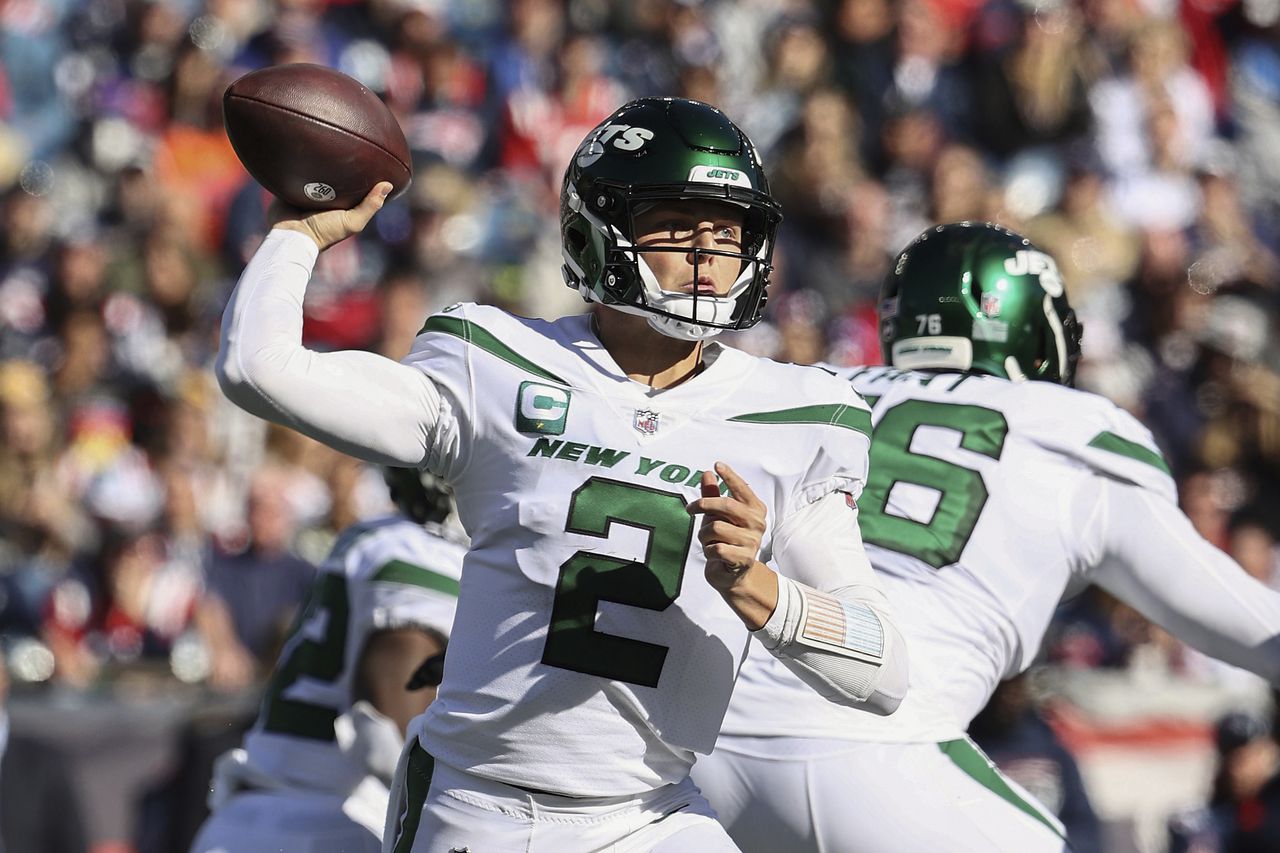 Earlier today we brought your Robert Saleh's update on AVT moving to RG, while Laken Tomlinson will take over at left guard. Saleh also spoke to reporters about the offense. Zach Wilson, Braxton Berrios, Elijah Moore and the new tight ends. Some interesting updates, here is the full transcript below.
On what he wants to see from Zach Wilson…
Love to see Zach own the playbook at a faster clip. Not that he wasn't, typical rookie learning curve, we're really looking for that recall. Just the fundamentals, all the different stuff that we're looking for, that's all going to come. For OTAs, really looking for him to take that step in the right direction with regards to playbook, football 101, absorbing the scheme so he can play a lot faster.
On Wilson traveling to workout with his teammates…
I'm excited for him, I think it's good to go see your teammates and all that. We're really excited to get him back. I know he's been watching cutups and all that stuff. He's putting in the work, he's definitely putting in the work.
On Wilson's development and if it was hinderance last season…
It's not too much a hinderance, it's just the learning curve of football. I learned a long time ago from Gus Bradley that football is three categories, you got 101, 301, 501. The 301 aspect is your fundamentals, your techniques. The 501 is your ability to understand the other side of the ball. But just like college, you can't get to the 301 level until you've mastered 101 which is scheme. So, when you see some of those errant throws that he had, that's indecision and thinking on scheme. So, hopefully he comes back this year, masters that aspect of it, and then people can, because a lot of people saw, when his feet were right, his eyes were right and he knew the play exactly the way it needed to be run, he'd rip it in there and people would be like, "Wow, there's the throw." So, it's just getting more opportunities to have those situations for him and that starts with 101 football.
On re-signing Braxton Berrios…
Just like all the other guys we brought in, his character in the locker room, who he is as a man, the role he found within our offense and with Mike LaFleur and everybody with all the different stuff he does, his reliability as a returner. Super, super happy that we brought him back.
On what he wants to see from Elijah Moore…
Same thing as Zach, take the step in the right direction in terms of your ability to show that you belong in this league for the long haul. Everyone can have a really good rookie year; the really good ones have a very good second year and the special ones trigger in the third one. For him, it's continue to get better, show up the way he shows up every day, bring your best effort every day and trust that the results will be exactly what you want.
On deciding who will play in the slot and outside…
We'll see with this OTAs and how it works out. Elijah has got a pretty cool skillset in the sense that he can really rip the top off the coverage and scare people with his speed, that's his superpower. When you get to the slot, he can still do that, but there's different ways that you've got to use him. There's going to be a whole lot of different things that we try in OTAs, along with training camp, to make sure that we get the best combination of guys out there.
On the pairing of Uzomah and Conklin…
I think it does a lot, and those two complement each other very, very well in terms of C.J. being that wide tight end, run game, not that Conklin can't do that, he can do that too, he can fight his butt off, but getting the ball in space, running through zones, high cross, all the different things Uzomah can do because he's so big and strong and fast. Then Conklin being able to dime people up and win one-on-ones and separate. A really, really good compliment to one another and what they do. On top of it, like I said, their leadership and their drive and the chip they have on their shoulders. They want more. To add that to that group, veteran leadership, is really, really exciting.
On adding another weapon on offense…
Weapons, obviously, they're game changers. Anyone who can touch the ball and go 80 at any moment is important. So, again, if those opportunities present, we'll attack. But at the same time, we're not in a panic either because we have a lot of draft capital and it's things we can address in the draft.
On if adding a receiver is a priority…
I don't know if it's a priority. We want to add as many really good players as we can. We've got a lot of draft capital to do some of that. We have a lot of needs on our football team in terms of just trying to fill some roster voids. I thought we did a great job in free agency with the things that we did. To call it a priority, one over the other, I don't know if I see it that way. I think every position, we're in a good position to take the best players available at every single spot and that's something we'll do.
Videos
New York Jets OTA Presser Takeaways, Aaron Rodgers' Impact and Summer Delusion