Carl Lawson Update; Saleh on New Defensive Upgrades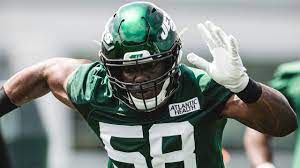 Yesterday we had a few updates from Robert Saleh at the league meetings. He mentioned that AVT is moving to right guard and he also gave updates on Zach Wilson and the offense. Here is what coach Saleh had to say about free agency and the defense as the team prepares for the NFL Draft.
On free agency additions…
I feel like we really attacked the character side of the football game and our locker room. When you look at D.J. Reed and (Jordan) Whitehead and C.J. (Uzomah), (Tyler) Conklin and Laken (Tomlinson) and I'm sure I'm forgetting someone. (Inaudible: 2:10-2:17) They're bringing an edge to the locker room, they're bringing professionalism to the locker room and they're bringing a winning pedigree to the locker room. They've all been in Championship games, they've all been with winning organizations, so it's really exciting to get those guys here.
On Carl Lawson's progress…
He's doing great, expecting him back for training camp. He'll be around the building, we've already seen him. He's excited to get back. I mean the guy is watching tape on the draft picks, he's doing everything. He's fully involved, really excited to get him back.
On Carl Lawson potentially returning earlier than training camp…
We wouldn't want him to, there's no point in rushing him back.
On the additions of Reed and Whitehead…
D.J. Reed, I always talk about Nate Shepherd being the king of strain, D.J. Reed is going to be right there with him for that crown. The young man works his absolute butt off and every single play you will feel the intensity of how he plays. Having him out there and his fight, obviously it helps the d-line a lot. Whitehead, what he's going to bring, along with his toughness and his tenacity, his ability to communicate and his mental football IQ is off the charts. To have him back there to be a stabilizing force for our young defensive backfield, again, couldn't be happier that he's here and really excited to see him play.
On the outlook of the defense for next season…
It's going to be a lot better. Last year, I'm not making excuses, but it is what it is, last year we had that four-game stretch in the middle of the year where we got beat up. But before the Bye Week, we were playing at a pretty good level. After those four games, we played significantly better. I think we ranked like 18th, which is still not good enough, but we were better a year ago at the end of the last half of the year. Those four games in the middle of the season were so bad we could never recover. So, very confident, especially when we get Carl back, and we continue to add in the draft and our young guys continue to get better. Really excited about our group and its ability to get better.
On the possibility of drafting an edge rusher…
You guys know me, I've said it before, if we had the Fearsome Foursome, we'd still be wanting to add a pass rusher. It's always going to help. If the opportunity presents itself, we'll get it, but we're not going to force the position either. John Franklin-Myers is in good shape, obviously with Carl, we added Jacob Martin, Bryce Huff is still in the fold, so we still feel good about our defensive line as it stands. Quinnen (Williams) is getting ready to have a really good year and Sheldon Rankins, so it's still a really good group. It allows us the ability not to have to force the issue at any of our draft picks. Again, if someone is there, we'll pounce on it.
On Whitehead's fit on defense…
You know, with Jordan, he did a lot of different things in Tampa. Played corner, played nickel, played safety, did a lot of different things which shows he has the mental aptitude to be able to handle a big workload. He's going to play one spot and do a handful of things, so really excited to see where he can go when he's asked to do the same thing over and over and over again. Everyone is different philosophically, but honing in on a position where he can put himself on repeat, we always feel like a guy can maximize and really take his game to another level. And with how instinctive he is, when he's seen the same things over and over again, it'll allow him to trigger a lot faster. Really excited for his opportunity and really excited to see where he could take this defense.
On Demeco Ryans…
Just from when he was a QC even, Demeco, definitely on the fast tracked as everyone sees, but it's deserved. He's incredible intelligent, he's got a tremendous demeanor to him, he's got great presence to him, very organized, very detailed and I know he pulled himself out of the head coaching race this year, but I promise, whoever hires him as a head coach is going to be very, very fortunate.
Videos
Aaron Rodgers Injury Fallout & Jets/Bills Recap