Gang Green 7-Round Mock; Jets Finally Address Decade-Long Problem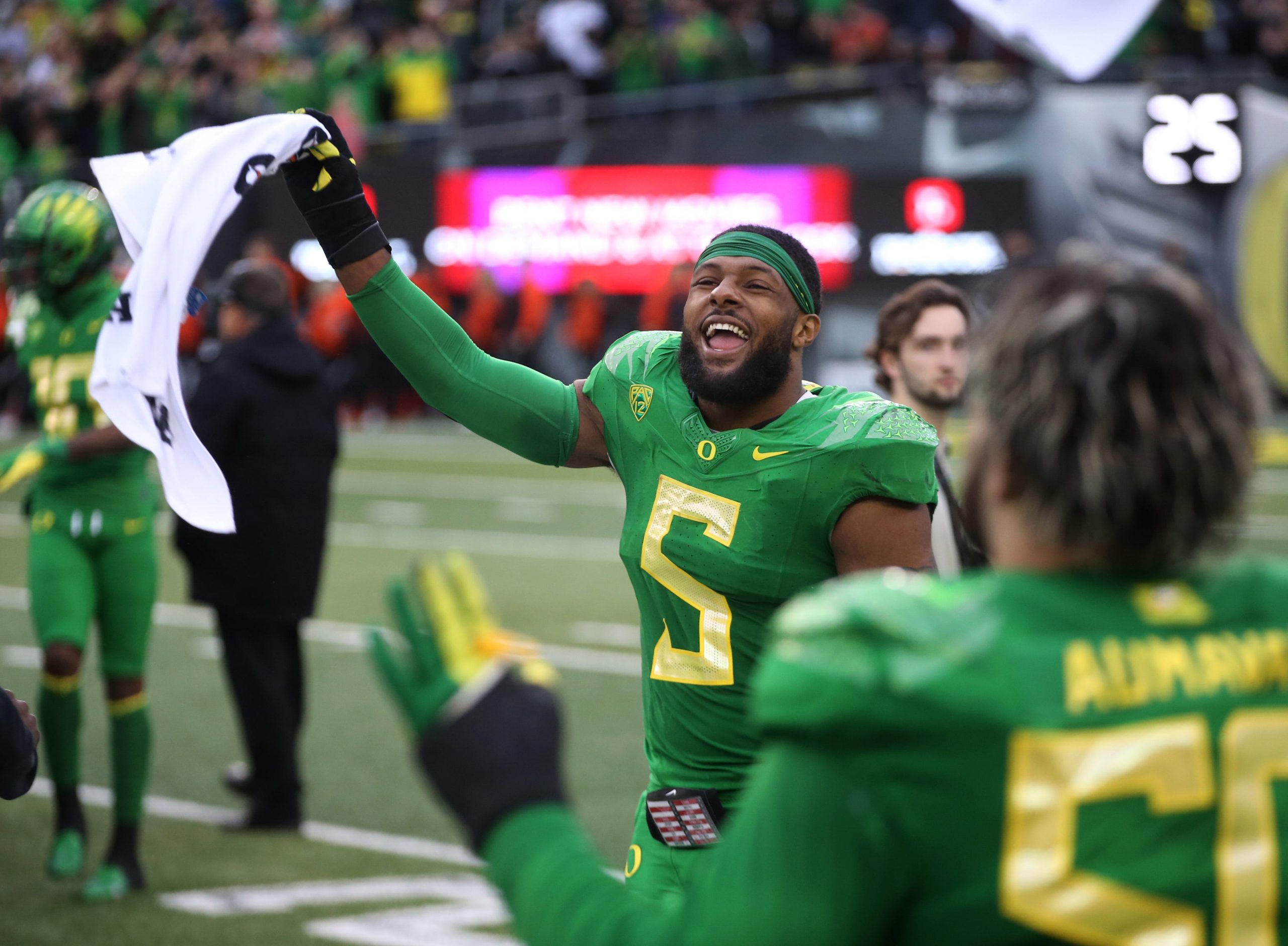 The NFL draft is just four days away and our draft week mock has arrived.  Weeks have felt like months and months have felt like years in the most anticipated Jets draft in years.  With four picks in the top 40 (4th, 10th, 35th, 38th) the Jets hold plenty of cards for their weekend in Vegas.  How do we see it panning out when Joe Douglas and company are on the clock?
4th: Kayvon Thibodeaux, Edge, Oregon- It's time to end the drought.  The Jets haven't had a legitimate pass rusher off11 the edge in over a decade and catch a break here when Thibodeaux falls to fourth overall.  While some worry about his concern with branding and self-image, Joe Douglas just wants to give Robert Saleh a guy who can get to the quarterback and that's what Thibodeaux is expected to be.
What the stat sheet might say:

QB hit
QB pressure

What your eyes tell you:

Kayvon just demolished the left tackle and got to the QB but it took a bit of ridiculous magic/luck from the QB to have it go down as a completed pass for a first down. pic.twitter.com/Rhduwh8xbf

— Glenn Naughton (@AceFan23) March 27, 2022
10th: Trade with Philadelphia Eagles.  The Jets send the 10th and 146th overall picks to Philly in exchange for picks 15, 51, 154 and 237.
15th: Jameson Williams, WR, Alabama: The Jets can now afford to roll the dice a bit after acquiring another premium pick with 51 overall.  With that being the case, they get Zach Wilson what they hope will be the ultimate weapon on Alabama speedster Jameson Williams.  Williams will miss the first half of the season as he recovers from a torn ACL, but the Jets take a shot in hopes of getting their own version of Ja'Marr Chase.
35th: Arnold Ebiketie, Edge, Penn State: Yes, the Jets already added Thibodeaux and are expecting Carl Lawson back from injury, but can they really afford to go in to the season with just one rookie and one veteran coming off of an injury if they're serious about finally being able to get pressure off the edge?  We say no.  Get serious about getting to the QB and take advantage of a deep class at a premium position.
The Jets should be taking a close look at Penn State edge rusher Arnold Ebiketie in Mobile. Comes screaming off the edge here for the blind side hit and force fumble against Wisconsin. pic.twitter.com/H14G80hMY0

— Glenn Naughton (@AceFan23) January 13, 2022
38th: Kyler Gordon, CB, Washington: An elite athlete and outstanding cover corner, Washington's Kyler Gordon will push Bryce Hall for the team's number two spot.  His presence will also add depth to a secondary that's in dire need of it as the AFC continues to add gunslinger QB's at an impressive rate.  Gordon's body control and ability to track the ball make him an outstanding option.
51st: Breece Hall, RB, Iowa State: The Jets have an excellent young back in Michael Carter but he'll need somebody to share carries with and Hall fits the bill.  A dynamic runner with excellent vision who can cut on a dime would be a perfect fit for Mike LaFleur and company.
69th: Cam Jurgens, C, Nebraska: Jets starting center Connor McGovern will be 29 this year and Jurgens would be a perfect replacement to step in and start next season.  An uber athletic lineman who started his Nebraska career at tight end, Jurgens has been getting a ton of love on the national scene.
Broadcaster initially knocked Cam Jurgens of Nebraska for drawing a flag on this play before apologizing and saying it was a clean but aggressive block. Where is the Nebraska center on this play? Top of the screen blocking his man FORTY YARDS down the field. pic.twitter.com/LRtYiwmH55

— Glenn Naughton (@AceFan23) April 12, 2022
111th: Jesse Luketa, LB, Penn State: The Jets have too many holes on defense to pass on a player like Luketa who could be seen playing along the defensive line, at outside linebacker and occasionally inside linebacker.  Luketa never looked out of place, has a non-stop motor and is the epitome of Robert Saleh's "All gas, No brake" mantra.
117th: JoJo Domann, LB, Nebraska: Consecutive linebackers?  On paper perhaps, but in reality the Jets are getting two very different players in Luketa and Domann.  Both can get the job done in the box, but Domann, a converted safety, excels in coverage and is the type of player any team would want on their roster in today's game.
One of the best INT's you'll ever see from Nebraska LBer JoJo Domann here. Fully extended, diving toward the boundary and gets a knee down to secure the turnover. Great instincts, plays the run and pass.
Would be a welcome addition to the Jets defense. pic.twitter.com/8JAtvvvdAA

— Glenn Naughton (@AceFan23) February 17, 2022
154: James Mitchell, TE, Virginia Tech: The Jets roll the dice on a potential steal in Mitchell who missed much of the 2021 season due to injury.  Prior to the '21 season, Mitchell showed excellent hands and more than enough along the line of scrimmage and out of the H-back spot to be a good blocker.
Expected by some to have a breakout season in 2021 for @VaTech_Football , tight end James Mitchell missed most of the season with a knee injury. If fully healthy, could be a versatile mid/late round steal. pic.twitter.com/vwr7VYSt9z

— Glenn Naughton (@AceFan23) January 30, 2022
163: Kellen Diesch, OT, Arizona State: We loved what we saw on game days from Diesch who moves incredibly well for an offensive tackle.  He'll need to get stronger, but his ability to pull from his left tackle spot to outside runs to the right side make his potential intriguing.  Good spot for the Jets to drab the developmental lineman.
237: Cordale Flott, CB, LSU: We're a bit perplexed about Flott's position on all of the online draft boards that have him ranked in the 300s or worse.  From what we've seen of him, we'd expect him to be a mid-round pick as a DB who plays at a high level in the slot and can also get it done on the boundary.  If the "simulators" are right, he'll go undrafted.  If he's the player we think he is, he'll be long gone by pick 237.  But if he's still there, it's a great value pick.
Videos
Aaron Rodgers Injury Fallout & Jets/Bills Recap